Well, I've been Michael Stokoe - and I consider it a privilege to be able to call that marvellous game between two old rivals - England have come out on top, which means they now lead Group B and are in charge of their own destiny. As for Wales they performed well this afternoon, but ultimately they didn't create enough clear-cut opportunities - but they go again against Russia, needing something.
All is not lost for Wales, a point for them in their final game against Russia should see them through - but it was a tough pill to swallow for the Welsh
As for Wales it was heartbreak, they defended valiantly for the majority of the second-half, but in the end they couldn't repel England's constant attacks.
England certainly never do it the easy way, they performed well but like the game against Russia, England, at times looked wasteful - but the introduction of Vardy and Sturridge helped England's massively.
England win 2-1, to give them a great chance of progressing to the last 16 if they beat Slovakia.
93' - Alli, Rashford and Sturridge all involved, and when Sturridge got into the box, his instinctive toe-poke evades Hennessey in the Welsh goal
93+3 - STURRIDGE SCORES - 2-1
89' - Cahill header from the corner is over.
89' - Corner for England
86' - We are entering the stage in a game, where someone could make themselves a hero, a goal now for either side would surely win the game...
84' - England are over-complicating the play in final-third, Rashford has added another aspect to England's play, but as of yet England cannot find that elusive goal.
82' - Wales can't seem to repel England at the moment, it's a huge remaining eight minutes for the Welsh, but for England a goal now could be huge.
80' - England switched off slightly, and Williams fired a shot over Hart's goal. First chance for Wales in a long time.
78' - England are knocking on the door, Rooney just had a shot blocked by a combination of Williams and Chester.
76' - Wales are struggling to create chances at the moment, but are still defending well.
74' - Rashford comes on for his competitive England debut - can the youngster put England in front?
73 - Marcus Rashford on, Lallana off
71' - Robson-Kanu off, Jonny Williams on
70 - We are inside the last 20 minutes now, who will come out on top?
68' - the tempo has dropped slightly which will suit Wales.
67' - Ledley off, David Edwards on for Wales
66' the corner from Ramsey was over everyone, Englnd look to break.
64' - Wales win a corner, but a there is a stoppage in play as Ledley is down receiving treatment.
62' - Wales are suffering in Lens, Sturridge had a great chance to put England in front, but he fluffed his lines, and Wales survive.
60' - First yellow card of the game, to Davies after a foul on Lallana - the right-hand side is causing problems for Wales at the moment.
59' - England are in the ascendency now, the pressure is beginning to tell...
57' - It wasn't the best defending from the Welsh, and in particular Ashley Williams, but there is still time for Wales to compose themselves and go again.
56' - Vardy pokes in the equaliser, as Smalling nods down to the Leicester forward, a suspicion of offside, but England are back level.
GOAL for England
55' - England's first real chance of the second-half fell to Rooney, after skipping past Ramsey his low shot was saved by Hennessey.
54' - The second-half is going the same vein as the first - England are doing the majority of the pressing, and Wales are waiting for that opportune time to counter-attack. England are lacking that creative spark at the moment.
50' - Wales have started the second-half like they did the first; sitting in and trying to restrict England.
49' - Correction - Kane has departed for Sturridge, not Cahill.
47' - With Sturridge and Vardy on, England have reverted to a 4-3-3 formation.
45' - England to kick-off
Sturridge and Vardy on for Sterling and Cahill
It looks like Sturridge and Vardy are coming on for England, as they look for a route back into the game.
The teams are coming back out onto the pitch, the second-half will be underway shortly.
As for Wales they will be looking for more of the same; they have sat in and frustrated England, and on the break they have looked dangerous with the likes of Ramsey and Bale.
England have to go for it now; the likes of Daniel Sturridge, or Jamie Vardy have to be obvious choices for Hodgson.
Well, what a first-half; at times it has been blood and thunder, and at other times it has been quiet - but Wales have the all important first goal. England have to go back to the drawing-board; surely Hodgson has to change it?
Half-time in Lens - Wales are leading through a Bale free-kick
45+1' - Wales have ended the first-half well, the goal have given Wales' a huge boost.
42' - Bale scores another free-kick, Hart should have really saved it - again after dominating the first-half England find themselves behind, a big second-half is needed for Hodgson now.
42' - Free-kick for Wales in Bale territory...
39' - The Welsh fans are trying to get the Welsh players into the game with a thundering rendition of their national anthem, but it doesn't seem to be working, England are doing all the running at the moment.
36' - Another England corner from Rooney found his Manchester United teammate Smalling, but the England defender's header was agonisingly wide of Hennessey's goal.
35' - Wales are struggling with some of England's attacking play; Bale has been quiet, England are certainly in the ascendency at the moment.
33' - England might feel aggrieved with Davies; on first viewing it appeared the ball struck his hand, after Kane nodded the ball towards goal, his Tottenham teammate handled, but one second viewing it looked ball-to-hand.
31' - England look a little shaky at the back, but going forward they look good.
28' - Again Rooney's corner comes to nothing.
28' - The game has all of a sudden come to light - England corner..
26' - From the free-kick, Cahill's header was saved by Hennessey.
25' - Another free-kick for England in a dangerous position, a bit harsh on Wales', Rose seemed to make the most of it, can they make it better than the previous one?
24' - Bale who was the talk of the previews, has so far been anonymous, Wales have struggled to get their superstar into the game.
22' - Free-kick was wasted, high over the bar from Kane.
22' - Free-kick for England, after Ledley catches Alli, in a goo position for England...
20' - Wales have been starved of the ball for large periods of this first-half, but just at the moment they are getting re-acquainated with the ball.
18' - England win a corner after good play from Sterling, after dispossessing Ramsey.
15' Alli seems to be picking up good pockets of space, but England have so far failed to get the ball to the young Tottenham midfielder.
13' - After a little bit of possession for England, Rooney fires a shot from 30 yards high over Hennessey's goal.
11' - From the resulting corner, Hart fumbled the ball, but Kane got rid of the danger.
10' - As expected, England are having most of the ball, but Wales have a corner.
7' - Sterling had the chance to score the opening goal, after a neat counter-attack from England; Kane fed Lallana, who squared for Sterling, but the Manchester City winger failed to convert from 5 yards out.
6' - The start has been fast and frenetic, as of yet both sides haven't asserted themselves on the game.
4' - Corner came to nothing, but there are early indications that Alli is up for this after a tussle with Ramsey.
3' - Corner for England, Rooney taking instead of Kane.
1' - England have started the game on the front-foot, with Wales looking a little shaky at the back.
KICK-OFF
Those were some stirring anthems - now the football begins - strap yourselves in folks, this could be an absolute cracker!
'God save the Queen' next...
The national anthems are beginning, Wales first.
The players are now in the tunnel - the game is near, the time for 'mind games' is over, England v Wales is upcoming.
Before the action begins, if England don't win this afternoon, it would mean Roy Hodgson would go 6 tournament game's without a win, and would equal Walter Winterbottom (1954, 1958, 1962 World Cup and Sir Bobby Robson (1986, 1988, 1990) records at major tournaments.
We are now 15 minutes away from this monumental clash - the time for talking is nearly over, the action will begin soon, and then we can see who really has the more passion
And as for Wales' Coleman has tinkered with personnel, but not with his system: W. Hennessey, N. Taylor, J. Chester, A. Williams, B. Davies, C. Gunter, J. Allen, J. Ledley, A. Ramsey, G. Bale, H. Robson-Kanu.
In case you missed the line-ups, England are unchanged: J. Hart, D. Rose, C. Smalling, G. Cahill, K. Walker, E. Dier, D. Alli, W. Rooney (c), A. Lallana, H. Kane, R. Sterling
If your watching on BBC One - they sure do know how to get you in the mood - that was some introduction to this huge game - who's excited?
We are about 35 minutes away from kick-off now - the teams are warming up, and with that the excitement is building both in Lens and back here in the UK.
But today England cannot afford to miss chances, they need goals, they need a win - and the English supporters will be looking to Kane or Rooney to fire England to glory today.
The likes of Raheem Sterling, Adam Lallana all had a good game; but the one aspect of England's game that was poor, was the finishing. Hodgson's side could have been out of sight before Denis Glushakov equalised in the dying embers of the game.
Now let's have a look at the Three Lions, the 1-1 draw against Russia in Marseille last Saturday was disappointing in how they let a lead slip, but the performance was encouraging.
Another player who played well against the Slovaks was Liverpool's Joe Allen; he was composed and assured on the ball. But it was also his defensive contributions that helped Wales get the three-points, and this afternoon he will have another important role to play as he will have the duty of trying to close down Rooney and Alli in England's midfield.
Wales performed well against Slovakia, despite it being their first in a major tournament in 58 years; an.d for large parts of the game the Welsh controlled it and caused Slovakia plenty of problems.
Much of the talk has been of Wales' Gareth Bale; the Real Madrid player had a good start to the Euro's after scoring Wales' first goal of their tournament against Slovakia - and there's no doubting he is a huge player for Coleman's side, but there are plenty of other players Wales will have to look out for this afternoon.
On the Welsh side they have been really turning up the tension ahead of kick-off, this week Bale said 'Wales had more passion than England,' but speaking at his pre-match press conference manager, Coleman said all the 'small talk means nothing' as Wales look to upset the odds and defeat an old foe.
Now that the team-sheets are out, let's see what the players and managers have been saying ahead of this huge clash; speaking at England's pre-match press conference, England captain was speaking about the game: "I imagine we'll have a lot of the ball and we'll have to work very hard to break them down."
Coleman has changed the line-up slightly, with Ledley and Hennessey returning from injury, and this time Robson-Kanu who scored the winner against Slovakia starts from the beginning.
Wales XI: W. Hennessey, C. Gunter, J. Chester, A Williams, N. Taylor, B. Davies, J. Ledley, A. Ramsey, J. Allen, H. Robson-Kanu, G. Bale
Now, Chris Coleman has named his side, that he hopes will beat the English and booked their place in the Last 16 of the European Championships.
England XI: J. Hart, K. Walker, C. Smalling, G. Cahill, D. Rose, E. Dier, D. Alli, W. Rooney, A. Lallana, H. Kane, R. Sterling
The England team news is in bright and early; as Roy Hodgson's men look to pick up what will be a huge three points.
Welcome to today's coverage of what could be a cracker of a game in Group B, as England face Wales in Lens - I'm Michael Stokoe and I will be taking through the action as soon as it happens!
So far this tournament there has been a sour undertone to events in France. Most notably Russian fans have been causing problems; many of the antics on Saturday night were back and front page headlines; but it shouldn't be like this, the football should take centre stage.
"It is a big football match and just because it is Wales versus England but because of the state of the group, also it would be great for us to get a win."
And ahead of the game Lallana who played well against the Russians had his say on the game: "We thrive on pressure week in and week out [in the Premier League] it brings the best in us."
The pressure is certainly on England to get a positive result; ideally, Roy Hodgson won't want to be contemplating going through as one of the best third place team; with the squad at his disposal, they should be looking at the top two, on paper they should be topping the group. But football doesn't go like that.
And Bale earlier this week, really added stoke to the fire with his comments about 'Wales having more passion than the English,' but speaking again ahead of the game he cleared up his comment saying: "I am not saying England doesn't have pride or passion I am sure they do. I just feel that we have more. I am sure they have their opinion that they have more."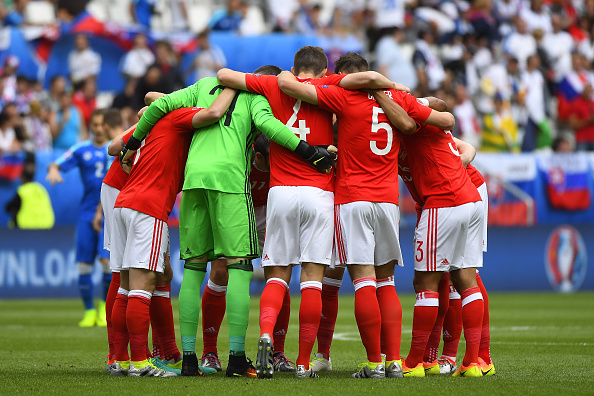 And it seems the Welsh lads want to add some flame to fire before a ball is kicked. Arsenal midfielder, Aaron Ramsey said: "I believe we the best team, we have been through a lot, and we are seeing the rewards."
The build-up to the game has been huge; and rightly so, not often do we get to see England v Wales in a European Championship. Both camps have been speaking to the media ahead of the huge clash.
For most of the game England's high pressing game restrict Russia to next to nothing, and Eric Dier's superb free-kick opened the scoring for the Three-Lions, but Adam Lallana and Wayne Rooney were guilty of missing some guilt edge chances, that would have put England out of sight. And then in the dying embers of the game, a Vasiliy Berezutskiy header fell to Glushakov who bundled home to give the Russians a vital point.
As for England; a team that on paper is one of the most exciting in France. They proved in Marseille that they can be expansive and cause teams untold problems, but if you can't put away your chances it will all count for nothing.
Bale opened the scoring for Wales' midway through the first-half last weekend, with a free-kick that Matus Kozacik probably should have saved; but when Duda scored a neat equaliser, Wales came under pressure. But it was pressure they dealt with well, and when Hal Robson-Kanu came on and grabbed all three points; the army of travelling Welsh fans went mad.
Chris Coleman's side showed many facets of their game in that opening game in Bordeaux; they were attacking and expansive when they had the chance. And when Ondrej Duda equalised, they showed a steely mentality that gave fellow teams that the Welsh are certainly up for a battle this summer.
Many thought Wales might struggle in their first major tournament for 58 years, but that wasn't the case when they played Slovakia last Saturday. They took to the huge occasion, like a duck to water. And with superstar and Galactico Gareth Bale in their side, anything could be possible at the Euros.
For Wales a win over their rivals will virtually secure them a place in the last 16; after their superb 2-1 victory over Slovakia in the first game. As for England; all their attacking flair and excitement a late Denis Glushakov goal has made the Wales game, a must win.
But could all that be about to change come Thursday? If Wales get the victory they so desperately want, they will have the last laugh, not England.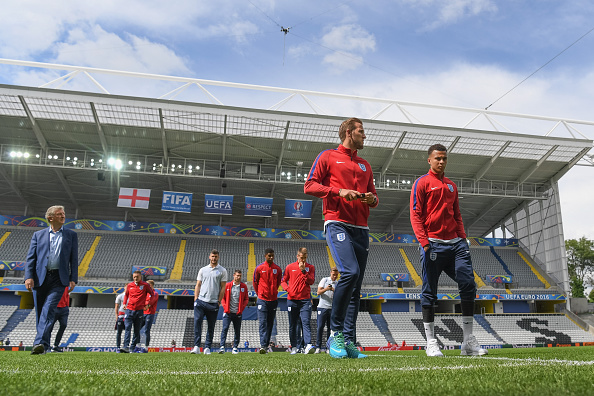 England have certainly had the better of the rivalry in recent years; the last time the Welsh managed to get one over on their English counterparts was back in 1984 when Mark Hughes scored – but since then England have progressed and up until recently Wales have been down in the doldrums.
England and Wales is one of the oldest rivals; a rivalry that transcends football and crosses into Rugby; but on Thursday afternoon it will all be about the football. The football matters, nothing else.
England versus Wales is about as big as it gets for a home nation clash and for the footballing public they will see the eagerly anticipated clash at the European Championships, a clash that has the potential to be one of the games of the tournament so far.
Hello and welcome to VAVEL UK's live coverage, I'm Michael Stokoe and I will be bringing you coverage of what is anticipated to be a cracking game here in Lens this afternoon as England face Wales in what is a crucial game for both sides.