It may have only been the first game of a campaign that will span an absolute minimum of three, but Belgium's defeat to Italy on Monday night brought back some worryingly familiar issues for Marc Wilmots and his side.
The performance was poor enough to pose the question as to whether they will even progress past the groups, nevermind to the competition's latter stages.
Beaten convincingly by the Azzurri, thanks to goals from Emanuele Giaccherini and Graziano Pelle, the Red Devils were lambasted afterwards for performing as a team of individuals and for being a team less than the sum of its parts.
That was in direct contrast to their well-drilled Italian opponents, who for all of their pre-match criticisms were a tightknit unit and produced arguably the best performance of any of the 32 teams in the first round of matches at Euro 2016.
Despite fielding the oldest starting eleven in European Championship history - one minus key players such as injured midfielders Claudio Marchisio and Marco Verratti, and some of their brightest young players in Lorenzo Insigne, Federico Bernardeschi and Alessandro Florenzi who were all benched - Italy were comfortable defensively, dangerous and incisive on the counter-attack and thoroughly deserved their victory.
Antonio Conte, quite simply, outthought Marc Wilmots - although the Belgium boss refused to admit as such afterwards. He told reporters after the final whistle: "The defeat is a disappointment for everybody involved, but I do not think we lost the tactical battle."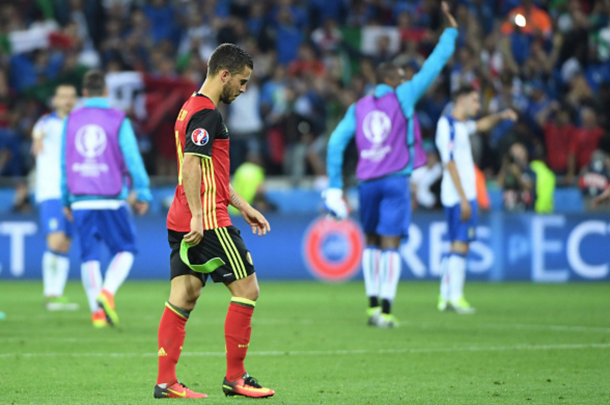 In truth, he could not have been more wrong. In all departments, his Belgium side were outfought. In midfield particularly, Wilmots' side were easily and regularly bypassed despite the inclusion of defensive anchor Axel Witsel, as well as Marouane Fellaini, who was deployed in front of Witsel and Radja Nainggolan in a No.10 role.
The absence of Tottenham Hotspur midfielder Mousa Dembele, one of the best in his position in the Premier League last season, looked all the more questionable as the game wore on. Fellaini and Witsel won just two tackles between them all game and were not nearly effective enough, alongside Nainggolan, as the team's centre.
Even with the highly-energetic Nainggolan, the Belgian midfield also had very little to add going forward. Rather, full-backs Jan Vertonghen and Laurent Ciman found themselves the first port of call when passing out from the back. Dembele's ability to drive from deep and carry the ball through midfield was certainly missed in that regard.
Instead, a complete lack of cohesion and movement cost them dear and it wasn't until Dries Mertens' introduction shortly after the hour mark, replacing Nainggolan and allowing Fellaini to drop into central midfield and Hazard to move into the No.10 position, that Belgium really sparked into life in the final third.
Carrying the ball with intent and purpose, Mertens injected some much-needed desire to get himself and his teammates into more dangerous areas of the pitch. Unfortunately, the best chance they created all night was wasted.
Red Devils must make tactical changes for second game or face the consequences
Romelu Lukaku was an abject presence for the 73 minutes before his substitution, and failed to make it count when presented with a gilt-edged opportunity to draw his nation level. Running on to a fantastic Kevin De Bruyne through ball after a rapid break, he could only fire high and wide when one-on-one with Gianluigi Buffon. A player of his quality could, and should, have done much better.
His replacement, Divock Origi, helped Belgium's forward line to click too - yet curiously, the opportunities created for the striker were the types that Everton's Lukaku would have lapped up. The Liverpool striker wasted two good headed opportunities that his compatriot playing across Stanley Park would probably have finished with ease.
While the chances, albeit only a few of them, which were created for the cumbersome Lukaku disappeared once Origi was on the pitch. Again, the kind that the lightning-quick 21-year-old would have thrived on.
But, taking the positives, the Belgians at least performed more effectively in the final third with a more mobile striker who was willing to run in behind the stubborn back-line of Italy. They were also aided by having Hazard and De Bruyne taking it in turns to move into the middle, with the latter having been unproductive on the right and Hazard struggling from a lack of support down the left. The captain was one of his side's better players, showing a willingness to carry the ball forwards, but he was at times left to do it all on his own.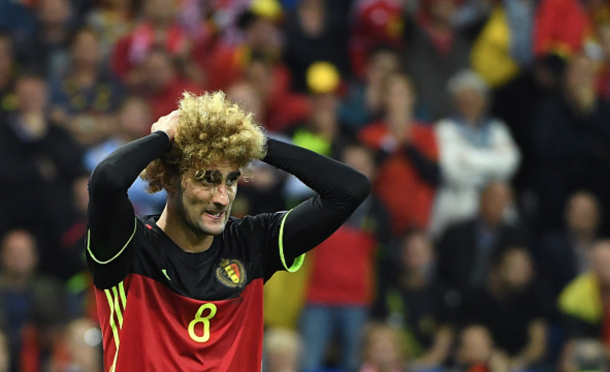 Belgium might profit even more in future from using De Bruyne as a settled No.10, where he performed best for Manchester City in the Premier League last season, throughout the full 90 while Mertens should replace Fellaini for their second game against Republic of Ireland with Belgium in desperate need of a victory.
Wilmots must now go all out and hope that the phenomenal concoction of attacking talent he has at his disposal can combine sufficiently to get them the three points and improve their chances of progress from the groups.
What is clear, Wilmots must make changes in some way, shape or form. They simply have to be more co-ordinated and organised as a side, both in defence and attack. If they do not fashion an understanding, there's every chance that Ireland will surprise them and even condemn them to an early exit.
Belgium came into this tournament as the best-ranked European country in FIFA's world rankings, which they topped from September last year to as recently as this March, but they have done little to justify their hype.
Bar friendly victories over ironically, Italy, last November and France last June - they have struggled against top sides, in both competitive and non-competitive action. Their loss to the Azzurri in Lyon was only the latest example of the Belgians struggling to convert their promise and potential into meaningful achievement.
All is not yet lost. "We lost a game, but we haven't lost the war," Wilmots declared post-match. It is the hope that things can only improve that will keep Belgians going, although on this basis - their wait for a first title might not be ended this summer. The much-maligned Wilmots must learn the error of his ways or face another tournament of underachievement, and this one could be his last.