Northern Ireland's Jonny Evans faced the media on Tuesday, along with Michael McGovern, as the pair geared up for their second group game.
After a 1-0 defeat to Poland, the Green and White Army are desperate to pick up a win against Ukraine, as a date with Germany in Paris looms.
Proud of the support
Evans began by saying, "We've got a lot of people behind us and we're really proud of our fans." He believes the atmosphere coming into the game "was out of this world".
The defender also told of how family members explained, "Polish and Northern Ireland people were all together singing and travelling on the bus to the game."
The two sets of fans were embracing a classic Northern Ireland song, "Someone even said they were in a bar last night and a Polish guy came in singing Sweet Caroline."
Evans admitted the squad were "proud" of how their fans have "conducted themselves" the way they are "representing our country on this stage".
Green and White Army doing the country proud
Unsurprisingly, the Northern Irish fans have continued to give the side incredible support throughout their time in France so far, despite the opening day defeat.
Evans said "the still images" following the Poland clash with the fans having "their heads in their hands" was something he doesn't "want to see".
He continued, "The fact they've travelled all this way and spent all this money, we want to give them something to cheer about."
The West Bromwich Albion defender admitted "a goal would be nice as well", and that is "something [they] want to do".
"If we do go out of the tournament at the group stage," Evans added, they are keen to "have a go" and leave "nothing in the tank" and give "everything" to make it through.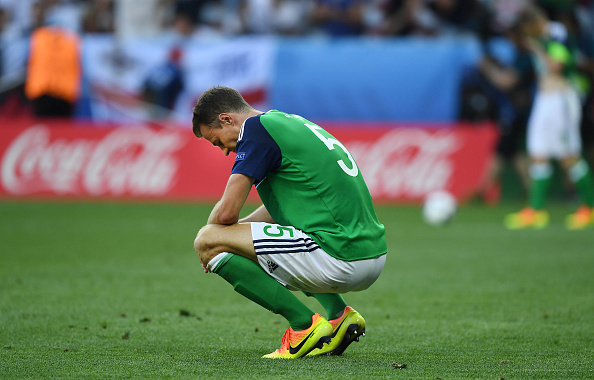 In relation to the tragic passing of Darren Rodgers, Evans has been speaking to his father about the ordeal.
He told the media that he was talking to his dad last night, and that "he's still down in Nice".
Evans' father described "where the accident had taken place" that people were still paying tribute by "laying flowers" and some were crying.
He added, "It's a really sad thing to happen and we all feel for Darren's family."
Evans concluded, "We've always had a bond with our fans. There has never been any barriers between us and them. That's something we've also got to be proud of."
Quotes via Belfast Telegraph