Speaking to the media ahead of Germany's second group game at Euro 2016, Joshua Kimmich gave his thoughts on what had gone and what is to come.
The reigning world champions got their campaign off to a winning start against Ukraine, and will want to continue that against their neighbour, Poland.
Kimmich wary of Polish threat
He began by saying, "The games and the results have been close and not a lot of goals have been scored. It was the same for us against Ukraine."
The Bayern Munich youngster paid credit to their opponents, "We only made it 2-0 late on and had a few nervous moments before that."
Kimmich feels that "all of the teams" at the Euros have the ability "to counter quickly", something he is wary of.
He added, "I thought beforehand that there would be more matches with clear results but I was mistaken."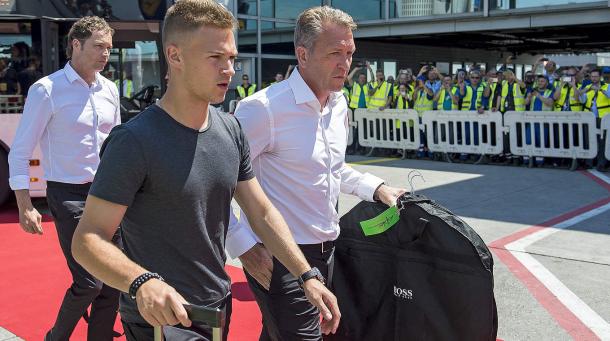 More than just Lewandowski
He continued, "We are ready. We are focusing more and more on this game. They have a lot of quality both as as a team and as individuals."
Kimmich highlighted Jakub Blaszczykowski, as he "played in the Bundesliga for a long time", as one of the threats that Germany have to face.
He also spoke about Borussia Dortmund's Lukasz Piszczek, and Arkadiusz Milik is someone he feels is a "good striker".
The youngster feels it "would be a mistake" if Germany were just to take Poland as being Lewandowski. "However, it's clear that he is definitely an outstanding player," he said.
He is also confident that Bayern Munich team-mate, Jerome Boateng can "definitely" cope with the fellow Bavarian's threat to goal.
If you want a more in-depth look into how Germany will line-up on Thursday, look no further than Rosie Tudball's analysis.
Quotes via DFB.de