Poland and Germany clash again in Euro 2016 at the Stade De France, with both teams having won their opening games in group C.
The decider
These two East European neighbours have got very familiar to meeting each other on the football pitch, after having both qualified automatically out of the same qualification group. In qualifying they exchanged a victory each, with Poland winning 2-0 in Warsaw, while world champions Germany ran out 3-1 winners when the teams met in Frankfurt.
But this time, the magnitude of the game will be ratcheted up a notch as both Germany and Poland will be looking to reach the Last 16 with a win.
Both start with a win
Both nations come into this game on a high with wins in their opening games. Germany saw off Ukraine 2-0 and Poland beat Northern Ireland 1-0 respectively to set up a group decider at France's national stadium. If there is a winner in this game, that team will effectively gurantee their place in the last 16.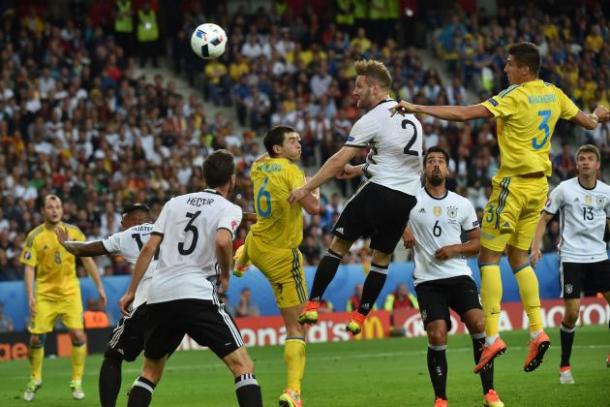 It would be fair to say Germany are favourites for this game, due to multiple factors including their pedigree in major tournaments, a fantastic record against Poland and that they were more impressive in the opening matches. Joachim Low's team won thanks to goals from Shkordan Mustafi and Bastian Schweinsteinger, looking in control for most of the game in Villeneuve.
Similarly Poland were in complete control of their opener in Nice against Northern Ireland limiting their opponents to just two shots in total. However Adam Nawalka's team weren't as clincial as their German counterparts and had to rely on a bit of magic from Ajax striker Arkadiusz Milik to pull them through.
Team news
The only real injury doubt for eithier team surrounds Poland goalkeeper Wojciech Szczesny who suffered a scare late on against Northern Ireland when he collided in a nasty way with his own teammate, however Nawalka believes he will be fit.
As for Low his only real decision to make is whether to stick with opening game goalscorer Mustafi in central defence alongside Jerome Boateng, with Mats Hummels fit again.
Stats
Poland ended an 18 match winless run against Germany, with their win over them in qualifying.
The two nations have met four times in major tournamnets, including at Euro 2008, with Poland yet to taste victory.