Slovakia against Russia was an intriguing clash after both sides could not conjure up a victory in their respective opening matches.
Jan Kozak had been out thought by Wales' Chris Coleman as his side struggled to break down a resolute Welsh defence, whilst Russia grabbed a late equaliser against England after a very conservative approach to the game.
More of the ball but no end product for Russia
Slovakia had no choice but to go out for victory against Russia, whilst the match gave Leonid Slutsky a question over whether to attack Slovakia or put defence first like he did against England. That question was answered early on as Russia took a more positive approach, enjoying a greater possession of the ball in the first half. They were finding lone striker Artem Dzyuba regularly, although their quality in the final third was somewhat lacking.
Part of the problem for Russia was that their passing had no tempo. Although they were hitting the front man on numerous occasions, it was a ploy that the Slovakian's found easy to defend against, particularly with a lack of runners willing to go past Dzuyba.
The experienced back five, where the majority play club football together, looked organised and compact, regularly catching the Slovakian forward players offside. Yet there has always been a question over the likes of Alexei Berezutski and Sergey Ignashevich when they are faced up against an opponent blessed with pace and the Russian defence was soon found out.
Although playmaker Marek Hamsik certainly did not run the show, he produced a moment of magic to set up the opening goal. A wonderful diagonal pass isolated the Russian defenders, exposing a weakness that Vladimir Weiss took advantage of to curl in Slovakia's opener.
The Russian defence did not look comfortable as Slovakia grew with confidence and began to carry the ball against them. The midfielders were beginning to find a lot more space than they did against a stubborn Welsh side on Saturday. Hamsik was soon on hand again to produce another touch of quality to double Slovakia's lead before the break with one of the goals of the tournament so far.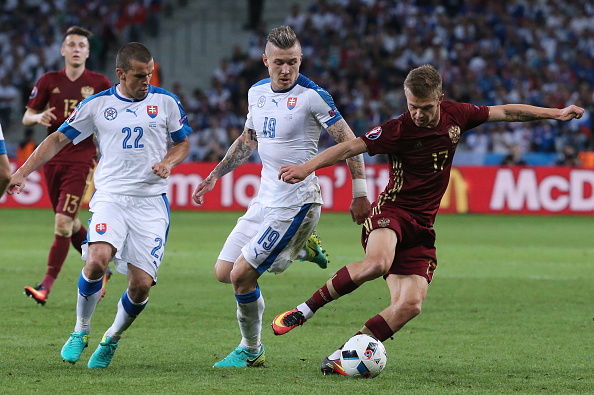 Suspect Slovakian defending and Russian attacking
The way in which the second half panned out raised a few eyebrows. Slovakia understandably put men behind the ball, yet Jan Kozak made a few substitutes that did not support such a defensive policy and left space for Russia to attack. Yet Russia continued their slow build up play, mixed with the occasional long ball as Slovakia defended in numbers.
It was not until the final ten minutes, after pulling a goal back, that Russia played with any sort of tempo. What seemed to be a study and more confident defence, optimised by Martin Skrtel's composure before passing Hamsik the ball to create the opening goal, all of a sudden showed the nerves that had taken over them in the Wales match. Denis Glushakov somehow managed to ghost unmarked between the Slovakia midfield and defence to get a goal back for Russia and almost added an equaliser late on.
Slovakia will be delighted with their first half performance and holding on to a crucial three points, but Jan Kozak will be concerned at the way his team lacked composure in defence late on. For Leonid Slutsky it is back to the drawing board after another poor Russia showing.