Austria struggled to get anything going in the offensive third of the pitch in their 2-0 loss to Hungary. David Alaba was by far their most influential performer on the night as no one else stood out.
Koller not pleased with team's overall play
Marcel Koller noticed this in his post-match press conference. He stated that, "We started well. David Alaba hit the woodwork early on." Then, Koller went on to say that Austria lost their shape and focus as Hungary grew into the match. The Austria manager went on to say that, "We lost the ball too often and Hungary were able to get it hold of it easily."
This will certainly need to change before their next match. If Austria cannot find their clinical touch in the final third of the pitch, they could be eliminated as quickly as they began.
David Alaba cannot carry load for Austria
The lone Austrian who did have a good match was FC Bayern Munich's David Alaba. The 23-year-old was influential in the final third and defended well. Austria's best chance came when Alaba's left-footed strike hit the right post. "With a bit of luck that ball would have gone in and the match would have looked a bit different." Alaba went on to say that, "We had enough opportunities, especially in the first half, to take the lead."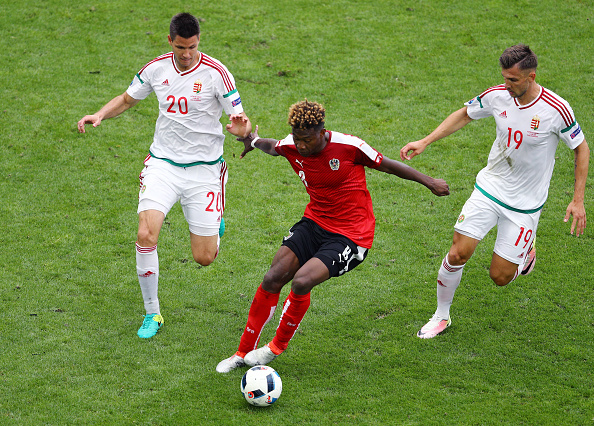 Austria, though, cannot rely solely on David Alaba this tournament. Others will have to step up. Marc Janko did not get involved nearly enough in the final third; Marko Arnautoviċ needs to provide better crosses; and Martin Harnik must provide more width down the right. Should all of these things happen, Austria should get a much more desirable result.
Coming up
Austria will play against group favorites Portugal in the second match day.