In an interview with uefa.com Arda Turan looks back on Turkey's European Championship opener with Croatia and his time with the national team, admitting that every player has bad games and that one of his was against Croatia on Sunday.
The Turkish captain went on to discuss Turkey's current opposition Spain, before turning to discuss his manager and the Crescent-Stars previous tournament runs.
Turan reflects on his tournament opener
Turkey were left deflated after their tournament opener against Croatia, as a stunning volley from Croatian superstar Luka Modric separated the two teams. Turan admitted that while his team "were very disciplined in terms of tactics," their opposition are a "better team" and "more experienced."
The captain also added that in order "to match them, we had to run more" but they failed to do so. He also commented that Turkey "don't have many players who have played at this level" and so it is "natural" that the occasion may have effected them. However, Turan added that he "hopes those nerves won't affect [them] this time" as he "believes" in his team mates as they've "accomplished great things and put in a lot of effort" to get to the tournament and in the team.
Turan went on to admit that he himself "played badly" and was "ineffective" but "such things can happen." The midfielder added that he will "try [his] to do better in the next match."
Yet Turan added that he "finds it hard to understand the way people respond to me" as he's played "over 90 times" but "you could count [his bad performances] on the fingers of one hand" and that he is "just trying to stand tall for my country and my national team."
Turan however, remained optimistic looking forward saying "in a tournament these things can happen" and the team must now "get back on [their] feet and carry on" adding that he "hopes" Turkey can "more effectively against Spain."
Looking forward to Spain
Turkey's next opponents are Spain who they face on Friday the 17th at the Stade de Nice. Turan knows that "Spain are the favourites" within the group and so "will have more of the ball" meaning his team are going to have "to fight until the end" to gain at least a point against a "very strong team." The captain commented that if Turkey can get that point their "chances of going through are very high."
Turan has played in La Liga for five seasons after he joined Atletico Madrid in 2011 before signing for FC Barcelona last summer. A lot of his team mates from both clubs will likely line up against him on Friday, but when speaking about this Turan said "that is the beauty of football" as "everyone knows each other." However he added that he doesn't believe "there will be any sort of advantage or disadvantage" thanks to the improvement of video analysis.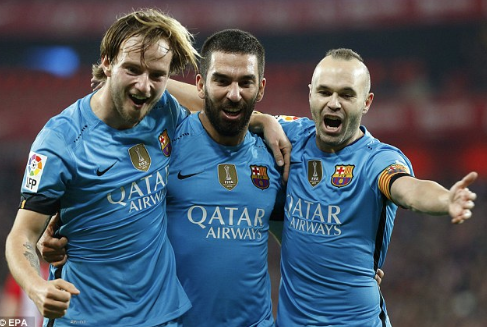 Turan's pride for country and team
The captain then turned his attention to his coach, Fatih Terim, who he labelled "a special person." Turan played under Terim at Galatasaray and the midfielder said that the "are like father and son" and that "his wife is someone I can call whenever I want" and "his daughters are my friends." Turan added that Terim "taught the Turkish people how to win" as before him their game "was based on defence" and so "did not win so much." Turan added that he has "endless thanks" for his manager as "his tactical skills bring that motivation" and allow "players [to] trust him".
When ask about his feelings when playing for Turkey, Turan said that his love for his country makes "wearing the shirt an honour." He added that there is "a real democracy in the team" as everything is shared and discussed. Turan also spoke about the pride for playing in Euro 2008 as every time he thinks about it he has "tears in [his] eyes" as they "could have won it."