Well, that's that then, I have been Andrew McDonnell, my Twitter handle is @AndrewSJourno for those wanting more from myself, I hope you've enjoyed our coverage of Spain's 3-0 win over Turkey in Nice. Make sure you check out the rest of our Euro 2016 coverage as VAVEL continues to provide in-depth coverage for every single game of the tournament.
The result sees Spain move to the top of Group D on six points, and as previously mentioned, they are now through to the latter stages of the tournament. Turkey remain bottom of the group having not picked up a point thus far, and with Croatia second on four points and the Czech Republic third on one point.
David Silva deserves a mention for his performance tonight, as does Cesc Fabregas and Nolito. This Spain side looks capable of beating anyone, and they will certainly be favourites to go on and win the European Championship for the third consecutive time.
It is now time to nominate VAVEL UK's man-of-the-match from tonight's game. It is a difficult one, many people will have gave the award to Morata for his brace on the evening, however, for me, Iniesta was on another level tonight, a five-star performance from the magician. The man-of-the-match award goes to the Barcelona man for a sublime display at the Stade de Nice.
However, they look a side short on confidence and getting a win looks very unlikely at this stage, especially seen as the Czech's came back from 2-0 down ealrier today to claim a point against the same opponents who Turkey lost to.
That defeat all but signals the end of their tournament now, although, they go up against the Czech Republic in the final group game and a win may see them claim one of the four third place finishes needed to go through to the Last 16.
Turkey's boss Terim wanted a reaction from his side after the defeat to Croatia, and at times they showed something, but for most of the game they simply weren't on Spain's level, and they have been brushed aside with ease.
Morata bagged two on the night and Nolito managed to get a goal of his own inbetween those two goals. Spain's third goal of the evening minutes after half-time saw 21 passes played before Morata tapped home from Alba's pass. It really was a beautiful move.
The defence of their title could not have gone any better so far, two wins from two group games, and they are safely through to the Last 16 stage of Euro 2016.
FULL-TIME: That's it, the game has come to a close and Spain have inflicted a 3-0 defeat to Turkey in Nice.
90: The fourth official has signalled that there will be two additional minutes at the end of the 90.
89: Fabulous play from Spain, Azpilicueta slots the ball through to Nolito, whose neat footwork allows the forward to avoid challenges and lay the ball off to Morata, who fires over from the edge of the area.
88: Late chance for Turkey, substitute Sahan is played through on goal, but tried to dink the ball with his right foot instead of hitting it at goal with his left and the ball squirms out of play, goal kick.
84: With this game being, all but, wrapped up, Del Bosque will now have his attention firmly on the Croatia game on Tuesday, where the winner will top the group, and that will certainly be a game that you won't want to miss.
81: Final substitution for Spain and Cesar Azpilicueta comes on for the final nine minutes in place of Jordi Alba, who has, quite literally, ran a marathon tonight.
80: Ten minutes to go now, and Spain certainly are one of the favourites for the tournament. Almost every team has played two games now, and the Spanish have been one of, if not the, best teams so far. England have also been another side to have performed well, while hosts France and Italy managed to get over the line in both their games so far.
78: Tempo has died out of the game now, a mexican wave is now circling the ground, which normally means the contest is well and truly over.
75: Substitute Malli digs out a brilliant cross, but no one is in the box to get on the end of it, ball ends up being cleared after another cross comes in from the other flank.
72: Turan is now being booed every time he touches the ball by his own fans, things have turned badly for Turkey now. Their captain has failed to make an impact once more.
70: Both sides making a change, firstly, Turkey bring on Yunus Malli for Selcuk Inan and Spain take of Cesc Fabregas, who makes way for Koke.
68: Ball worked to substitute Bruno, who fires a shot away from the edge of the box, Babacan makes a good save and pushes the ball round the post.
64: Just before Spain take the free-kick following a foul on the edge of the area, they are making a change which sees David Silva, who has had a brilliant game this evening, replaced by Bruno.
62: Turkey make their second substitution of the game with Olcay Sahan coming on in place of Ozan Tufan.
60: Brilliant build-up once more from Spain, Juanfran drive s across in for Silva, who touches and shoots at goal, but the effort deflects wide. Silva goes close from the resulting corner, his shot hits the side netting.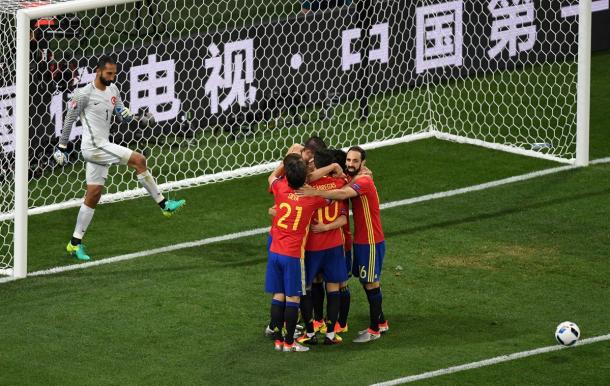 58: However, Spain look very dangerous still going forward, there is still goals left in this one as Nolito breaks through at the back post, but Caner comes across and cuts out the danger.
53: Turkey have responded well to going three-down believe it or not, but its a little too late too late. They kept the ball well there during the attack and have won a corner after Yilmaz's pull-back is escorted behind.
52: Turkey have their first chance of the half, Yilmaz turns away from Pique, and finds room in between the two centre-backs, but fails to hit the target with a curling effort. Should be doing better with a chance such as that.
50: Fabregas picks out a beautiful pass, and Morata almost has a hat-trick, a good header, but it goes wide of the far post.
48: Superb build-up play from Spain, Iniesta threads the ball through to Alba, who squares the ball across to Morata first-time, and the forward calmly taps home for his second of the game, and the woes of the first game look behind him.
ALVARO MORATA MAKES IT 3-0 MINUTES AFTER THE BREAK!!!
KICK-OFF: Turkey gets the second-half underway, is there a way back into this game for them?
Spain have made their way out onto the pitch first, followed by Turkey, who are going to make one change a the break with Nuri Sahin of Borussia Dortmund replacing Hakan Calhanoglu.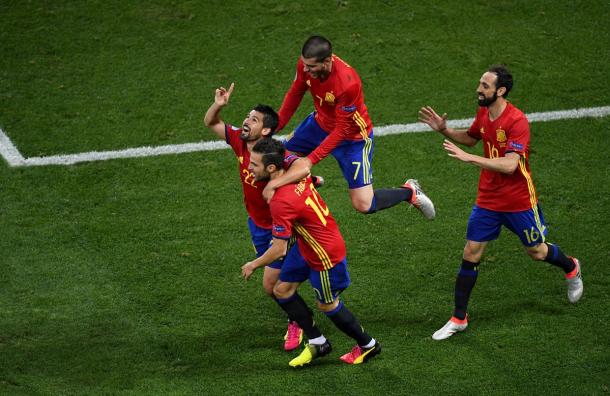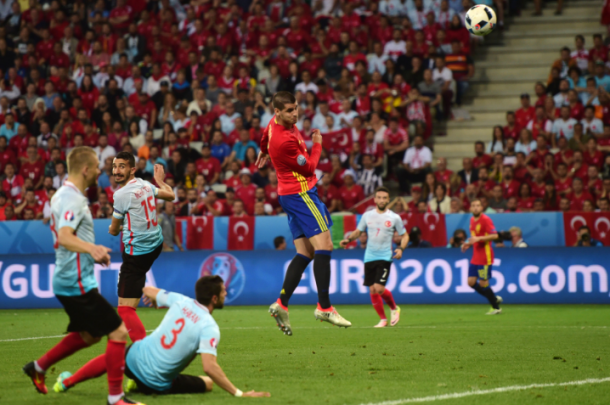 Turkey have been limited to very few chances, but should have made at least one count against an opposition as good as Spain. It looks unlikely, but it they are to come back into the game, they have to pick up their tempo and make one of these few chances count. De Gea was untroubled in the first-half.
Spain have went one better than they did in the opening game, their performance has been rewarded with goals through the game this time, and it may well have been more, and Turkey looked defeated at the end of the half.
HALF-TIME: The single minute of additional time has been played and the referee has blown his whistle for the break. Spain go in at half-time with a two-goal lead over Turkey, and it is no more than they deserve.
45: Morata played through down the right, and plays the ball across the box first time, but the defender manages to get an important foot to the ball to guide it behind.
44: Spain's midfield have turned up the pressure once more, Silva with some nifty footwork inside the box, but Turkey manage to scramble the ball clear.
40: Iniesta eases past his marker and looks to drift into the box, but is held back by Ozyakup, who picks up a yellow card for the deliberate pull-back. Turkey are rattled here and are on the ropes, they need to get to half-time without any more damage caused.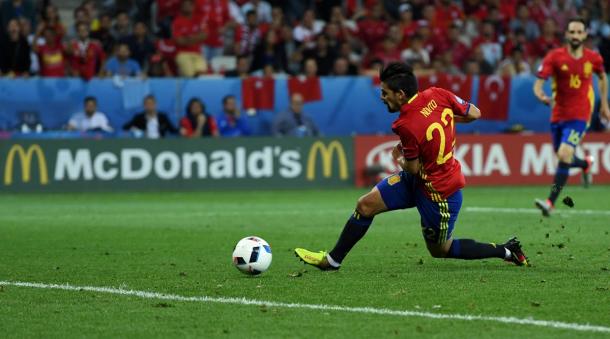 37: Fabregas picks out a pass, which Topal tries to head back to his keeper, and Nolito has managed to latch onto the mistake and sweep the ball home past the keeper.
SPAIN HAVE DOUBLED THEIR LEAD WITHIN A MATTER OF MINUTES!!!
34: Brilliant cross from Nolito into the box and Morata loses his marker and heads the ball on brilliantly into the far corner, keeper was helpless with there.
ALVARO MORATA HAS OPENED THE SCORING IN NICE!!!
33: Break in the game here as Pique and Busquets clash, the Barcelona men go for the same ball and have stayed down after the collision.
32: Juanfran manages to cut the ball back to the penalty spot, where Nolito was waiting, but the defender does enough to put him off, shot goes wide.
31: More than half-an-hour gone here in Nice and Turkey have been more of a match for Spain so far.
30: Ramos not alive to the ball over the top there and it bounces over the top and De Gea has to play the sweeping role to clear the ball otherwise Yillmaz was through on goal.
29: CLOSE! Nolito cuts back inside onto his right foot and curls his shot just wide of the far post, very big let off for Turkey there.
25: Chance for Turkey here as they have a free-kick in a very dangerous area, Calhanoglu standing over this one after Juanfran foules Turan on the edge of the area. Good effort, but off target.
23: First attempt of the night for Turkey as Turan manages to work the ball to Calhanoglu, who opens up his body and hits from just outside the area, but it sails over the bar.
20: Challenge on Iniesta by Tufan from behind, goes down holding his ankle area, and that probably should have been the third booking of the game. The Spanish magician is up, but is hobbling around.
18: Turkey manage to keep hold of the ball for a short period, which eases some of the pressure that has been applied in the opening exchanges.
17: Spain starting to turn the screw now, corner comes in from Silva, and it sails over the head of Pique at the back post.
15: Magical footwork from Silva, who wriggles past challenges and drives into the box. The ball gets laid off to Iniesta on the edge of the box, but a brave diving challenge from Balta blocks the shot.
12: Corner from Silva comes in and Pique goes feet first unmarked, but his shot cannons off the floor and bounces over the bar to Babacan's relief, he really should have had his second goal of the tournament there.
11: Alba manages to digs out a cross, which is heading to Morata, but it gets deflected wide by a defender and it clips the post on the way.
10: Fabregas tries to break into the penalty area, but a brilliant tackle stops him in his path, opening 10 minutes has flewn by here in Nice.
9: Pretty vigorous hand-off by Yilmaz on Busquets, and is handed a yellow card after the Barcelona man makes the most of it. Tries to protect the ball, but free-kick is awarded to Spain.
6: Superb work from Morata, evades two challanges and gets his shot away from 25-yards, keeper forced to push the ball round the post.
5: Good start to the game from both sides, Spain look like they'll be their patient selves in this one, while Turkey are going to have to wait and make the most of the ball when they have it.
3: Spain in the classic red shirt, with blue shorts and black socks, meanwhile, Turkey are in their away shirt (white and blue fade), with black shorts and red socks.
2: Free-kick comes in, but Balta flicks on and heads wide
1: Ramos makes an early mistake and bundles Yilmaz to the ground, the first yellow card of the game, very early in the game, but a little harsh this early in the game.
KICK-OFF! Spain get us underway here in Nice, kicking right-to-left.
We are moments away from kick-off in Nice, I have said it prior to this but what a beautiful stadium this is, the Stade de Nice is the perfect scene for this contest.
BREAKING NEWS: UEFA has confirmed that it will open disciplinary proceedings over disturbances during Croatia's draw with the Czech Republic in Saint-Etienne.
Spain will be guaranteed a place in the Last 16 if they manage to get their second win of the tournament tonight, and if Turkey cause an upset and get something, then the final round of matches certainly will be interesting.
Terim has made one change from the side that lost to Croatia on Sunday, Burak Yilmaz comes into the side in place of Cenk Tosun, and the comments that Turkey will attack the reigning champions may well prove to be true in this one.
Del Bosque has elected to go with the same side that beat the Czech Republic in their opening match, Alvaro Morata has a second chance as he missed a few chances on Monday.
Substitutes: Kaya, Calik, Sahin, Tosun, Sahan, Kivrak, Koybasi, Malli, Sen, Mor, Ozbayrakli, Takin
Turkey XI: Babacan, Gonul, Topal, Balta, Erkin, Tufan, Inan, Ozyakup, Calhanoglu, Yilmaz, Turan (c)
Substitutes: Casillas, Azpilicueta, Bartra, Koke, Lucas, Pedro, Bellerin, Thiago, San Jose, Bruno, Aduriz, Rico
Spain XI: De Gea, Juanfran, Pique, Ramos (c), Alba, Fabregas, Busquets, Iniesta, Silva, Morata, Nolito
We now have official team news for tonight's match, and the Spain and Turkey line-ups are as follows...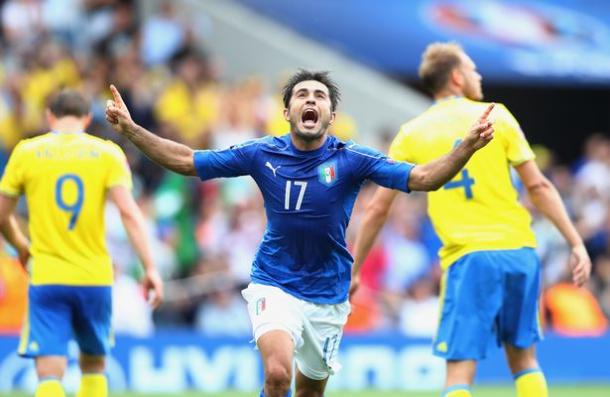 Earlier on, Italy booked their Last 16 place with a 1-0 win over Sweden, Eder struck on 88 minutes with a remarkable finish to snatch all three points.
The second of three games today has just came to a close, and the Czech Republic have turned a 2-0 deficit around to snatch a point last on against Croatia, and does that result give Turkey a route back into this group?
We are now just over an hour away from kick-off in Nice, and what a game it promises to be, with the reigning champions Spain taking on Turkey at the Stade de Nice.
That's all for the pre-game notes here at VAVEL UK, make sure you return around kick-off for live commentary and updates on the Group D clash between Spain and Turkey.
David De Gea hasn't conceded a single goal in four competitive games for his country, and the Manchester United man will be lokoing to claim another clean-sheet, as he looks to cement down the number one spot.
Spain have conceded only one goal in their last six games against Turkey, and they haven't let in a goal at a European Championship in 600 minutes, Pique and Ramos will be looking to extend figure.
Forward Cenk Tosun failed to record a shot on target during his 69 minutes playing against Croatia, and only one of Turkey's 11 goals at the Euro's have came in the first-half of games.
Turkey have only managed to record one win in 10 games against Spain, with that win coming back in a World Cup qualifier in Istanbul in March 1954.
Turkey's main point of attack comes in the shape of Barcelona's Turan and Bayer Leverkusen's Hakan Calhanoglu, but both were at the brust end of criticism by their boss after the 1-0 defeat to Croatia.
For Del Bosque's side, they have a few key men, but none more than Iniesta and Silva, who will be their main point of creation throughout the game, with the former making 107 caps for his country.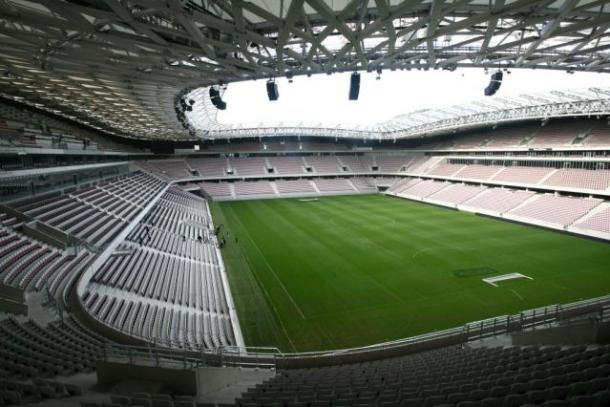 The stadium for tonight's match is the beautiful Stade de Nice, which was opened back in September 2013 and is the home of OGC Nice and hosts the Group C opener between Poland and Northern Ireland last Sunday.
"In other cases, you have to drop back and help, so that the team can breathe more easily and find a way out. It's not easy, as it depends on how the team's playing at any given moment, but feeding off Silva, Iniesta, Koke and Cesc is wonderful - I wish I had them in my team every week," added Morata.
"They're incredible - the best generation of players in the history of Spanish football. When I practice with them, I always receive the ball straight away…playing with them is a real pleasure."
He said: "It depends on how the match is going: whether we're counter-attacking or keeping the ball. In the latter case, you have to find some depth play with your back to the defence but 'open up' your body shape for the half-turn."
Alvaro Morata was asked by UEFA.com how he manages to find space in behind a solid defence, does he search and make his own space or is he drove by David Silva and Andres Iniesta?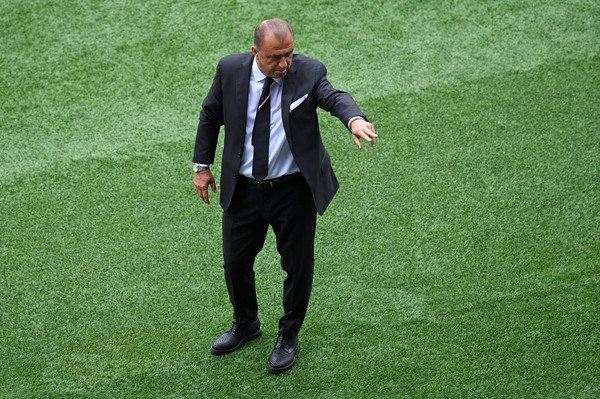 "Coming here, we looked like a side that's more of a club side, rather than a national team. And then, the performance at the Croatia game upset us all," he added. "We wouldn't be that sad if we had played like when we did against England [a 2-1 friendly defeat last month]. However, I didn't see a reaction from my side after conceding. That was not good."
"You cannot just go and play Spain without actually trying to play. If you just try to defend and try to close the goal, they will eventually open it up," added Terim. "Of course we will defend but we will try to play our game as well. That's what I will tell to my players."
Turkey coach Terim, who spoke to the media and vowed to take the attack to Spain, said: "I have never been the kind of coach who tells my players to sit back and try to clear as many balls as possible. That is never my mentality," Terim said to Turkish reporters.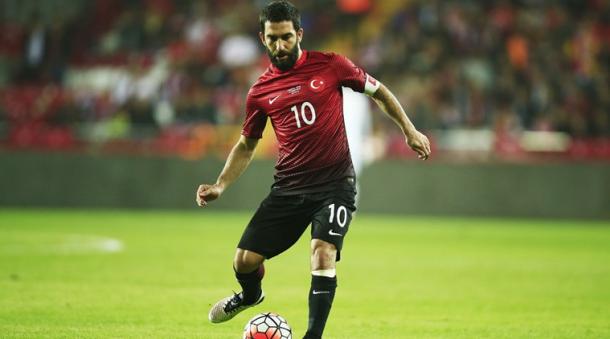 This evening's referee will be Milorad Mažić from Serbia. This will be his second match of the tournament after officiating the Group E game between the 1-1 draw between Republic of Ireland and Sweden in Saint-Denis on Monday.
Predicted Turkey line-up: (4-1-4-1): Babacan, Gonul, Topal, Balta, Erkin, Inan, Colhanoglu, Tufan, Ozyakup, Turan, Tosun.
Predicted Spain line-up: (4-3-3): De Gea, Juanfran, Pique, Ramos, Alba, Fabregas, Busquets, Iniesta, Silva, Morata, Nolito.
Bearing those injury concerns in mind, here are Vavel's predicted line-ups for the game in Nice.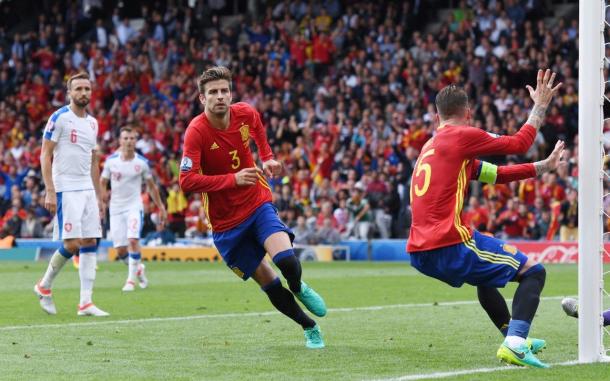 Arda Turan, who issued an apology to fans after a poor performance against Croatia, will be looking to prove his worth on the international stage once again, but his boss is expecting more from his star players.
As for Turkey, Gokhan Gonul and Mehmet Topal are slight doubts for the game after sitting out training earlier this week, but other than that, Terim doesn't have many worries, except for the team selection one.
David De Gea is expected to keep his place in the Spain goal ahead of Iker Casillas, and Del Bosque said that it was "painful" to drop his captain from the starting lineup.
Neither Spain nor Turkey has any major injury concerns, but there is always a possibility that both sides may change their sides from the opening games respectively.
The current champions haven't lost a game in the European Championship since their loss to Portugal back in 2004, and they will be looking to carry on a run of 13 successive wins when they meet Turkey in Nice.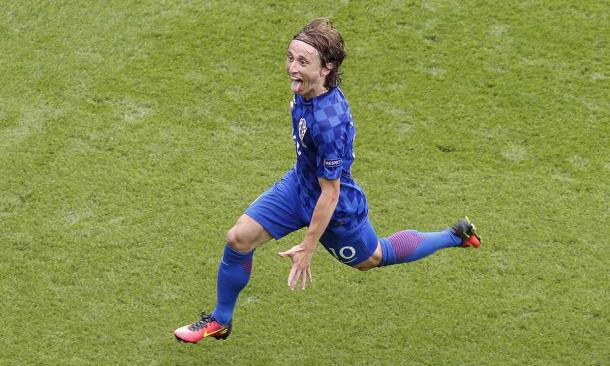 Darijo Srna and Ivan Perisic struck the woodwork for the Croatians, while Turkey keeper Volkan Babacan single-handedly kept the scoreline from being more than what it actually was.
Luka Modric's stunning long-range volley earned Croatia a deserved victory in Paris, and with Turkey sitting joint-bottom of Group D going into this game, they will be looking to cause an upset.
As for the Crescent-Stars, who got their Euro 2016 campaign underway the day before Spain, they failed to find the spark that Terim craved beforehand, and they went out with a whimper against Croatia.
Vincent Del Bosque's side are aiming to win a record third European Championship in a row, and their second test in the group comes in the form of Fatih Terim's Turkey.
However, it wasn't all plain sailing for the Spanish in their opening game. Alvaro Morata, Jordi Alba and David Silva all had chances through the game before Andrea Iniesta's cross found the head of Pique, who finally broke the hosts resistance.
Reigning champions Spain come into this game having just edged past the Czech Republic in their opening game thanks to Gerard Pique's late header.
Hello, my name is Andrew McDonnell, and welcome to VAVEL UK's live coverage of tonight's Euro 2016 clash between Spain and Turkey. This Group D match will get underway at 8pm at the Stade de Nice in Nice, but stick with us beforehand for build-up and team news ahead of kick-off.