Antonio Conte's pre-match press conference, ahead of his side's second match at the European Championships, was much like the Azzurri's assured performance which helped them beat Belgium in their opening game.
Conte, who will take over at Chelsea once the tournament in France has reached its conclusion, was praised for his defensive and astute tactics, which has seemingly transformed his Italian team from dark horses to genuine contenders in the space of 90 minutes.
Both dressed in black, Conte and his captain Gianluigi Buffon - who at 38 is only eight years younger than his manager - addressed the media before the Azzurri's second group game against Zlatan Ibrahimovic's Sweden.
Painful memories for Buffon
Buffon doesn't have the fondest memories of the imposing striker; for it was Ibrahimovic's audacious back heal over Buffon five minutes from time which knocked Italy out during the group stages at Euro 2004.
Twelve years on, and the message from Conte and his most experienced player was clear "qualification (out of a tough-looking group E) is our first goal".
Overall, it was a conference which was almost as professional and dignified as the Azzurri's defensive display against the Belgian's. However, Conte was circumspect to go overboard ahead of the second fixture for both sides.
Conte Taking Nothing For Granted
"We made a good performance against Belgium but we have not done anything nor have we achieved the qualification to the knockout stages, which is our first goal".
"I think I have a group of lads who are very focused and determined, and who take pride in doing things well. I'm certain that one single game will not change the attitude of these lads. I'm convinced of this".
"It was a good performance against Belgium and we made the best start to Euro 2016, but we've not done anything yet, nor have we already qualified for the last 16, which is our first objective. We have our feet firmly on the ground, preparing for tomorrow's game and looking for the win".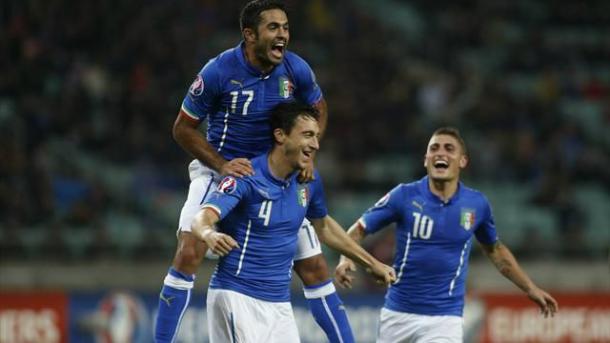 Conte also referred to the close games at this year's competition, which is yet to see a team score over two goals in a single match.
"We're seeing some really, really tight games to be honest and you can see that every game is very, very difficult".
"The games are going down to the wire and we've got to be very well prepared."
No Big Changes Expected For Sweden Game
When assessing the match up against the Swedes, the Italian boss revealed that he "will not make big changes" meaning we are likely to see the 3-5-2 with worked so effectively in the opening game.
"We've got to attack them as a team. In defence the problem is not only Ibrahimović, it could also be (Emil) Forsberg or (John) Guidetti; it could be their set pieces or various things we have to analyse.
"When we analyse our opponents, we look at them first as a team then break them down into individuals and try to highlight their deficiencies".