15:51 - Thank you for joining me for VAVEL's coverage of Belgium - Republic of Ireland, you can follow me on Twitter @Danialkennedy95 and until next time enjoy a afternoon of football !!
15:51 - Ireland will have to defeat group winners Italy if they are to progress while Belgium are in a excellent position to progress when they take on Sweden
15:50 - Belgium have bounced back with a fantastic win ! It was a first half with very few chances but bounced back in the second with goals from Lukaku and Witsel securing the victory
FT - Belgium 3-0 Ireland
90' - Just three minutes added time in this clash
89' - Through ball looking for Benteke but Randolph is out quick to collect
84' - KDB stings the palms of Randolph but fails to add to the scoreline
82' - The hero of the afternoon, Lukaku comes off in place of Benteke. 3-0 Belgium
80' - Ten minutes from the end and the points are secured for the Belgians and will be looking to keep a clean sheet to round off a great afternoon
78' - Final sub for Ireland as Long comes off for Keane
71' - SUB Hoolahan comes off for McGeady
70' - GAME OVER BELGIUM MAKES IT THREE poor from Clark as he slides into the challenge and Hazard skips past to make a two-on-one situation and he cooly tees up Lukaku who slots home with ease
69' - GOAL Belgium 3-0 Ireland
62' - O'neill makes his first change as McCarthy comes off in place of McClean
60' - BELGIUM MAKE IT TWO good play from ball and it is a great ball into the area to find the head of Witsel and Randolph can only help it on it's way into the net 2-0 Belgium !!!
60' - GOAL Belgium 2-0 Ireland
57' - SUB Dembele has come off injured and has been replaced by Nainggolan.
51' - Whelan tries a shot from distance which manages to win Ireland a corner from a deflection
49' - Vermaelen picks up the first yellow card of the afternoon after fouling Shane Long
47' - BELGIUM TAKE THE LEAD brilliant break upfield through De Bruyne who plays it to Lukaku who takes a touch before curling it beyond Randolph an burying it into the bottom corner 1-0 Belgium !
47' - GOAL Belgium 1-0 Ireland
45' - Players back on the pitch and Ireland kick off the second period
14:49 - Coverage of the second period will follow very shortly
14:46 - Belgium dominated the first period but there was only one real oppportunity from Hazard and Carrasco's offside goal
HT - Belgium 0-0 Ireland
44' - corner from KDB into Witsel but collected by Randolph
35' - Little under 1o minutes until half-time and the only real chance has been from Hazard but still remains goalless
24' - Ball is in the net as KDB puts in another good cross for Carrasco who pushes Randolph to a good save and hits in the rebound but flag is up
22' - Poor error falls to Hoolahan but Alderweireld is in with the crunching tackle
20' - First real chance as De Bruyne's cross isnt really dealt with as it falls to Hazard but the skipper puts it over the corssbar
19' - Brady's second corner is poor and straight into the arms of the keeper
19' - Brady's corner flicked on and Courtois flicks it over another corner
18' - Great ball in from Hoolahan looking for Long but Vermaelen plays it safe and puts it behind for the corner
17' - De Bruyne free-kick goes right across the face of the Irish goal but nobody gets on the end of it
15' - No real opportunity has arose as of yet for either side as Hazard is fouled by Coleman
10' - Belgium very much in control so far but Ireland doing well still 0-0
4' - Positive start from both sides as Belgium get the ball into the area from the cross but Randolph collects easily
1' - Randolph takes a free kick deep in his own half
1' - Belgium Kick-off the game !
13:57 - Now the national anthem of Belgium
13:55 - The national anthem of the Republic of Ireland up first
13:54 - The players are out ahead of the national anthem kick-off five minutes away
13:53 - The players are in the tunnel ahead of kick-off at the Stade de Bordeaux
13:45 - The teams are out on the pitch warming-up with a 15 minutes until kick-off
13:30 - Little under half a hour until kick-off and Ireland will be looking to wash away their previous record against the Belgians who have remained unbeaten in their last seven meetings between the two nations
13:16 - Just the one change for Martin O'Neill's side with Stephen Ward coming in for Johnathan Walters
13:14 - Marc Wilmot has made three changes to his side with Laurent Ciman is replaced at right back by Thomas Meunier. Marouane Fellaini also drops out for Mousa Dembele and Radja Nainggolan for Yannick Carrasco
13:13- Ireland starting XI: Randolph, Coleman, Clark, O'Shea, Brady, Whelan, McCarthy, Hendrick, Ward, Hoolahan, Long.
13:12 - Belgium starting XI: Courtois, Meunier, Alderweireld, Vermaelen, Vertonghen, Witsel, Dembele, De Bruyne, Hazard, Carrasco, Lukaku.
13:08 - Team news will follow very shortly
13:05 - Ireland will be looking to build upon their point they gathered against Sweden while Belgium will be looking to bounce back after their defeat to Italy
13:00 - Hi everyone I am Danial Kennedy and welcome to VAVEL's live commentary for the game between Belgium and the Republic of Ireland
It is a little under 19 years since these last two sides met, and in 1997 it was all to play for. Both nations faced off, in the play-off's for the 1998 World Cup, also in France. It ended 1-1 in the first-leg in Dublin, However it was Belgium who proved superior. Goals from Luis Oliveria and Luc Nilis, cancelled out Ray Houghton's effort to secure their place at the finals.
O'Neill would be right to be slightly concerned by the head-to-head statisitics going into this game, Belgium have failed to be defeated in a competitve game by the Irish, failing to lose in seven stretching back to 1966.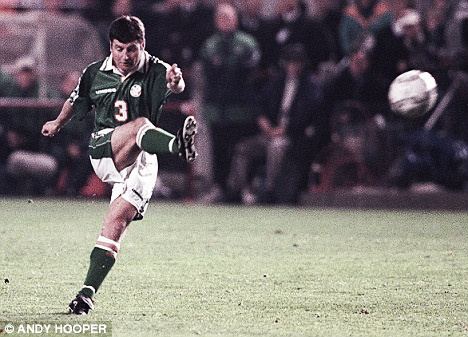 He continued saying that it is a match that they will "look forward to" and have the "opportunity" to show the "same sort of attitude" same "determination" and "ability" and give Belgium a "tough game."
O'Neill told uefa.com that Belgium are "individually as talented" as "any side" that are "playing in the competition" and will be a "difficult match" for them.
They took a huge step to redeeming themselves in their opening game against Sweden, Wes Hoolahan opened the scoring, to send the green section of the Stade de France into a frenzy. However a own goal from Ciaran Clark meant the spoils were shared.
Matin O'Neill's Ireland, came into this tournament with a point to prove after the country's poor showing at the previous tournament four years ago, losing all three games, scoring one, and conceding nine.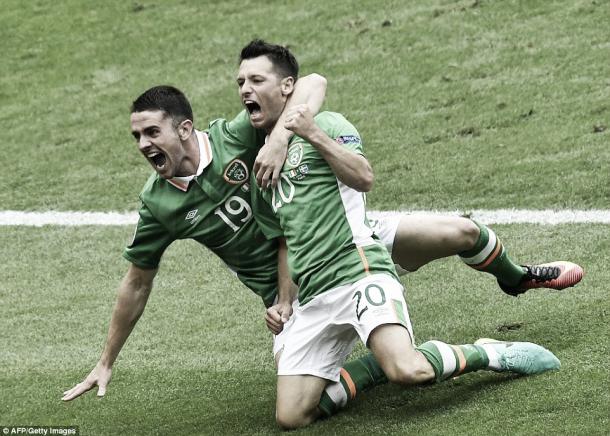 He continued saying that they are a "very dangerous team" on the "counterattack" so they need to be "very mindful."
Wilmots told uefa.com that he is expecting "tight match" to "take the game to them" as they "need the win" but need to "be patient" and "cannot afford" to gift them "too much space."
They faced off against Antonio Conte's men at the Stade des Lumières, on paper it looked the tastiest of any of the group clashes, however the Italians came out on top. Goals from Emanuele Giaccherini and Graziano Pelle, left Marc Wilmots' side with a mountain to climb.
Many had Belgium as one of the favourites to lift the trophy going into tournament, however very similar to the 2014 World Cup, they have failed to deliver so far.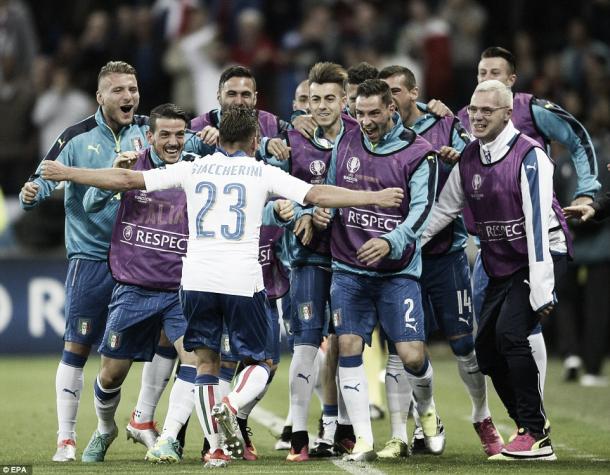 Belgium will be looking to get back on track after their defeat to Italy in their opening clash, while Ireland will look to build on their point at the Stade de France against Sweden.
Hello everyone and welcome to VAVEL's live text commentary of the Euro 2016 Group E clash between Belgium and Republic of Ireland. Kick-off is set for 2PM, so stick with us until then as we get the team news and build up to the match!