Poland captain Robert Lewandowski believes his team should have scored at least once in their goalless draw against old rivals Germany.
More frustration in front of goal
It was another quiet day up front for Bayern Munich striker Lewandoski, as he got little change out of many of the Germany defenders - some of which are his teammates. The one time he did get a clear sight of Manuel Neuer's goal, he was denied brilliantly by Jerome Boateng, who produced a perfectly executed sliding tackle just as the striker pulled his leg back to shoot.
However, for the most part, it was again Arkadiusz Milik who provided Poland's main attacking threat and he had two really big chances in the second half. The first was right at the start of the period, when Jakub Błaszczykowski put in a delightful low ball from the right for Milik, who decided to try and stoop down and head the ball in instead of just letting it come to his feet, where he surely would have scored from just six yards out.
The other big oppurtuinity the Ajax man got had was again courtesy of good wing play, this time on the left from Kamil Grosicki who picked Milik out in the middle of the box, only for him to take an air shot when the goal was gaping.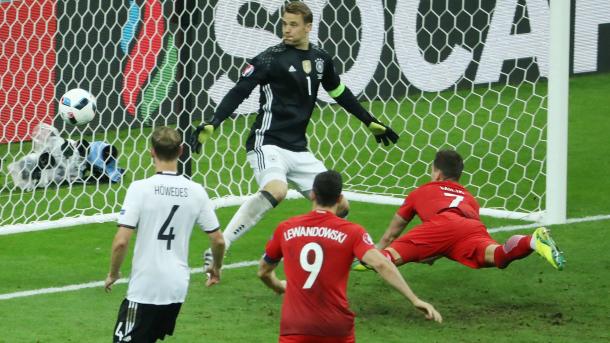 These misses were much to the annoyance of Lewandoski and co., with the former Borussia Dortmund man saying: "It's too bad we didin't score a goal, because I think we deserved at least one." Then when asked about his own form in Poland's recent press conference, Lewandoski said: "It would be good to get a goal, but I haven't had any chances."
The 27-year-old concluded: "I hope I will score against the Ukraine, but more than that, I hope we win and go through." Ultimately, this was still a good result for Poland as it keeps them clearly ahead of Northern Ireland, who had beaten Ukraine 2-0 earlier in the day.
Taking the positives with the negatives
It's not often, if ever, that Poland leave this fixture with real disappointment, having got what was a good result on paper against the World Champions. However failure to win the match has spread a lot further through the team, other than their captain. Midfielder Grzegorz Krychowiak, another key player for the side, could also only see negatives immeaditly after the match.
The Sevilla man told the press: "We could have won if we'd been more efficient, we had three or four really big chances." However the holding midfielder felt the peformance of the team, would hold them in good shape for the matches to come as he said: "If we play like this, then we can go a long way."
In a good position
Despite the suprize disappointment of not having won the game in Paris, head coach Adam Nawalka feels his team are still in a great position to go forward in the tournament, as he told UEFA.com: "We are in a really good position, of course we are not through yet, but we have a good chance."
The defence has to be the source of Nawalka's greatest pride, with Poland keeping two clean sheets in as many games, despite using two different goalkeepers. Lukasz Fabianski was in between the sticks on thursday night, as he replaced the injured Wojciech Sczcesny - who started the opening game against Northern Ireland.
The Swansea City 'keeper managed to do as his former club team-mate had done four days earlier in Nice, by keeping a clean sheet. However Fabianski had little to say following a quieter night than he he might have expected, as he noted: "I did my best to help the team, I did my job."