Both Hungary and Iceland delivered impressive performance on Tuesday in their first games of Euro 2016, but must now focus once more as they play eachother on Saturday.
The Magyars proved they can still be magical as they impressively beat Austria 2-0, whilst Iceland held Portugal to a 1-1 draw.
Hungary have been triumphant in their past five games against Iceland, and a win would see them sail through the group stages, which be a surprise to many. The pair's last meeting came in 2011, with the Magyars running out 4-0 winners.
Each manager looking to get it right
Bernd Strock has hinted that may he switch things up in order to match Iceland's strategy. The German acknowledged the discipline and physical presence of Lars Lagerbäck's side.
Whilst his opponent, Lagerback, is aware that Hungary are a well-organised side who will be tough to break down. He also admitted that Hungary are in a good position in Group F, and therefore victory is even more important.
Though, it is thought that neither manager will make too many changes. Attila Fiola will miss out for Hungary, whilst Strock may reconsider Krisztián Németh, who is one game away from suspension.
There no fresh injury concerns for Iceland, though like Strock, Lagerbäck may have suspension at the back of his mind. Birkir Bjarnason and Alfreð Finnbogason will both serve suspensions if they receive a yellow card.
Both sides will be buoyed by their impressive results in their opening games, however, both will know the need to guard against complacency.
Hungary have only lost two in 10, Iceland buoyed by Ronaldo antics
Hungary's recent form may be better than many give them credit for, the Magyars have lost just two of their last ten, and will hope to extend that run to just two in eleven, with a victory sending them through.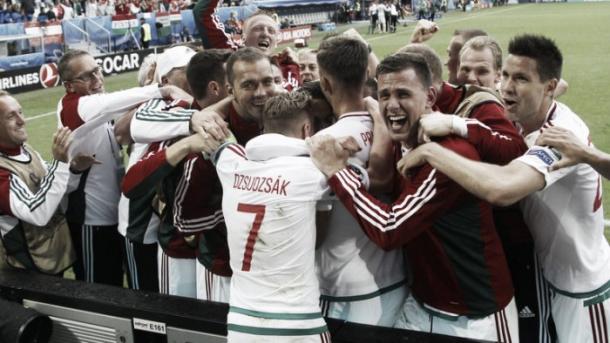 Iceland, however, have lost six of their past ten. Though, this of course is a new tournament for them, and they will look to build on their 1-1 draw with Portugal.
The nation of 300,000 may also look at the game as an opportunity to make Cristanio Ronaldo eat his words. The Real Madrid star was clearly upset by his country's failure to beat Iceland and boldly claimed that the Scandinavian country will not do anything in the competition
He said: "The way they celebrated at the end was unbelievable. Iceland don't try to play, they just defend, defend and defend. Then they celebrate like they have won the Euros. This in my opinion shows a small mentality.
Small time mentality or not, Iceland certainly won't be afraid to celebrate if they do find victory over Hungary.