That's all from VAVEL UK for this fixture, but be sure to keep your eye on our coverage of Portugal - Austria at 8pm GMT. I have been Ollie Haggart, and thank you for joining me in another brilliant game in this year's European Championships in France.
Iceland face Austria in their final group game set for the 22nd of June, whereas Hungary will take on Portugal in what could be a table-topping showdown.
A point in this game for Hungary virtually assures them a place in the round of 16 on four points with Portugal to play later. Iceland sit in second currently with two points, with a draw in the final game of matchday two between Portugal and Austria being the most beneficial to them.
FT: Iceland's valiant efforts are for nothing as a late own goal from Saevarsson helps Hungary share the points.
​90+4: ​Sigurdsson's low-hit shot strikes the wall, falls to Gudjohnsen, and is blasted against two defenders before grazing the post. The Final whistle blows, and the score is Iceland 1-1 Hungary.
​90+3: ​Finbogasson is brought down inches outside the box. A final chance for Sigurdsson to take all three points...
90: ​What is it about EURO 2016 and late goals? That is the 13th goal after the 87th minute so far. Four minutes are to be added on, can either side get a vital winning goal?
87: ​It was Saevarsson who unfortunately turned in the cross after defending so strongly. Fantastic scenes in the Hungary end, but misery can be seen across the faces of those wearing blue who have done so well to hold their narrow lead.
87: GOAL HUNGARY! Endless pressure from the Hungarians finally pays off as a dangerous cross from the right hand side of the box is turned in for an Iceland own-goal! 1-1.
​83: veteran Eidur Gudjohnsen comes on to a fantastic ovation, as he replaces Sigthorsson.
81: ​Nine minutes of play remain. Hungary have been tenacious, but are running out of ideas. Iceland have been formidable in a defensive sense.
​77: Saevarsson of Iceland now in the referee's book. Tired legs are starting to show with careless tackles becoming more frequent.
​75: ​Substitute Finnbogason is booked for a cinical foul meaning he will not be available for Iceland's next game. The free kick, although in a good position, did not challenge Halldorsson in goal.
73: ​A few shots on target in quick succession for trailing Hungary are starting to prove difficult for the Icelandic keeper. It may be just a matter of time that he is beaten. Quarter of an hour of the 90 remain, and Iceland still lead by one goal to nil.
​70: Iceland sub: Jon Dadi Bodvarsson is taken off, with Alfred Finnbogason on to try and grab another goal
​70: Hungary sub: Daniel Bode replaces Tamas Priskin
​69: Iceland sub: Aron Gunnarsson off, Emil Hallfredsson on
65: ​Hungary have promise in their attacking play, but all moves simply result in a mad scramble in the box. Iceland are defending fantastically.
59: ​A promising move from Iceland involving goalscorer Sigurdsson and Bjarnson ends in Sigthorsson having a free header at goal. Fortunately for the front man, the offside whistle blew to spare his embarrassment of heading over.
54: ​Hungary, similarly to the first half, have started the better of the two teams. There is still no real sight of goal for them, but if the attacking remains this relentless throughout, Iceland's sturdy defensive shape will struggle to withold attacks from the creative Dzsudzsak who has been Hungary's best player.
46: ​Hungary kick off to start the second half - can they bounce back to secure their second win of the tournament? Stay tuned to find out!
HT: ​Despite having only 30% possession, Iceland have seen an equal amount of shots (four) with two more on target than Hungary (two). It's a closely contested game, with five fouls apiece - and it doesn't look like that passion will dissipate in the second half. Stay tuned here at VAVEL UK for live updates of the EURO 2016 match between Iceland and Hungary.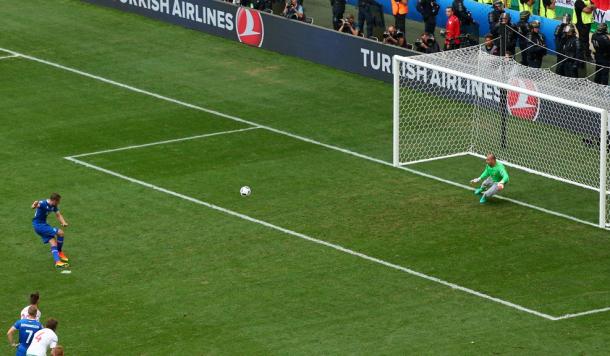 ​HT: Iceland go into the tunnel a goal to the better after Gylfi Sigurdsson converted a penalty late in the half. If it stays like this, Lagerback's side are virtually certain to qualify for the round of 16.
​39: GOAL FOR ICELAND! Tottenham's Gylfi Sigurdsson sends the keeper who was at fault for the penalty the wrong way, with a magnificent penalty to put the underdogs ahead before half time. Iceland 1-0 Hungary.
​37: PENALTY FOR ICELAND! Kiraly drops the ball from a corner, a scramble follows in the box before Gunnarsson is taken down. Sigursson to take.
33: ​Straight up the other end of the field and a quick counter lead by Dzsudzsak gets the tricky winger into a great position, but a brave last-ditch challenge from Arnason sees the ball behind for a corner. The game is finding it's feet now. It remains 0-0.
30: ​And they haven't shown that efficiency so far! Gudmundsson, Iceland's defensive midfielder managed to shake off a Hungarian challenge eaily to get him in with a clear sight of goal, only to hit the ball into the covered legs of Kiraly. It should be 1-0!
​28: ​With it being a nation with a population of only 330,000, it is excusable that Iceland do not have the attacking prowess of rivals such as Hungary. If the debutants are to progress in their first major tournament, they will need to be efficient with the chances they do create.
23: Despite having 72% of the possession thus far, Hungary haven't created any clear-cut chances as of yet. Iceland have obviously come into the competition having worked tirelessly on defending, with the men in blue having all 11 players behind the ball when not in possession of it.
15: ​The game hasn't really kickstarted yet, but the fans don't mind; The blue and white sections are making immense noise between them, as if it was a competition.
9: ​The first real chance of the game falls for Iceland forward Bodvarsson who heads the ball over the bar from a monstrous throw into the Hungarian box from Gunnarsson. Veteran Kiraly had it covered all the way, the score remains 0-0 as we pass the 10 minute mark.
6: ​Hungary have started the brighter team here, with Iceland currently executing their game plan used against Portugal of defending in numbers. The minnows are likely to target openings in which they can counter through the wingers.
​4: ​There's certainly a very good atmosphere in the Stade Vélodrome, with both sets of fans taking it in turns to spur their team on with a series of booming chants.
0: We are underway in Marseille, with Iceland getting the ball rolling for game two of group F.
Kick-off is moments away as both sides blast out their respective national anthems patriotically. Stay tuned here at VAVEL UK for live updates of goals and events in this group F EURO 2016 fixture.
The European Championship's oldest player features again today in the form of Hungary keeper Gabor Kiraly. The 40 year-old, currently playing for the Championship side, Fulham, has an international career stretching back to 1998, and is easily recognizable due to his tradmark tracksuit bottoms. It's rumoured that he has worn them throughout his 24 year professional career, even in sweltering heat, due to superstition. It did him well in match day one, however, as he and his tracksuits kept a clean sheet.
Iceland boss, Lagerback has stated that his side first of all want to qualify, but also to "have as good a position as possible in the group." Expect the debutants to come out of their shell in game two, as they look to build on their well-earned point against Portugal. Read the main man's pre-match comments here.
So the team news is in, and Hungary are resting Adam Szalai, goalscorer in the Magyars shock win against Austria. Iceland remain unchanged, despite talk of boss Lagerback altering his starting line-up.
​HUNGARY XI: Kiraly; Lang, Guzmics, Juhász, Kadar; Kleinheisler, Gera, Nagy; Stieber, Priskin, Dzsudzsák. ​Substitutes: Korhut, Fiola, Elek, Szalai, Németh, Dibusz, Böde, Lovrencsics, Pintér, Nikolic, Bese, Gulácsi.
ICELAND XI: Halldórsson; Saevarsson, Sigurdsson, Arnason, Skúlason; Berg Gudmundsson, Sigurdsson, Gunnarsson, Bjarnason; Sigthorsson, Bödvarsson. Substitutes: Hauksson, Hermannsson, Ingason, Finnbogason, Kristinsson, Jónsson, Sigurjonsson, Bjarnason, Magnusson, Hallfredsson, Traustason, Gudjohnsen.
Team news for both sides will be out shortly - stay tuned for live updates and coverage of Iceland - Hungary.
In addition to the recent form, Hungary will be mindful of the fact that they have beaten Iceland in the past five meetings between the two, with the latest being a 4-0 victory in 2011.
The recent form of Hungary has gone criminally unnoticed, with the Magyars having lost only two of their last ten. The Hungarians will hope to extend the run to only two in eleven, with a win today to send them through to the round of 16.
Iceland's form coming into the tournament has been inconsistent, with the nation of only 330,000 having lost six of their past ten games. A point when it matters against a recognisable Portugal XI, however, will give the minnows great confidence going into today's game.
There are no fresh injury concerns for Strákarnir okkar, ​but similar to the Hungarians, Lagerback may be considering possible suspension of his players. With a squad lacking quality in depth, losing players through suspension could be extremely costly for Iceland. Birkir Bjarnason and Alfreð Finnbogason ​will both serve a one-match ban if they receive one more yellow card.
As for changes in personnel, Hungary will have to learn to adapt more, with first choice right-back, Attila Fiola ​recovering from injury. It is likely that Krisztián Németh ​could be rested for this fixture, with his manager being cautious of his booking in the first game.
Both managers were quick to acknowledge their opponents' discipline. Hungary's Strock has hinted at changing his team's shape and approach to match Iceland's physical presence and strategy. Lars Lagerbäck, meanwhile, is aware of Hungary's defensive capabilities and he will look for new ways to break down the organised back-line.
Hungary were expected to do better than their rivals today, but only just, with Portugal and Austria predicted by many to take the majority of points. It was indeed Bernd Strock's men who prevailed in the Austro-Hungary derby, with Adam Szalai and Zoltan Stieber putting their names on the scoresheet to give their nation an unexpected win, sending them to the summit of Group F.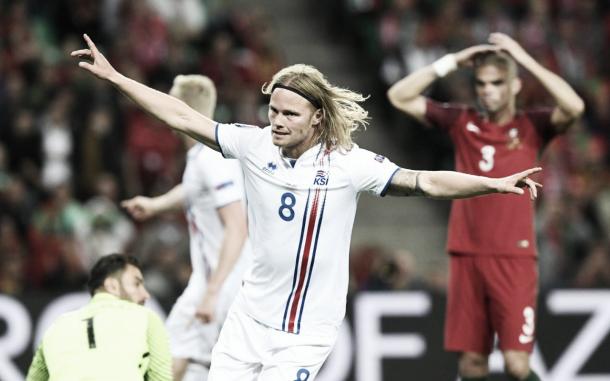 Iceland's first ever match in a major European competition came against challenging opposition in the form of Fernando Santos' Portugal - favourites to top the group. A Seleccao took the lead on the stroke of half-time, with former Manchester United winger Nani slotting the ball past the near post. The true Nordic spirit showed, however, with Birkir Bjarnason finishing a quick counter by volleying home from six-yards-out.
Today brings the second game for all four in the lattermost group in the competition. Hungary currently sit top of the pile after securing a surprise win against Austria and will be looking to retain their place in the group standings later as they face an Iceland team who made history in stealing a point from their opening game against Portugal.
Today's coverage will be brought to you by me, Ollie Haggart, in what is shaping up to be a very important game for all in Group F. Today's 'hosts' are major competition debutants, Iceland, and they face up against group leaders Hungary.
Hello and welcome to VAVEL UK's live coverage of the EURO 2016 fixture between Iceland and Hungary, which will be contested at the Stade Velodrome in Marseille. The game is set to kick off at 5pm GMT, but we will have all the team news and pre-match build-up right here.