Portugal manager Fernando Santos defended Cristiano Ronaldo's reaction to the 1-1 draw with Iceland as he claimed that the Iceland players heckled and booed Ronaldo throughout the game.
Santos defends Ronaldo
After the game against Iceland, Ronaldo said that they had a "small mentality" after celebrating the draw as if they had won the Euros. Many people thought that Ronaldo was very disrespectful but Santos felt unrepentant due to the fact that Iceland used negative tactics during the game.
Santos, at his pre-match press conference before the game against Austria, said that he felt Iceland didn't play fair as they "booed Ronaldo, Booed Pepe" throughout the game and the players on the bench "kept heckling." Santos believes therefore that this wasn't fair play and he says he always plays "fair" therefore Ronaldo's comments weren't that bad.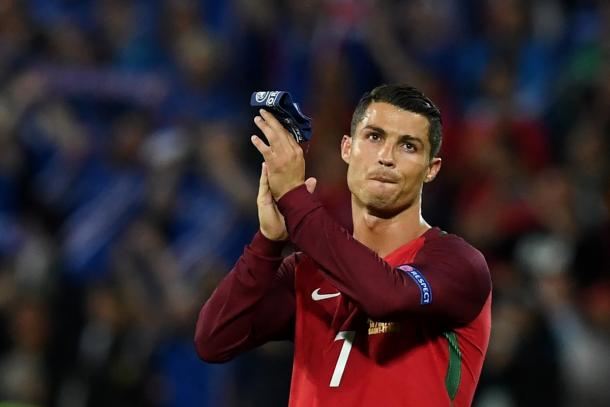 The Portuguese manager continued to say that after the game against Iceland that Ronaldo made "no comments about the statements and provocations" so for people to bring up "fair play" after the way Iceland treated his players is not right. Santos says if you are going by yellow cards then "we've been exemplary" so know how to control ourselves.
Santos expects Austria to be more positive than Iceland
Portugal will be hoping to put the disappointment of the draw against Iceland behind them when they play Austria, who themselves will be hoping to bounce back after a defeat. Santos thought that Iceland only came for the draw with their negative tactics and expects Austria to come into the game with a much more positive approach.
Santos said that "after Iceland scored all 10 players went behind the ball" which showed that they were happy to settle for the draw. He went on to say "we tried to push" for the winner but it wasn't meant to be and he feels that the team should have "tried to move some to we could attack."
Santos says that Austria "will not defend with 10 players and neither will we" so, therefore, it should be an interesting match. He says that he knows what his team are "capable of and we're prepared to face them" so the game is setup for both sides to try and go all out for the win in Paris.