That's all from me, Ameé Ruszkai, tonight though. Stick around for all the reaction from tonight's Group A fixtures, including player and manager comments as well as analysis. Make sure you tune back in this week for our Euro 2016 coverage too, starting with the conclusion of England and Wales' Group B tomorrow. Until then, thank you for choosing to follow this game with us here at VAVEL. Goodnight!
Meanwhile, if you missed any of Albania's historic win, you can read Dan Pinder's full report right here.
The other game in this group finished goalless between France and Switzerland, meaning those two progress to the last 16 as group winner and runner-up respectively.
Full time! Romania are out! Albania finish third and could yet go through as one of the best third-placed teams!
90'+5 - Corner ball for Albania. This should be it...
90+2 - Free-kick for Albania is headed goalwards by Cana, whose effort is claimed by the goalkeeper.
90 - There will be five added minutes.
89 - Albania seeing this out brilliantly. Fresh legs running the ball into the corners and winning set pieces - one of which is nearly headed in too. Not long left to hang on...
85 - And after all that, Stancu hits it right into the ball.
84 - Romania have a free-kick in a splendid position now. Central, 25 yards out. Big chance...
83 - Bit of timewasting going on here by Albania, but can you blame them? Basha is replaced by captain Cana, meanwhile.
81 - Stancu, who has scored both of Romania's goals at this tournament, finds space to shoot but it's miles over.
79 - Albania are really pushing for a second now. Roshi is picked out by Memushaj but, after waiting for support, Chiriches thwarts him as he looks to cross.
77 - Roshi replaces Lenjani in Albania's second substitution of the day.
76 - BAR! Andone's effort rattles the woodwork - Romania inches away from an equaliser!
74 - Basha with a suicidal ball, but Ajeti gets across to make a superb tackle on Stancu as he enters the box.
72 - Nice move by Romania and the flag wrongly goes up for offside just as it's squared across the face of goal for Torje to finish. Controversial.
70 - Snapshot strike from Memushaj after latching onto a knockdown on the right wing. It's dragged a couple of yards wide.
68 - Andone comes on for Popa in Romania's final change of the day.
67 - Free-kick in a good position to strike for Romania. The substitute Sanmartean stands over it but it's right into the wall.
64 - Romania were cranking up the pressure, but now Albania are enjoying a good spell as they look to extend their lead. Lenjani has just won a free-kick on the left wing in a good position to get into the box, but that comes to nothing.
62 - Memushaj tries his luck from the edge of the box and Tătăruşanu makes a meal of it but eventually collects it.
59 - A change for Albania now as the history maker, Sadiku comes off. Balaj is his replacement.
57 - Alibec is stretched off eventually and Torje replaces him. Looked a bad knock to his knee that, but hopefully it is not that serious.
55 - Poor free-kick delivery from Memushaj and now Alibec is struggling with an innocuous injury after chasing the loose ball. Looks like he'll be coming off.
53 - Matel picks up Romania's - and the game's second yellow of the day, tugging on Abrashi's shirt.
52 - Memushaj opted to chip it in towards his teammates instead, and Hysaj couldn't connect with his head as it runs out for a Romania goal-kick.
50 - Poor pass! Memushaj was leading the counter for Albania and had Sadiku with him, but his ball to his teammate was a sloppy one and slowed the attack down. They do have a free-kick in a good position though, 30 yards out. A shot could well be on.
48 - Alibec and Hysaj are scrapping for the ball in Albania's defensive third, and the referee gives the free-kick in favour of the defence, just as Alibec had wriggled away and through on goal.
47 - An early corner for Albania is delivered by Memushaj and headed well over by Ateji.
Romania made a half time change, with Sanmartean replacing Prepelita.
And we're back underway for the second half!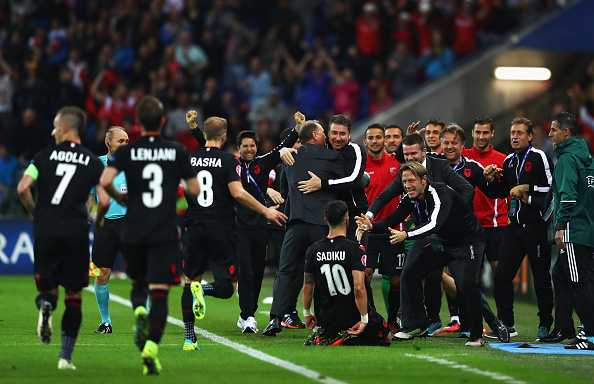 This makes Group A very interesting. As it stands, Romania are out and Albania could well go through as one of the best third-placed teams! It's goalless in the group's other game, meanwhile, between France and Switzerland.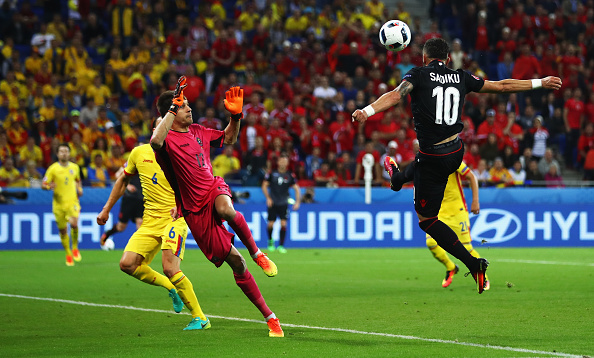 Half time! An eventful half ends 1-0 to Albania after Sadiku's header on the stroke of the interval.
45 - And, as has been seen far too often this tournament, a flare is thrown onto the pitch behind the net amidst celebrations. Stewards clear the danger and we're back underway. There will be two minutes of added time.
44 - GOAAAAL! It's Sadiku and it's a lovely header! A superb cross finds him at the back post, Tatarusanu comes out and can't collect as it's headed back across goal and past him into the net! 1-0 Albania!
38 - Offside! Albania are nearly in but Sadiku is a yard or so offside. Underdogs really enjoying the end to this half.
36 - Memushaj takes the resulting corner and it's a training ground routine right to Basha, who fires well over despite getting into a good position and having lots of time.
35 - Poor decision! Memushaj should cut the ball back from the byline but he shoots instead for some reason and it's pushed behind. Had players queuing up to strike...
33 - This is very even now. The two teams have had their spells but now they're struggling to dominate one another and it's a real battle.
23 - What a miss! Lenjani has skied an absolute sitter from just a few yards! Albania's build-up play is simply delightful as they counter quick and a teasing ball is drilled across the face of goal, but the finish is blazed over! Looked like a certain goal and would have been Albania's first ever at the Euros.
22 - Basha commits a foul on the right wing and Romania have a free-kick in a terrific position to whip the ball into the box. Stancu's delivery is poor though and it fails to beat the first man as Albania get it away.
17 - Matel is ambitious and strikes at goal from the best of 35 yards, but it's absolutely miles over the bar.
14 - Close! Alibec fires goalwards from outside the area, but it's wide. Not too far away though.
9 - Poor headed clearance by Albania and the ball falls nicely for Stancu who volleys it well, but it's right at Berisha. He flaps at it again though. Unconvincing start by the 'keeper.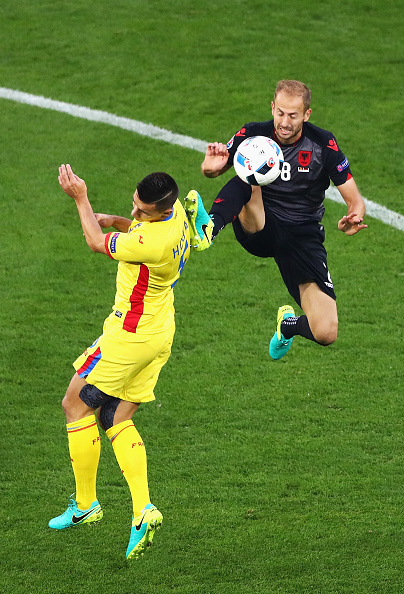 6 - The first yellow of the match is out and it's Basha who receives it after a high boot catches Hoban. Could have been a red that, quite easily.
5 - Romania growing into this. Hoban's strike should be comfortable enough but Berisha fumbles it a little. He can collect it on second attempt fortunately.
3 - First shot of the day, however, comes from Romania as Stanciu blasts a powerful effort over the bar.
2 - A positive start from Albania. Important to remember both these teams can still qualify for the knockout round - Albania need to win, Romania could draw and progress but will want to increase their chances with a win.
The teams are out and the national anthems are being sung. Minutes away from kick-off!
For Albania, a few surprises. Kukeli misses out through suspension, but captain Cana - who returns from suspension - doesn't make the starting XI. Memushaj is fit to start despite a knock to the calf concerning him in midweek. Basha is the man that replaces holding midfielder Kukeli in the team's only change to that which lost to France.
A few changes for Romania, forced. Rat misses out through injury, so in comes Matel at left-back with normal replacement Filip also out. Meanwhile, the also injured Pintilii is replaced in defensive midfield by Hoban. Torje, Chipciu and Keseru all miss out too as Popa, Stanciu and Alibec come in respectively.
Albania (4-5-1): Berisha; Hysaj, Ajeti, Mavraj, Agolli; Lila, Abrashi, Basha, Memushaj, Lenjani; Sadiku.
Romania (4-2-3-1): Tătăruşanu; Săpunaru, Grigore, Chiriches, Mătel; Prepelită, Hoban; Popa, Stanciu, Stancu; Alibec.
Team news is in! Here we go...
Albania predicted XI (4-5-1): Berisha; Hysaj, Cana, Mavraj, Agolli; Lila, Xhaka, Kaçe, Abrashi, Lenjani; Sadiku.
Romania predicted XI (4-2-3-1): Tătărușanu; Săpunaru, Chiricheș, Grigore, Raț; Prepeliță, Hoban; Torje, Stanciu, Stancu; Alibec.
Albania will be out to end this barren run then, looking to make history in doing so by potentially reaching the knockout round of their first ever major tournament. However, Romania will be no easy task as they look to get out of their group for just the second time at the Euros - having done so previously in 2000.
Despite De Biasi's encouragement, it's Romania who have enjoyed this fixture more in the past. Despite Albania being more familiar with the Tricolorii than any other nation - facing them 16 times in the past - they have lost 10 of those games, drawn four and only won two. As for recent meetings, Romania have won six of their last eight competitive encounters and haven't lost any - the other two draws.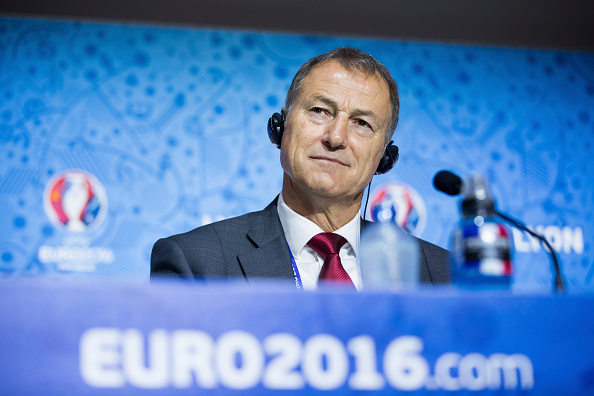 At the other end of the field, De Biasi wants his side "to be focused on the defensive side" as he knows "Romania are strong from set pieces." He believes the team have "prepared well" though, and says they will "try to play the perfect game tomorrow because [they] have to win." The Italian described the game as "a make-or-break scenario" and has told his players: "If you want to carry on in this competition, you have to take advantage of your chances."
Albania manager Gianni De Biasi, meanwhile, was positive in his press conference despite his side's lack of a point so far, as "the player have done a lot of good things." However, he continued, saying: "Unfortunately we've paid dearly for our mistakes. And when we've had chances, perhaps we haven't been experienced enough to build on what we've done in the game."
He continued, saying that this is why the team must be "focused" and why they must "avoid expending energy on useless things." However, Iordănescu is adamant that his players "have to leave everything on the pitch to get a result."
Regardless of the personnel on the field though, Tricolorii manager Iordănescu says all of his players recognise that, for the country, "this is the chance of a generation." Speaking to the press, the coach said that Romanian football "needs" the team to progress after being absent from the Euros for so long. "This is a once-in-a-lifetime chance to obtain a result that will delight the entire country."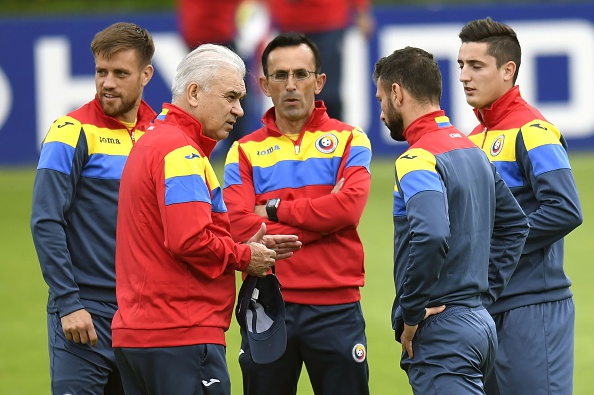 Romania, on the other hand, have a trio of doubts for the game. Răzvan Raț, Mihai Pintilii and Steliano Filip all trained separately from the rest of the team in their final training session before this fixture, all struggling with muscular injuries which leave Iordănescu with serious concerns in defence. Pintilii will likely be replaced by Ovidiu Hoban in defensive midfield, but left-back will be a problem position considering Filip is the back-up to Rat in this position. Right-back Alexandru Mățel can switch across if required, but he is not a natural on the left and this would not be ideal for Romania.
For this game they are boosted at the back too, with captain Lorik Cana to return to the team after missing the last through suspension - having received two yellows in the opener with the Swiss. However, it's not all good news. Burim Kukeli is suspended after picking up his second yellow of the tournament, while Ledian Memushaj is a doubt with a calf problem. If the latter does miss out, Taulant Xhaka could return to the starting XI, while Cana is expected to fill in for Kukeli in a defensive midfield role.
Albania have endured a similar story. They created a surprising number of opportunities against France, but did not take them, while they were even lively on the counter with 10 men against Switzerland. Both games ended in defeat - the latter, their opener, 1-0 and the other finishing 2-0 to the hosts - but they have been by no means an easy team to face, particularly because they defend so well.
Goal-scoring has proven a problem for the Tricolorii, however, with their two goals scored both from the spot. Bogdan Stancu has been as cool as ice with both his penalties, but Anghel Iordănescu's men cannot continue to rely on him to get them off the hook from 12 yards if they want to progress. They have created chances in their positive performances, and need to take them tonight.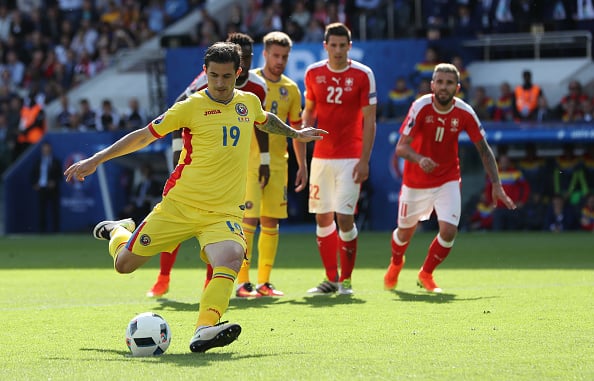 Neither have picked up a win yet in their two group games gone, but with a place in the knockout round still a possibility for both, they will be going for it today, that's for certain. Romania have played well in their two games so far, and will feel hard done by to only have a point to their name. They went at France without fear, but fell to a 2-1 loss, while they failed to hold on to an early lead in the 1-1 draw with Switzerland.
Both Romania and Albania could still progress as one of the best four third-placed teams though, following the expansion of the tournament. As we head into the third round of games, only three teams currently sat in third place have more than a point to their name, so the victor in this game would stand a terrific chance of progression. However, with them in the first of six groups, they will have to endure a nail-biting week of watching and waiting as their fate is decided after other results.
As is the tradition at major tournaments, this game will take place at the same time as the other Group A clash between France and Switzerland tonight, with us into the final round of group games. While the other fixture should decided who finishes first and second, Romania could still nick second spot from the Swiss if they lose to the hosts. However, if France aren't victorious, today's favourites will not finish higher than third.
Hello and welcome to VAVEL UK's live coverage of tonight's Euro 2016 fixture between Romania and Albania. The clash between these two Group A rivals will kick off at 20:00GMT and I, Ameé Ruszkai, will be guiding you through events as they unfold at the Stade des Lumières, as well as bringing you build-up and team news beforehand