Marc Wilmots hailed striker Romelu Lukaku for his two-goal contribution to Belgium's first victory of Euro 2016 as they convincingly beat Republic of Ireland 3-0 in Bordeaux on Saturday.
The Everton frontman overcame a disappointing performance in the Red Devils' opening game at the tournament with a fine brace for his 13th and 14th international goals.
After a first-half in which the Belgians were largely frustrated, creating few chances despite being the better side, Lukaku rounded off a quick counter-attack three minutes after the interval by finding the bottom corner from the edge of the area.
Zenit St Petersburg midfielder Axel Witsel powered home a header to double their advantage before Lukaku put the three points beyond doubt as he finished coolly from Eden Hazard's squared ball, catapulting the Belgians into second-place in Group E and leaving them needing just one point in their final group game.
Lukaku criticism after Italy loss unfair, says Wilmots
Belgium boss Wilmots, speaking to reporters at the Nouveau Stade de Bordeaux afterwards, praised Lukaku's match-winning performance as he declared that "unity is very important" within the squad and explained that his team "win and lose together."
He added that the idea behind persisting with Lukaku as a lone striker, in spite of his below-par display on Monday, was because they "wanted to give him some confidence."
"I think he scored four goals in four matches but then he misses one opportunity against Italy and people view him differently," Wilmots said, voicing his frustration at the disapproval aimed towards the No.9.
"I just had to explain things to him and make it clear that I trusted him," continued the national team manager, insisting that Lukaku "did what I expected" and saying: "He was very good today. I want him to run hard for 70 minutes and if he gave me that, with his movement and work, I'm happy."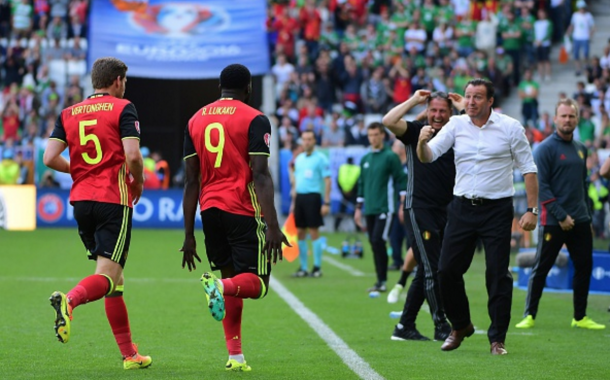 Belgium, the highest-ranked side in France for the Euros, produced an ideal response to the scathing criticism that followed their dire display against Italy earlier in the week.
Having been labelled simply a team of individuals, Wilmots revealed his delight at the display of his talented squad, insisting that their criticism ignores the "four years of success" they have enjoyed under him.
"When we get criticism, it's like those last four years disappear," he said, dismissing the reaction to their defeat as "people giving the wrong ideas" and "manipulating the public."
He further explained that this Belgium team has "in the past always given everything for the nation" and said they "have got some great players" and that their criticism "is just manipulation."
Wilmots bizarrely joked that he can "live with criticism" and that "apart from death" there is nothing that "could really affect" him as he said: "I hope to put the kids on the right path and I hope the country is proud of us. People being negative, that's not interesting for me."
Boss: Changes tactically allowed Belgium bounce-back
The 47-year-old, who himself won 70 caps for Belgium as a player, opted to pick Tottenham Hotspur midfielder Mousa Dembele over Roma's Radja Nainggolan, although the latter came on to replace his counterpart after 57 minutes due to injury.
Although Wilmots could not reveal the extent of Dembele's issue, he clarified that he suffered from an ankle injury, insisting: "The choise with Mousa was very simple. I wanted to play on the ground today. I wanted technical players in the middle. That's why I made that change."
He called it "a shame" that Dembele "sprained his ankle" but insisted that he could not say "how bad it will be" and whether it will affect his involvement in their final group game against Sweden next Wednesday.
Dembele's inclusion was not the only change, Marouane Fellaini dropped for Yannick Ferreira-Carrasco as Wilmots made tactical alterations to get the best out of their front line.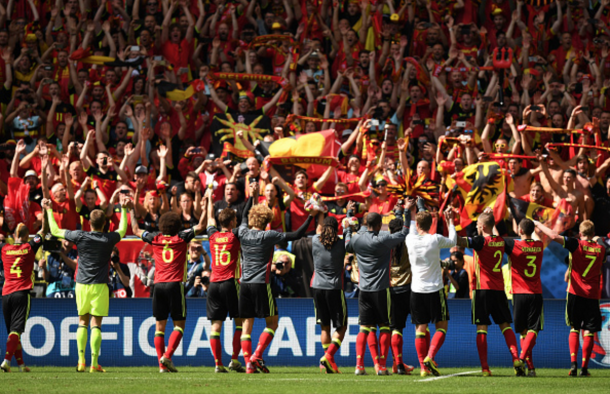 Having hinted at dropping Lukaku, and Kevin De Bruyne who was also underwhelming against the Italians, in mid-week - Wilmots instead decided to keep faith with two of his star men.
That decision proved a wise one, with De Bruyne more his usual self in an excellent performance, while Lukaku scored twice to lay Ireland to waste in a comprehensive manner.
Wilmots admitted that his comments about resting the Premier League pair earlier in the week were a bluff and admitted "the players were aware of this" but that they "waited for the right time" and "spoke about this privately."
"Our line-up was the right line-up today," he insisted, explaining that they used the analysis of Ireland's first game - a 1-1 draw with Sweden - to choose "a different strategy."
"We knew if they played in a diamond, we could push our full-backs up, so we chose to play short passes on the ground and that's how we won," he added, insisting that the backroom staff "knew the team wanted to give their all" after the Italy defeat.
Looking ahead to their final game at the Allianz Riviera in Nice, Wilmots insisted that the Belgian players must not get carried away because they are "not yet qualified" and said they will have "a difficult game" against Sweden which will be "like a final" because "anything could happen."