Daniel Sturridge's late winner against Wales drew emphatic celebrations from England and bowed, despairing heads from Gareth Bale and his teammates. On Monday, they play simultaneously as Group B comes to its conclusion. What could possibly happen with various results in Saint-Etienne and Bordeaux?
Current situation
England installed themselves in the top spot thanks to that dramatic ending against Wales. The Three Lions face Slovakia in a potential banana-skin. Ján Kozák's side showed their worth against Russia, the weakest side in the group. It is Russia whom Wales face as Slovakia kick-off against England.
Wales are just the one point behind, making the final game key for both sides. Slovakia sit behind Chris Coleman's team due to the head-to-head record, the Welsh winning 2-1 in the opening fixture.
England have top three secured
Roy Hodgson's men are certain to finish in the top three of Group B and are currently top with four points. Victory against Slovakia, of course, would confirm them as group winners. That was the expectation since Group B was drawn late last year; qualification for the knockout stages minimum, group winners expected.
If England can only get one point from Slovakia with a draw, a morale blow going into the knockout stages, they can still finish top if Wales fail to beat Russia.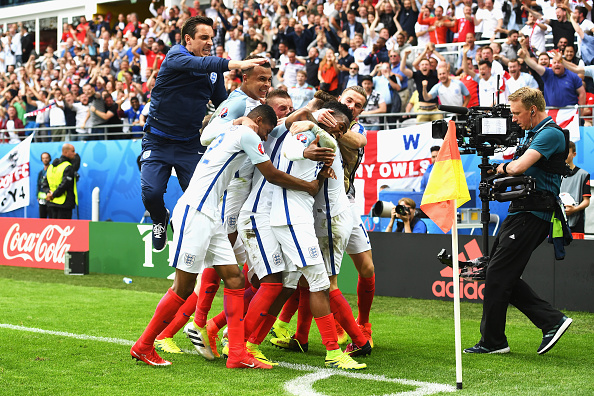 England must be confident going into the final game. They should win and that would set them up very well going into the knockout games. As things stand, England should have enough to qualify via the best third place finish if things go disastrously wrong on Monday. Four points should be okay for Hodgson, but seven and the top spot would help them avoid the Group B winners, likely to be Germany.
Wales need victory for certain qualification
A win against Russia for Coleman's side will make Wales' top-two finish certain. Should England fail to beat Slovakia, a victory will see Wales unexpectedly top Group B. That is the ideal result for Coleman and his side but an England victory, which is more likely, will help them secure their top-two finish. If Slovakia do not beat England, Wales need only a draw for second place.
A loss for Wales would mean they could not finish in the top two, with third the highest possible finish. Russia currently have one point, miserably at the bottom of the group, but beating Wales would see them leapfrog Coleman's side.
Should both Wales and Slovakia lose, Y Dreigia will finish third above the Slovaks because of their opening day win. However, three points may not be enough to go through and would leave them waiting and hoping for days until the group stages come to an end.
Slovakia need a win to confirm knockout place
Slovakia's last day hopes are helped by their win against Russia in the second round of matches. If Russia beat Wales and Slovakia draw with England, they will still finish in the top two due to that victory. If Slovakia draw but Russia do not beat Wales, they'll finish (at least) in the top three and, with four points, would be likely to go through.
Should Slovakia beat England, they'll be through for certain with six points. Having lost to Wales, they'd require Coleman's side not to beat Russia in order to finish as group winners.
Russia with little chance, but some hope
Russia are the only team in Group B who cannot finish top, even with a win. A win will see them finish in the top three, although they could finish in the top two. That would require England to beat Slovakia or Slovakia to beat England by a large margin to ensure goal difference goes in Russia's favour. Due to England and Russia's draw, if they finish level on points (a Russia win and England loss), the final outcome of the group would be decided on goal difference.