It is perhaps hard to believe that before this tournament some people labelled this Italian team as the worst Azzurri side in recent history.
The current line-up may not have the verve and attacking flair which has been possessed by the dark blue army in competitions gone by; however their wily demeanour and well-organised defence will surely still make them a match for anyone on this prestigious stage.
Antonio Conte was praised for his astute tactics in their opening group game against Belgium, which made many pundits and fans sit up and take note of the man who will take over at Chelsea next season.
Italy were less impressive, however, in their narrow 1-0 victory over Sweden on Friday, when Sampdoria striker Éder mustered up a superb solo two minutes from time.
With the Juventus trio of Giorgio Chiellini, Leonardo Bonucci and Andrea Barzagli at his disposal, Conte arguably has the best backline in the competition.
Éder Delivers And Repays Manager's Trust
However the Italian boss will know that his side's longevity in the knock-out stages will probably be determined by the effectiveness of his offensive players. And Conte was complementary of Éder following his first goal for the Azzurri at a major tournament.
Speaking after the game, Conte admitted that "questions have been asked of many players I picked", but said that all he was interested in when picking players for his side was "if they can help the team".
"In the last two years, I've been lucky to have Éder who was decisive in qualifying and I hope he can be decisive here too," he continued. "I picked these men and they are paying me back on the field, all 23 of them."
As Conte mentioned, Éder, who was born in Brazil, is not someone who has come through the ranks at one of Italy's major clubs, despite a loan spell at Inter Milan last season.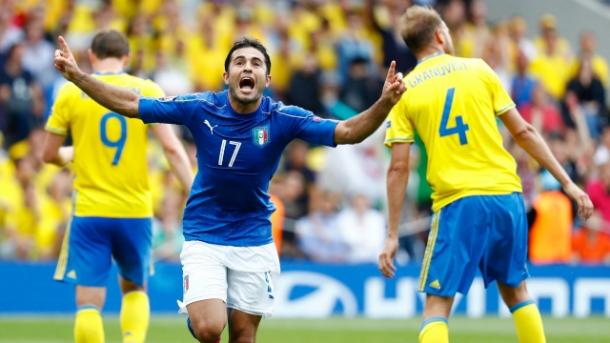 Now 29 years of age, the striker has enjoyed the bulk of his career at sides like Frosinone, Empoli and most recently Sampdoria, where his impressive form earned him a debut for the national side in March 2015.
Even so the forward appears to have has cemented his place in Conte's preferred 3-5-2 formation, alongside Southampton striker Graziano Pellè, and is delighted that hard work has been recognised.
"I'm happy for myself but also for the whole team because I know how hard we've worked and how carefully we've prepared for these Euros", Éder said after the Sweden game.
The forward went on to concede that "not everyone was expecting" Italy to win their opening two games, but said that "we're organised, work hard and we leave it all on the pitch" in order to get the result.
Conte focuses on the positives
The victory over the Swedes means that the Italians will top Group E whatever happens in their final group game against the Republic of Ireland on Wednesday.
Nevertheless Conte will still hope for improvements from his side, which had to rely on their defensive bedrock to keep Erik Hamrén's team at bay.
In the first half the Italians were wasteful in possession and lacked the fluency with the ball which they demonstrated so well against Belgium.
Conte, though, preferred to focus on the positives of qualification rather than getting too bogged down about the performance.
He said that "there should be great satisfaction" within the Italian camp after qualifying with a game to spare, after what was "a struggle in the first half against a very physical Sweden", but he also pointed to the fact that "Buffon didn't have a save to make".