Austria earned their first point at Euro 2016 with a goalless draw against Portugal in Paris. It was a resolute defensive performance from the Alpiners, but the spotlight was not on the Austrian defensive heroics; it was on Cristiano Ronaldo.
The self-proclaimed galactico, and Seleção's star man had been given the golden opportunity to break Austrian hearts from twelve yards late on after Martin Hinteregger had hauled down the Real Madrid man, but much to the Parc des Princes crowd's amusement it was the post that came out on top, and das Team breathed a sigh of relief.
Ronaldo's night didn't get much better, as some five minutes later he had a goal ruled out by the linesman and Austria escaped with a point much to his frustration.
This leaves Marcel Koller's side with an outside chances of securing progression to the knockout phases of the tournament. Austria require a victory against competition minnows Iceland, whilst needing their historical friends Hungary to do them a favor against Portugal and hoping results in other groups are favorable.
Alaba pleased with a point
Expected and touted by many as Das Team's standout player, David Alaba, like Ronaldo endured an under-par performance in Paris. In fact, the Bayern Munich all-rounder was substituted after only sixty five minutes.
Nevertheless, Alaba was pleased with his side's point and looked back on what had been an exciting game. "Both teams had chances, and in the end we are more happy with the point" he said, "they had a chance with the penalty but like I said we are very happy with the point".
The midfielder-stroke-defender also commented on Austria's opposition stating "they [Portugal] played the ball really well". But he was pleased with how his side performed, "From the beginning of the game we implemented what we planned. I think it was a good game from both sides".
Ecstatic Almer
There's no doubt that the key determinant in das Team securing a point was goalkeeper Robert Almer. The Austria Vienna custodian denied the Portuguese attackers on a number of occasions, and became the first Austrian goalkeeper since Friedrich Koncilia in 1982 to keep a clean sheet at an international tournament.
Although he didn't save the penalty, the goalkeeper told reporters his view on the incident: "he wanted to hit the penalty perfectly accurate, but it was seemingly too accurate."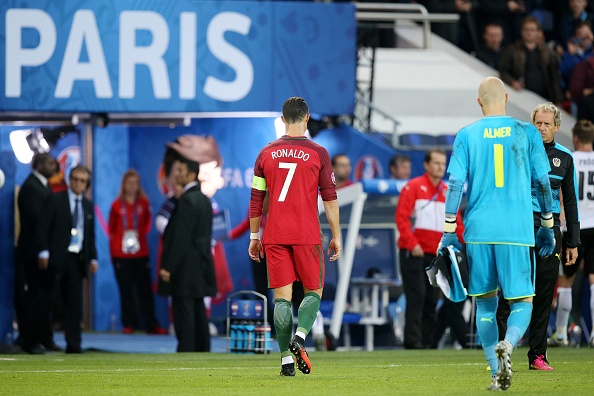 His numerous saves had frustrated and staved off renewed Seleção attacks, yet Almer played his contributions down when talking to reporters, simply saying "I'm pleased I could give the team the support it needed."
Whilst the draw has given renewed optimism to Austria supporters in France and back home, the former Hannover 96 goalkeeper played down any over-confidence and gave a realistic view of the situation.
"It was always clear that we'd have to win one game and we'll try and get that win against Iceland. We have to invest all of our energy against them", lectured Almer, adding, "It was very important to take a point against Portugal."
Koller full of praise
The Austrian boss, Marcel Koller, also expressed the same sentiments as the rest of his side. The man who has been national team manager since 2011 guided Austria to their first international tournament that they have qualified for outright since the 1998 World Cup, also in France. The Alpine nation were one of only three teams to qualify unbeaten, alongside Italy and England.
Koller echoed the praise of Robert Almer after the match, saying "for the national team, he has always put in good performances." In reference to the penalty, or the most important moment in the match, the 55-year-old summed it up quite simply, saying "If he had scored, it probably would have meant that we'd be going home, so obviously it was good for us".