Following their 2-0 win over Ukraine on Thursday, Northern Ireland's attentions have quickly turned to the upcoming game against Germany.
There has been little time to celebrate their historic victory, with a win still required to book their place in the last 16.
Jamie Ward was the man to face the media on Sunday as the Nottingham Forest man handled questions on the World Champions.
The entire squad trained in preparation for the clash. Michael McGovern returned to action after his day off yesterday.
Concentration is key
Ward paid his respect to Germany, "They are the best team in the world and probably will not worry about us too much."
The 30-year-old says he is "sure" that the World Cup holders "have watched [NI's] games" and that they "have a lot of energy". He added, "We are going to run around a lot."
The Forest forward feels that it's a case of "try[ing] to cause them problems", in spite of the "quality players" no matter who "they pick for their team".
Ward, who was a constant threat on Thursday, continued: "Hopefully things go our way, but we have to concentrate on playing Germany."
Though he is confident that Northern Ireland "will focus on [their] own game", just as they "usually do". He commented, "We cannot afford to let the occasion get to us."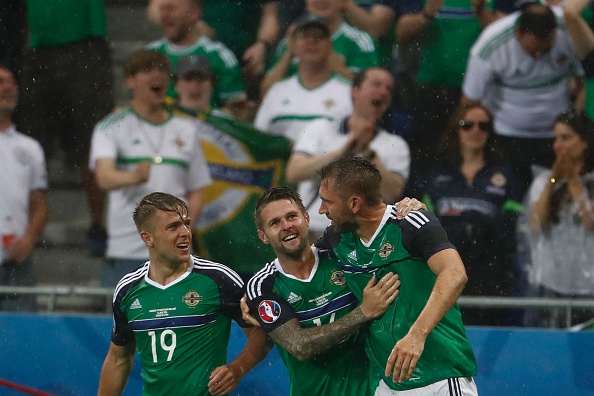 Ward raring to get at Germany
"We know what Germany are all about, and they have some of the best players in the world," Ward continued. He admitted they "respect them", but insisted there was no "fear".
The winger explained that their style is "about working hard" as well as "not giving people time on the ball".
He believes this may unsettle Germany, knowing it "might be different to what Germany have experienced before".
Ward concluded, by saying: "We know we will not dominate possession - our strength is pressing and making life difficult for our opponents."