That's all from my end! Make sure to stay tuned with the UEFA Euro 2016 updates on VAVEL, as we will be now approaching the round of 16 where matches start get more exciting!
If Slovakia qualifies, they will either meet the winner of Group of D or else of Group D.
On the other hand, England will now face the runner-up from Group F, which at the moment sees Portugal as their opponent!
As things stand, Wales will now face the third-placed team from either Group A, in this case Albania, Group C or Group B.
Meanwhile, England have ended in stalemate their encounter with Slovakia meaning that Wales have TOPPED Group B.
Huge celebrations will follow this historic qualification both in Toulouse and also back in Wales.
93: GAME OVER. GARETH BALE AND CO. HAVE SEALED QUALIFICATION TO THE LAST 16 WITH AN EMPHATIC 0-3 VICTORY ON RUSSIA.
90: Two minutes of stoppage time given by the fifth official.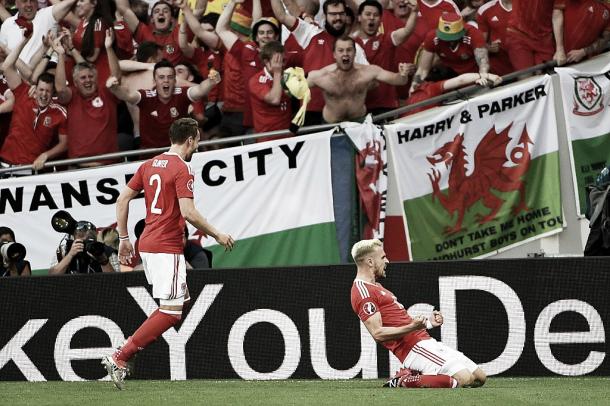 Wales are nearing towards a historic qualification to the round of 16!
85: Dzyuba with a big time miss within metres from Hennessey's post.
82: Superb Bale! He is off with Simon Church replacing him. The decibel volume was full on with everyone around the Stade De Toulouse applauding him.
81: Every Wales pass is accompanied with an 'Ole' from the Welsh crowd.
76: Another substitution for Wales. Joe Ledley leaves the place for Premier League champion, Andy King.
74: Allen leaves the pitch amid a standing ovation given to him from the numerous Welsh supporters. David Edwards replaces him.
Ramsey protects the ball between four opponents, slides it towards Bale. The Welsh talisman keeps his cool in front of Akinfeev and with a splendind outside touch, places the ball past the CSKA Moscow's goalkeeper to seal the win for Chris Coleman's side.
67: UNBELIEVABLE! WALES WITH A THIRD! THIS SURELY WRAPS IT UP FOR THE DRAGONS.
57: Bale tries his luck from another free-kick, but this time he fails to hits the target.
51: Another sub for Russia, as youngster Aleksandr Golovin is replaced by veteran Roman Shirokov.
46: We are underway, and Wales have already a corner kick!
Teams are lining up for the second half. One substitution for Russia as Alexi Berezutski replaces his sibling Vasiliy - a family affair.
Interesting to underline the fact that Wales had nine shots on target in the first 45 minutes - Impressive!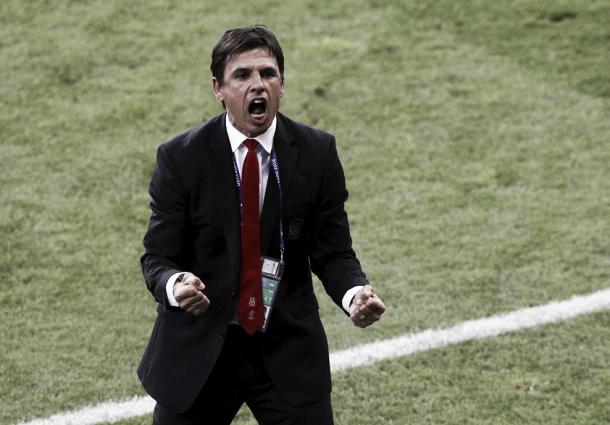 Here is a happy man!
45: The referee whistles for half-time, it's Russia 0 Wales 2 and as things stand, Wales are now topping Group B while Russia are out of the tournament.
38: Bale could make it 0-3, but this time Akinfeev was on alert to deny the Real Madrid man his first goal of the night.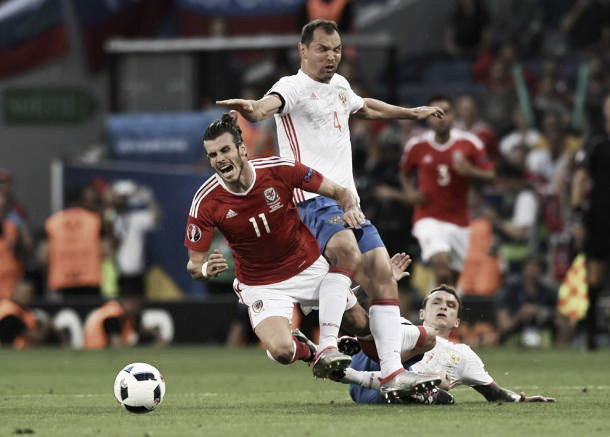 Here is a summary of the encounter..
Meanwhile, Neil Taylor's goal was the 50th goal scored in this UEFA Euro 2016.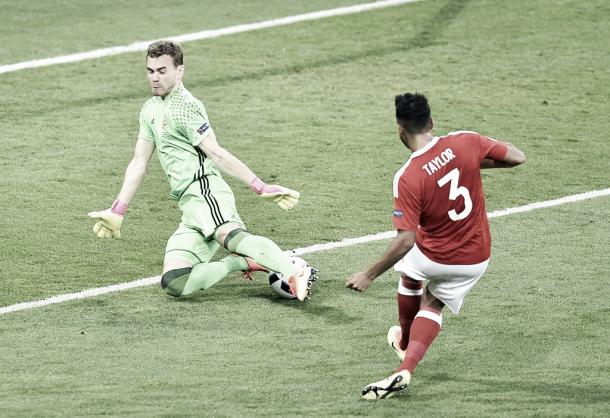 ...And here is number two for the Dragons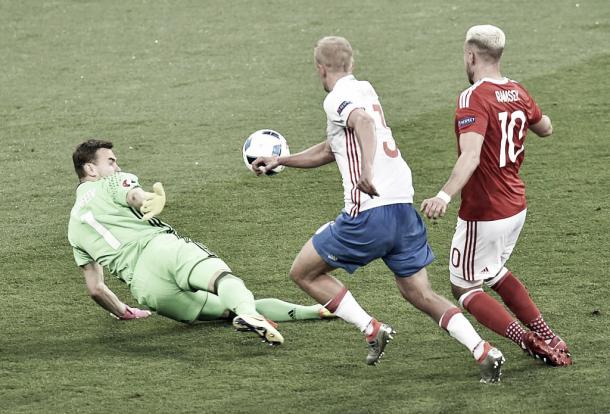 Here is Ramsey's delightful lob to make it 0-1 for Wales
27: Dzyuba almost pulled one back for Russia, but Wayne Hennessey in deflecting his effort into corner. Russia are stepping up their game, Wales need to be cautious!
Similar to the first goal, Wales prevailed from a Russian mistake upfront, with the ball quickly passed to Bale. The Real Madrid star dribbled past a couple of players before dropping the ball to Neil Taylor. The latter hit Akinfeev on his first attempt but on the rebound, he had the easiest of tasks to put the ball into empty net amid the cheers of the Welsh bench and the fans at Toulose.
20: IT'S WALES AGAIN, 0-2!!!!!
Artem Dzyuba was dispossed upfront, the ball was immediately passed to Joe Allen, and with a stupendous delivery, he slipped the ball behind Russia's defense towards Aaron Ramsey, whom with a delightful chip, put his nation in front. No wonder why Allen is nicknamed as the Welsh Xavi.
11: GOOOOOOOOOOOOOOOOOOOOOOOOOOOOOOL, WALES HAVE FORGED AHEAD!
9: Wales have started this game much more spirited than Russia, yet Bale's chance after one minute has been the only highlight of the encounter so far.
2: GOOOO...NO! Gareth Bale has already knocked on Igor Akinfeev's post as he fired a shot from outside the box. Mind you, we have not yet passed two minutes of this encounter.
0: We are UNDERWAY!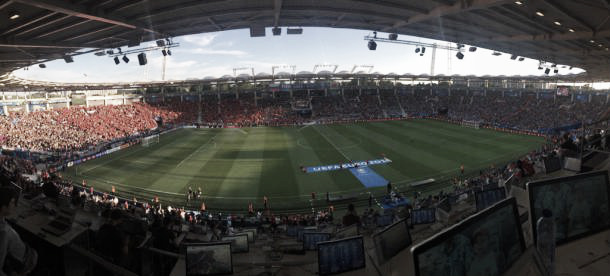 The teams have line-up at the Stade de Toulouse and we are now assisting to the national anthems.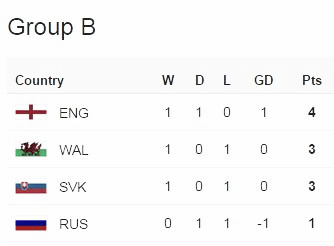 A quick reminder of the standings in Group B..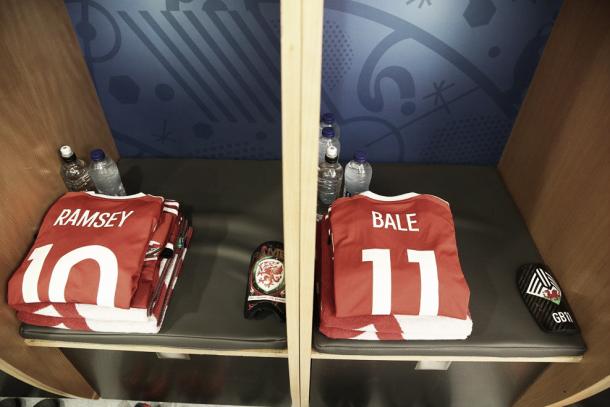 Will these two talismans be enough for Chris Coleman's side to surpass Russia?
We are expecting a huge match here, as who wins, qualifies to the round of 16.
Meanwhile, Leonid Slutsky has selected the following line-up: Akinfeev, Smolnikov, Ignasevich, Glushakov, Kokorin, Smolov, Mamaev, V. Berezutski, Shirokov, Dzyuba and D. Kombarov.
We start with Wales: Hennessey, Gunter, Taylor, Davies, Chester, Williams, Allen, Ramsey, Bale, Ledley and Vokes.
The starting XI's for both teams...
We are approaching the tie between Russia and Wales. A tie which the Welsh team are striving to win, as apart from securing qualification they would have avenged their recent losses against Russia. The first one dates back to 2003, when they fell to Russia in the UEFA Euro 2004 play-offs while recently, Russia saw off the Welsh side twice in the 2010 FIFA World Cup qualification group.
While England look potentially to top this group with seven points, that would leave Wales and Russia battling out for the second spot. If Slovakia lose, Wales could qualify with six points while Russia can go through with four points, if they beat Gareth Bale and co. A draw, would see Russia exit the tournament while Wales can either qualify through the third spot or else prevail from a potential Slovakia loss and sneak through with the second spot.
Meanwhile, Chris Coleman's team have commenced their European adventure with a dramatic 2-1 victory over Slovakia and their second outing went exactly the same, but this time Wales ended on the losing side. Nonetheless, their 2-1 loss against neighbours England shall not discourage the Welsh contigent from hoping to make it in the next round, as with the likes of Joe Allen, Aaron Ramsey and talisman Gareth Bale, they have enough quality to edge past Russia.
On one side, there is a team who is still struggling to finds its own identity and in their last outing were surprised by Slovakia. Russia's team may be considered as one of the worst since their 2002 FIFA World Cup campaign due to the lack of quality, ageing players and also due to the ineligible players. Yet, coach Leonid Slustky is still hopeful of overcoming Wales and qualify from this group.
Both sides go into tomorrow's evening match with a chance of clinching a round 16 spot. Russia are currently anchored at the bottom with a sole point courtesy of their 1-1 draw in their first outing against England, with the equalizer arriving in final action the match through captain Vasiliy Berezutski. On the other hand, Wales are joint-second with Slovakia at three points. Wales initiated their European championship with a 2-1 victory over the same Slovakia but they fell short against England in their second outing.
Welcome to VAVEL UK's live score commentary of the UEFA Euro 2016 tie between Russia and Wales, valid from Group B. I, Gianluca Lia, am your host for this mouth-watering contest, where both teams are striving to qualify to the next round. I will be updating you with news from either side and will be analysing this fixture before a ball has been kicked and also during the encounter! The match is scheduled for 20:00 GMT on Monday 20th June, hence make no plans for tomorrow night!
Good evening football fans,