England's performances so far, on the whole, have impressed the majority of people, with just a point needed in their final group game against Slovakia to qualify for the next round overall it has been a successful campaign thus far. Of course with any England tournament campaign, there have been complaints, largely on the young shoulders of Raheem Sterling, with fans criticizing his performances going as far as to set up a Just Giving campaign to pay for his return home.
However, one player that will be thankful for Sterling's average showings will be Harry Kane who hasn't covered himself in glory either but has largely flown under the radar due to Sterling taking the majority of the blame. Kane has been a world beater ever since bursting onto the scene with England which caused many fans to believe he could be a serious threat at this year's Euros, perhaps even winning the golden boot, but fans are yet to see Kane perform anywhere near his best. This has led to the question of whether or not he should star against Slovakia, a choice that Roy Hodgson will have to make ahead of the important clash.
Underperforming Harry
Kane has played more football in this tournament than any of his striking teammates (bar Rooney but he is a midfielder for this tournament) but has failed to impress so far. Barely being involved in the opening game against Russia and quickly fading away after a lively opening minute against Wales, Kane has looked like a player who has tired legs after a long and difficult season with Tottenham Hotspur.
Perhaps the hype and bravado have gotten to him or nerves over performing on the biggest stage of his career this far, but whatever the reason Kane has looked a shadow of the player England know he can be. The fact that his biggest contribution to the Euros so far has been a series of diabolical corners and free kicks doesn't exactly scream a deserving place in the starting line-up, but on the other hand, everyone knows exactly how dangerous he can be when firing on all cylinders.
Impressive displays off the bench
Against Wales, Roy Hodgson made the bold decision to make two attacking changes at half time and another later on in the game. These changes saw all of England's strikers enter the Euros for the first time in France whilst Kane was forced to watch on as a mere spectator from the bench after the half-time break. Jamie Vardy and Daniel Sturridge both found the back of the net against Wales, securing England's first three points of the tournament and looked hungry and impressive.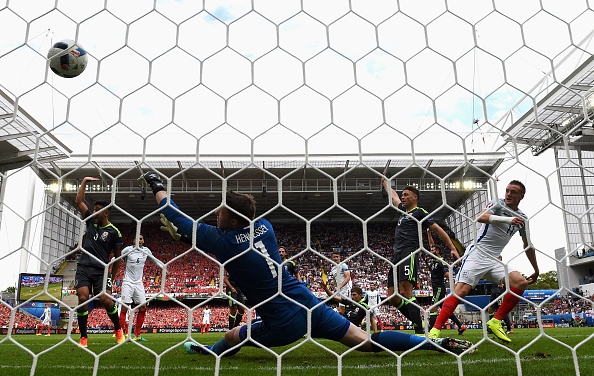 Sturridge had the biggest impact, and whilst his performance had faults he certainly looked up for the challenge and was an attacking threat every time he got the ball at his feet, always looking to take a player on. Vardy, on the other hand, scored within minutes of his Euros debut and was a constant pain for the Wales defence, giving them no time to breathe with his movement and pressure.
Marcus Rashford even looked more dangerous in the short spell he got in the derby game, asking questions of Wales and pushing for the winner. These three performances have not helped Kane's hopes for making the starting line-up for a third consecutive game against Slovakia and the result of those substitutions spoke for themselves, something Hodgson can't ignore.
Fans were critical of Hodgson against Russia for failing to make attacking, bold and potentially risky substitutions, but against Wales, he took the risk, jumped in at the deep end and made the substitutions that, in the end, won England the game. Now he must make another bold decision, and that one should be to leave Kane on the bench and give both Vardy and Sturridge a chance to impress from the first whistle as the Three Lions aim to secure their place in the next round of the European Championships.