Northern Ireland face Germany at the Parc des Prince in Paris on Tuesday in their final game of Group C, knowing that if they can avoid defeat they are almost certain to qualify for the last 16 at Euro 2016.
When the draw was made for the Euros, no one gave Northern Ireland a chance but with one game to go they are in with a shot of history. The new structure of the tournament means that the four best third-place teams in the six groups make it through to the last 16, and Northern Ireland are one of the four - as it stands - after two games.
They began with a game against Poland in which they never really got going and lost the game 1-0 after being far too defensive during the match. The loss to Poland meant that Northern Ireland faced Ukraine in their second game knowing it was either win or bust to give themselves a chance at making the knockout rounds.
The Green and White army produced an amazingly spirited performance and won the game with goals from Gareth McAuley and Niall McGinn in a 2-0 triumph. The win was Northern Ireland's first ever at a European Championships.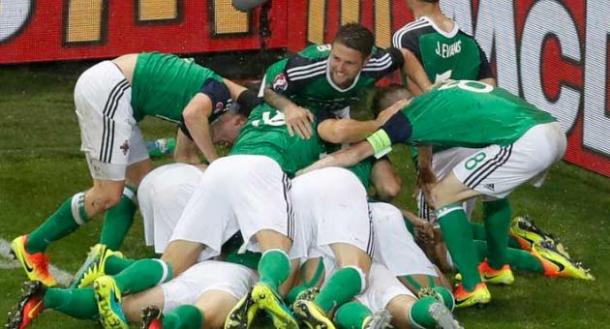 Now though comes the toughest test for Northern Ireland as they come up against the World Champion's Germany knowing that if they can at least take a draw from the game then it should be enough to see them through. The problem is though that Germany have so many wonderful players and know how to win at major tournaments so to keep them out for 90 minutes will be an almighty test.
So with all of this being said, what will Northern Ireland have to do to come away with a positive result from the game against Germany?
Compact defence
In the last seven games, the Northern Ireland defence have kept six clean sheets with the only goal being conceded during the 1-0 loss to Poland. Germany have so many world class attacking talents and will cause every team they play so many problems. The task for the Northern Ireland defence though will be to try and stop them and stay compact. It is easier said and done but if they show the desire and commitment that they have shown over such a long period they can do it.
The key for the defence playing so well has been the experienced Premier League defenders in McAuley, Jonny Evans and Craig Cathcart. All three men have put everything in to keep their team in matches and also protecting matches. It has been interesting to see that Evans has been tasked with stopping the main attackers from the different teams so in the competition.
In the first game he faced up to Robert Lewandowski and stopped him well and then against Ukraine he stopped Andriy Yarmolenko. Therefore, against Germany, it would not be a surprise to see him try and stop Thomas Muller or any other of the attacking players Germany possess.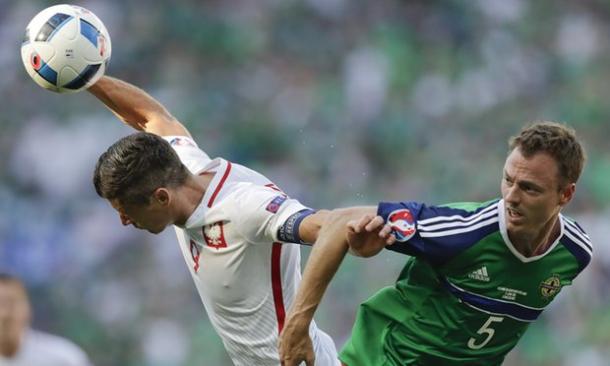 Keep the same team
Michael O'Neill got his tactics and team spot on for the game against Ukraine as his team came away with an important win. In the first game though against Poland it was clear that he didn't and was too negative which basically handed the game to Poland. Therefore is important that O'Neill sticks with what worked best against Ukraine against Germany if he is to get the right result.
Conor Washington was one big selection that O'Neill got right for the game with the striker working his socks off during the game so that he gave his team a real outlet during the game. It was a big decision to bring Washington into the team for Kyle Lafferty who was a big reason why Northern Ireland got to the Euros but it was a decision that the manager got spot on.
Make sure and take their chances
One weakness that the German team do have is the fact they always give the opposition the chance to score. Therefore, Northern Ireland will have to make sure whenever they do get a chance during the game they are clinical and don't miss. The Germans in their first game against Ukraine conceded a few chances but they missed them all and it was the same with the Poland team who also missed their chances. Germany will get chances during the game so Northern Ireland will have to make sure that they don't concede too many.
Even if Northern Ireland were to lose the game against Germany they may still qualify in third place. It is important though that if they do get beat they don't get beat badly as they need to keep a good goal difference as it could come back to that.