"Everything is in our hands and we are happy at the moment. If someone had given us this before the finals we would gladly have taken it. We go into the game to win it."
Iceland are a nation of 330,000 people at their first ever major tournament, but, as co-coach Heimir Hallgrímsson beamed the biggest smile in his pre-match presser on Monday, they are also a nation just one win away from a spot in the first knockout round at Euro 2016.
It's the stuff dreams are made of, especially for those such as Gylfi Sigurdsson who, in the run up to the tournament, recalled someone once saying to him: "Oh, it's a shame you're from Iceland. You're never going to play in a major tournament."
And after the disappointment of not being able to all but seal qualification from the group stages last time out, succumbing to an 88th minute equaliser to drop two points to Hungary, the Nordic nation are smiling again and in good spirits heading into their clash with Austria on Wednesday.
As Hallgrímsson said, this is because everything is in their hands. Iceland know a win in their final game will do it, regardless of results elsewhere, and that is what they are going out to get.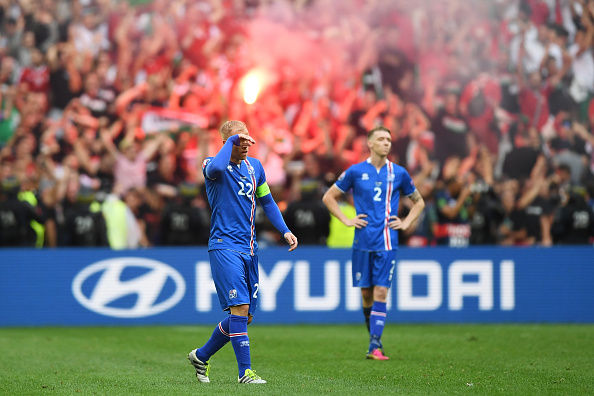 Ready, and raring to go
Strákarnir okkar head to the Stade de France in Saint-Denis with a fully fit squad this week, and Hallgrímsson admits "everything looks good" as they prepare for the biggest game in the team's history.
Their opposition underwhelm statistically, having picked up one point from two games and failed to score a single goal at Euro 2016. Yet, the Icelandic coach stresses that his side will not underestimate Austria, describing them as "a really, really good team."
"They have shown throughout qualifying how good and organised they are," he said. "But they also have really good individuals and that's a lethal combination when you have a football team."
With all odds against Das Team too, this is a situation the likes of David Alaba and Marko Arnautović will relish.
However, defender Ragnar Sigurdsson emphasised how good Iceland are at bouncing back too, which could counter inspired performances from Austria's star individuals.
Sigurdsson said he has "no worries" about that heart-breaking Hungarian equaliser affecting his side in Wednesday's game, using a previous experience as a perfect example.
"You saw how we handled losing in the World Cup play-offs against Croatia. We went into the qualifiers for the Euros and finished them," he said, justifying his lack of concern.
Sigurdsson isn't worried about the opposition's stand-out players either, saying that Iceland "don't concentrate on just one player" and instead "try to keep [their] style every time.
"I think I can take anyone down," he added, with confidence clearly high in the camp as Strákarnir okkar pursue their first major tournament win and, with it, progression to the last 16.