That's all we have time for. I've been Aaron Stokes and I hope you've enjoyed this live coverage. Stick with VAVEL UK for the 8pm fixtures tonight.
Germany finish top of the group on goal difference but they will need to be more clinical against the bigger team if they want to win this competition.
Northern Ireland must now nervously wait to see if they've done enough to qualify for the next round. They deserve it after their performances and spirit over the last three games.
A much poorer second half from Germany. However, they should have been three or four goals up at half time.
FULL TIME: GERMANY 1-0 NORTHERN IRELAND.
10 seconds remaining. Northern Ireland have a free kick on the half way line. McGovern will launch it into the box. Nothing comes of it.
Two minutes remain here. Northern Ireland may still be going through in third place. The one goal deficit today has massively helped their goal difference.
91' The ball ricochets around the box before finally falling to Ozil on his weaker foot. His half volley is wide of the target.
89' Gomez is surrounded by green shirts outside the box but wriggles free. His shot is straight at McGovern once again. Gomez will be disappointed he hasn't scored more than one today.
84' C.Evans off, McGinn on.
84' Ozil finds a bit of space inside and hits a long range effort high and wide. Five minutes + added time remaining.
82' Kimmich swings a cross deep into the box, Gomez rises highest but his headed effort is tipped wide by McGovern.
82' Chance! Well Michael McGovern has played a blinder.
Germany have taken their foot off the gas in the last ten minutes.
Michael O'Neill is still giving his side instructions on the touchline. They have just over ten minutes to get an equalising goal.
76' Boateng off, Howedes on.
74' Hector again exploiting that left hand side. He plays a fantastic ball across the area but Gomez just can't get on the end of it with his outstretched leg.
Credit to the Northern Ireland fans, they haven't stopped singing all game.
20 minutes remaining. Northern Ireland starting to show a slight* improvement going forward.
*I mean VERY slight.
70' Ward off, Magennis on.
70' Khedira off, Schweinsteiger on.
If Poland win 2-0 and this game remains the same score, Germany and Poland will have the same amount of points, wins, goal difference and goals scored.
Germany take a well worked free kick routine and Muller thrashes a shot towards goal but Davis is out quickly to block it.
63' Ward fouls Hector just outside the area. Germany have the chance to put a dangerous ball in the box here.
Chance! Jonny Evans headers over from a corner. Another corner to come.
60' Washington off, Lafferty on.
59' Chance! Khedira drives a low strike, which McGovern parries. Gomez can't get the resulting header on target.
Poland have taken the lead in the other game. Both Germany and Poland now have seven points.
55' Gotze off, Schurrle on.
53' Ozil squares the ball to Gotze, who is six yards out, but the youngster pokes wide. Should have scored with ease...
52' What a save! McGovern again has to come out and smother a close range effort. This time it was Gotze who thrashed a shot towards goal.
Northern Ireland need to be much better in the second half. If they can avoid a hammering, it looks like they'll go through to the last 16.
We're back underway in the second half. No changes for either side.
Ozil has been fantastic in midfield, Muller has been dangerous and Hummels has won every ball and every tackle. A hard second half is ahead of Northern Ireland I sense.
Half time. Germany 1-0 Northern Ireland. Germany should be two or three goals to the good.
As it stands, Northern Ireland will finish third in the group on three points. They will be hoping that is enough to get them through to the next round.
42' No they can't. Ball whipped straight into Neuer's gloves.
42' Northern Ireland have a corner..... They have scored seven of their last 10 goals from set pieces. Can they make it count?
41' Germany get forward once more. Ozil at the heart of it yet again. He finds Gomez nicely but the big forward tamely shoots at McGovern.
Thomas Muller should already be on a hat-trick. It seems like it's only a matter of time until he scores.
35' Another chance for Germany. Ozil's corner is floated in and Hummels and Khedira both have headers blocked by Northern Ireland defenders.
34' Close! Muller hits the woodwork for the second time in 10 minutes! This time the crossbar keeps him out.
The Germans have made 226 passes in the opening half an hour.
Northern Ireland enjoy their first spell of possession for a while. Germany pinch it, Ozil finds Gomez, who plays a first time ball to Muller. Muller can't get the shot away and ends up laying it back to Gomez who slots into virtually an open goal. 1-0.
30' GOAL! Germany. Mario Gomez!
It still remains 0-0 in the other game between Ukraine and Poland.
27' Another chance for Germany. Kimmich plays a fantastic ball into the area but Muller's header bounces off the outside of the post. Huge opportunity!
26' Northern Ireland register their first shot on target. Ward had Washington to his left but decided to go himself from long range. Straight at Neuer.
23' Germany go close! Kimmich plays a ball up to Gomez, who chests down to Muller, but the Bayern man can only drag his shot wide. He should have done better. Germany's best chance so far.
You can hear the Northern Irish fans singing Will Grigg's on fire all around the stadium.
19' Hector sweeps down the left and pulls the ball back across the penalty area but Ozil can't keep the ball down and it ends up spinning over the top. Still goalless.
Jerome Boateng has started this game really well. He hasn't had much to do defensively but his passing over the top has been excellent.
12' Big chance! The ball falls kindly to Gotze but once again McGovern makes himself big to deny the Germans. Another great save. Kimmich chipped the rebound well over the bar.
11' The ball breaks in the penalty area in front of Ozil. He swings a foot at it but he can't connect clearly enough. Germany now starting to dominate and create chances.
10' Gareth McAuley gives away a sloppy free kick outside the area. Kroos whips the ball in but McGovern is out to punch clear.
8' Northern Ireland pounce with a quick counter attack. Davis carries it into the box but Hummels manages to regain possession. First clear chances of the game.
8' Ozil feeds in Muller who skips clear of the defence but he can only fire his shot off McGovern's torso. Good save.
6' Not a lot going on thus far. Kroos has a long shot blocked and Khedira attempts a through ball 30 seconds later but can't find Gomez.
Northern Ireland not holding back in the opening minutes. It doesn't look like they will sit back and defend.
0' Kick off!
Here we go... The teams are coming out.
The confidence around the Northern Ireland camp at the minute is high. Just how incredible would it be if they could get a result?
48,000 fans can fit inside the Parc des Princes. How many of those seats will be filled with Northern Ireland fans? I suspect a large amount
To sum up how big of a task this may be for Northern Ireland, you only have to look at the club teams that the German players play for... Tonight's starting line up includes five Bayern Munich players, one from Madrid, one from Juventus and one from Arsenal...
It could be a historic night for Northern Ireland. A shock win means they would leapfrog the world champions. A draw may be enough to snatch second place on goal difference.
We're just over 30 minutes away from kick-off. Before the game starts, why not check out Colin Murray's video of Northern Irish fans from earlier in the tournament... https://twitter.com/ColinMurray/status/743467479637311488
Northern Ireland XI: McGovern, Hughes, McAuley, Cathcart, J. Evans, Dallas, Norwood, C.Evans, Davis (C), Ward, Washington.
Northern Ireland remain unchanged after their 2-0 win against Ukraine.
Germany XI: Neuer (C), Kimmich, Boateng, Hummels, Hector, Khedira, Kroos, Ozil, Muller, Gotze, Gomez.
The teams are in! Germany have went for a very strong side. It is as followed.
A very good evening to you all. I'm Aaron Stokes and I'll be taking you through tonight's coverage of Germany - Northern Ireland. Kick off is 45 minutes away.
Keep following VAVEL.com for all the lastest Euro 2016 news, including other sporting news LIVE as it happens.
As always, the defence will have to keep an eye on Thomas Muller, who can turn a game on its head in an instant. The game will no doubt be an entertaining one and it may turn out to be one of the biggest nights in Northern Ireland footballing history.
For Germany, you can take your pick at which player to keep an eye out for. Mesut Ozil has played well in the last few games and his ability to pick out a pass in incredible. Julian Draxler has also caught the eye in the previous two games.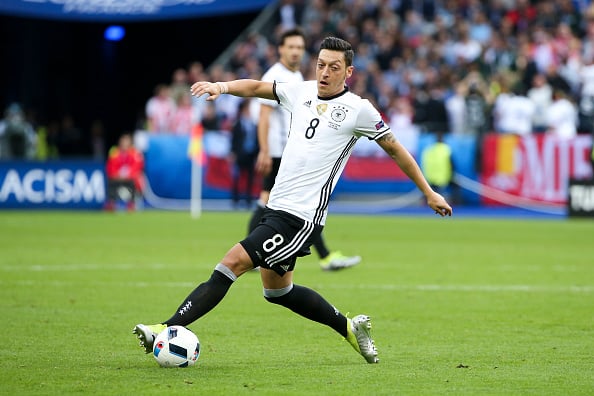 Going forward, Kyle Lafferty was in fantastic form during qualifying and despite not scoring in this tournament as of yet, he can be the player to get inside the heads of the German centre halves. His physicality will be needed against Jerome Boateng and Mats Hummels.
Northern Ireland don't have the biggest array of talent at their disposal, though they do have some technically-gifted players amongst their squad. Steven Davis is a regular in the Southampton side and he can control the midfield with his passing ability.
Up until now, however, Germany haven't looked like their usual self. They haven't yet shown the same level of performance that they did back in 2014 when they won the World Cup. Nevertheless, on their day, they can beat any side in the world.
The Germans, on the other hand, will be going for the win. They currently sit on four points and top the group on goal difference. A win will most likely see Joachim Low's men finish top of Group C, meaning they have a better chance of facing a weaker opponent in the round of 16.
However, not beating the Germans is not the end of the world. The way Euro 2016 is set out this year means Northern Ireland may still go through to the next round even if they finish their group stage campaign on three points. One win may be enough to send them through in one of the third-place spots.
The last performance will inspire confidence within the Northern Ireland camp and there is no doubt that they will go into the game with no fear.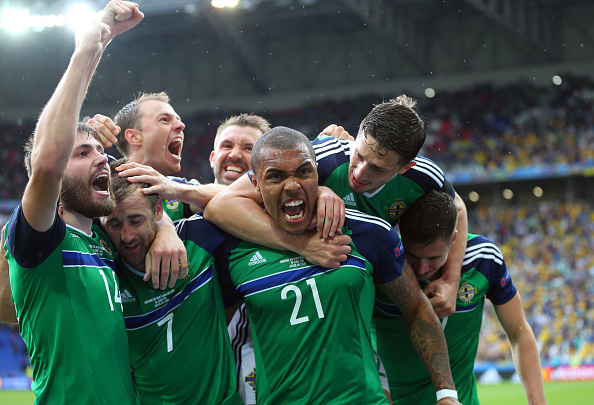 For Northern Ireland to do this, they must avoid defeat at the hands of the world champions Germany. It is a tall order but the way Michael O'Neill's men saw off Ukraine, you cannot rule out that they will not give it a good go against an underwhelming German side thus far.
By the time the full time whistle has been blown in France on Tuesday evening, this group may have been completely turned on its head. Poland face Ukraine, who prop up the group with zero points, whilst Northern Ireland look to secure a shock top two finish and progress to the knockout rounds.
Hello, welcome to VAVEL UK's live coverage of Germany - Northern Ireland, in Euro 2016! I, Aaron Stokes, will be taking you through the game as the Group C matches draw to a close. Stay tuned, as we'll have all the facts, stats and build up right here before kick-off at 5pm.