Germany head into their final Group C game of Euro 2016 knowing that only a win will ensure them of top spot.
They take on Michael O'Neill's Northern Ireland side, who are coming into the clash off the back of an historic 2-0 win over Ukraine.
It is a true David and Goliath clash, but one which the reigning World Champions are not taking lightly.
Time to show their true quality?
Germany have been far from convincing thus far, despite an opening 2-0 triumph against the Ukrainians. That was followed by a 0-0 draw with Poland.
Northern Ireland sit a point further back after being beaten by the Poles in their return to tournament football, but the Ukraine victory has the nation dreaming of more.
It was Thomas Schneider, the assistant coach, that fielded the media's questions on Monday, after their final training session at the Parc des Princes.
Schneider not taking things lightly
Schneider admitted it has "always" been the aim to "finish top of our group".
He continued, saying that whether they got early confirmation of making it through or not it would have "no impact on our line-up".
The former Stuttgart coach confirmed his "respect" for Northern Ireland. He said: "They didn't qualify as a best third-placed side; they had a great qualification campaign."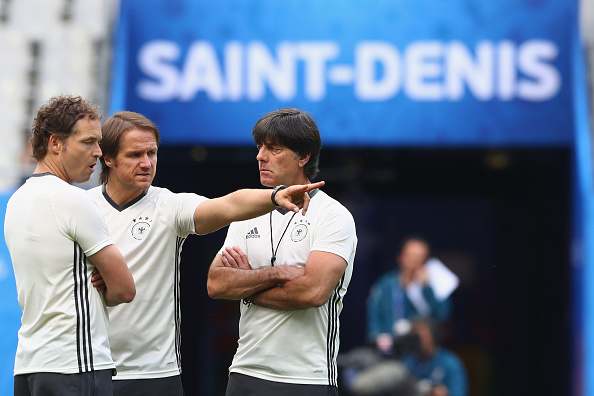 Change needed?
After such a lacklustre showing against Poland, questions have been raised as to whether or not Joachim Löw needs to make changes for the game.
"It is quite possible that there will be one or more changes to the line-up regardless," Schneider said.
He remained coy, however, and who would play where: "And sure, we've spoken about moving Thomas Müller up front. Is it going to happen? You will have to wait and see."