Both sides are through to the last 16 after an incredible game, that really showed no signs of slowing until added time. I've been Jonathan Walsh, good evening and good night.
FULL-TIME - HUNGARY 3-3 PORTUGAL
90+1' Three minutes have been added on.
90' We're into the final minute and Ronaldo launches a free-kick into the crowd. Can anyone snatch a late winner?
86' Portugal continue to pile on the pressure late on, but nothing is coming off for them as of yet.
83' Lovrencsics makes way for Stieber, which is Hungary's last substitution.
82' Final Portugal change - Danilo replaces Nani.
78' Quaresma! He ghosts past his man before smashing a shot wide from all of 30 yards; decent effort.
76' Ronaldo! Over! A deflected cross towards the back post falls kindly for the forward, though his effort bounces well over.
73' Decent ball in from the left and Eliseu sees Ronaldo rise highest, but he can't direct his header goalwards. This is the longest spell we've gone without a goal in the second half; a breather before another onslaught, perhaps?
70' This game has been anything but ordinary, and is just what the finals needed. Hungary make their second change of the game, as Szalai makes way for Nemeth.
65' Szalai hits the post! This is quite amazing, as a cross from the left finds the towering forward. His first-time effort is well-hit, only for the inside of the post to deny him a superb seventh goal in the game.
Good Lord what a game this is. Quaresma's first touch is a perfect cross into the head of Ronaldo, who rises well above the rest to power a header past Kiraly. 3-3, my word.
62' WE'RE LEVEL ONCE AGAIN! IT'S RONALDO!
Dzsudzsak's initial free-kick is blocked but the ball rebounds kindly for him, with another deflection helping his shot skip up off the turf and into the top corner. Three goals in 10 minutes; phew.
55' THEY'RE AHEAD AGAIN! THIS IS INCREDIBLE, HUNGARY HAVE A 3-2 LEAD!
51' Almost a third! Joao Mario's crossing has caused havoc in the early stages of the second half, and Nani is inches away from sliding home his latest ball into the box.
It's a superb goal from the Portugal star, and what a way to silence his critics! Joao Mario's cross is slightly behind Ronaldo, but he improvises to flick the ball into the far corner with his feel; stunning.
50' RONALDO! PORTUGAL ARE LEVEL ONCE MORE! 2-2!
Dzsudzsak takes aim from a free-kick won by Szalai off kick-off, and a kind deflection from the wall sees his 25-yard effort fly past the helpless Patricio; not that the Hungarian fans behind the goal mind!
47' THEY'RE AHEAD AGAIN, HUNGARY LEAD 2-1!
46' Sanches is on, for Moutinho, much to everyone's delight. Gera is also off, with Bese replacing him.
HT - It's been an entertaining half, as both sides have been happy to attack when given the opportunity. A fine strike from Gera opened the scoring, though Nani levelled just before the break.
HT - HUNGARY 1-1 PORTUGAL
Ronaldo is the creator, as his slide-rule pass picks out Nani running on the angle. He takes it first time and thunders the ball past an off-guard Kiraly, who is beaten at his near post. As it stands, Hungary, Iceland and Portugal will all be through.
43' NOW IT DOES COUNT! NANI LEVELS!
40' Portugal have the ball in the back of the net, it's been correctly pulled back for offside. Ronaldo's ball to Pepe caught the latter behind the defensive line, with Nani's tap-in chalked off.
35' The free-kick that follows is taken by Ronaldo, and finds the crowd. Normal service resumed, then.
34' Andre Gomes seems to be the cause of yellow cards, and he's been brought down by Zoltan Gera - a yellow shown to the goalscorer.
33' All quiet on the attacking front for both sides, with Hungary happy to let their fans cheer every and any pass. Portugal need Ronaldo to step up, and quickly.
29' Save! The resulting free-kick is struck by Ronaldo, who manages to send a swerving, bouncing ball at goal. Kiraly is taking no chances, and palms behind for a corner which is eventually cleared.
28' The Hungarians have been extremely physical since the goal, shutting Portugal down hard in midfield. That's produced a yellow card for Juhasz, who went through the back of Andre Gomes.
23' Portugal are under the kosh! Szalai is next to try his luck, but Patricio stands tall and strong to produce a fine save. This has been a superb game so far. Iceland are also ahead in their game, thanks to Jon Bödvarsson.
That's how you hit them! Gera picks up the scraps on the edge of the area and, unlike Joao Mario, he controls his half-volley to send it screaming into the bottom corner and past Rui Patricio. Superb effort, Portugal are OUT as things stand.
18' WHAT A HIT! GERA GIVES HUNGARY THE LEAD!
16' That's the first real time Ronaldo has been serviced by his team-mates, but he's beaten to the ball by a determined Guzmics header.
13' First yellow of the game! Guzmics lunges in wildly on Nani as he darts down the channel, leaving Atkinson with no choice other than to produce the yellow card.
11' After the breathless first 10 minutes, Portugal are starting to turn the screw in a more controlled fashion. Plenty of pressure is being heaped upon the Hungarians, yet they hold firm.
8' Now Portugal break back upfield! Nani races away from the halfway line but is closed down by Lang, only to concede a corner. The set-piece is headed at goal by Pepe, though easily held by Kiraly.
7' At the other end, Adam Szalai almost makes good contact on Dzsudzsak's cross towards the front post. The resulting corner also finds the striker, but nothing comes of it.
6' A misplaced pass from Kiraly, who looked rather awkward on the ball, almost lands his team in trouble but Portugal can't take advantage.
5' The first shot of the game comes from it, but it's well off target. Joao Mario was picking up the scraps on the edge of the area, but hsi volley is well over.
4' Juhasz makes no mistake taking down Ronaldo with a shoulder barge on the left flank; chance to put in a decent delivery.
2' Strong start from Portugal, who have the backing of the crowd in Lyon. Nani almost broke through after a long ball forward through the centre, only for his touch to take it through to Kiraly.
17:00. Kick-off! We're off in Lyon!
16:57. National anthems passionately sang, handshakes exchanged. We're about to get underway!
16:55. Here we are! Portugal and Hungary emrge onto the pitch ahead of kick-off in a packed Stade de Lyon.
16:40. We'll take a short break now before kick-off, and rejoin you in around 15 minutes for the start of the action!
16:35. The last time these two teams met in a major tournament was in the 1966 World Cup. Hungary lost 3-1 on the day, but were the only team in the tournament not to concede a goal to Eusebio.
16:30. A quick reminder of the permutations this evening. Hungary will play in the last sixteen regardless, and a point should see them secure top spot unless Iceland hammer Austria. The Austrians need a win, otherwise they will be out. As for Iceland and Portugal, draws will see both through; Iceland as second, Portugal as one of the best third-placed sides.
16:25. Hungary are yet to beat Portugal in their 11 previous meetings, having tasted defeat in eight of those 11 games. Can they end their rotten run today and secure top spot in Group F?
16:20. As for Portugal, Raphael Guerreiro has not been deemed fit enough to play and Eliseu is in as his replacement. The only other change sees Ricardo Quaresma switched out for Joao Mario.
16:15. Hungary make five changes to the side that drew 1-1 with Iceland, as Kadar, Kleinheisler, Nagy, Priskin and Stieber all drop out. Korhut, Pinter, Elek, Lovrencsis and Szalai are in.
16:10. And this is how Portugal start tonight's game: Patricio; Vieirinha, Pepe, R. Carvalho, Eliseu; Andre Gomes, W. Carvalho, Moutinho, Joao Mario; Ronaldo, Nani.
16:05. Team news time! Here's the Hungary line-up: Kiraly; Lang, Guzmics, Juhasz, Korhut; Gera, Pinter; Dzsudzsak, Elek, Lovrencsics; Szalai.
Martin Atkinson will be the man in the middle tomorrow evening, and will need no introduction to fans of English football. The Premier League regular has already taken charge of one game in the tournament, as he overseen Germany's 2-0 win over Ukraine. Atkinson was the referee for the infamous Albania-Serbia clash, which was abandoned a drone flying over the pitch sparked crowd trouble.
Portugal predicted line-up: (4-3-3) Patricio; Vieirinha, Pepe, R. Carvalho, Guerreiro; Moutinho, W. Carvalho, Gomes; Quaresma, Ronaldo, Nani.
Hungary predicted line-up: (4-3-3) Kiraly; Lang, Juhasz, Guzmics, Kadar; Kleinheisler, Gera, Nagy; Dzsudzsak, Szalai, Stieber.
Portugal have problems of their own, and will be sweating over the fitness of both André Gomes and Raphael Guerreiro; two of their star players in the tournament to date. They have no-one completed ruled out as of yet. Pepe and Ricardo Quaresma are at risk if missing any possible game to follow, only if they see yellow
Both teams have concerns over personnel coming into the game, with defender Attila Fiola fully ruled out of the game on Wednesday. Dániel Böde is doubtful, but it may be that Adam Szalai takes his place back in the starting eleven after being dropped against Iceland. Tamas Kádár, Laszlo Kleinheisler, Adam Nagy and Kristian Németh are all in danger of missing their last 16 game should they pick up another booking.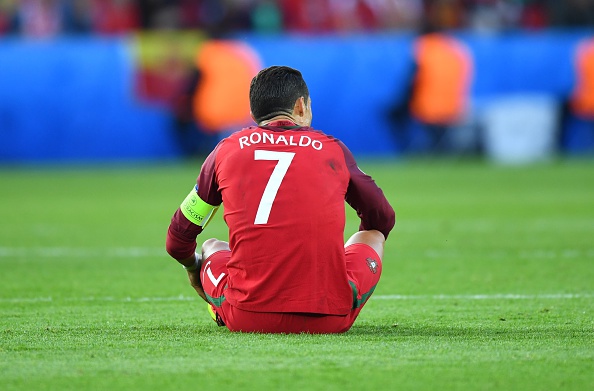 Both sides have enjoyed contrasting fortunes in Group F thus far, with Hungary sitting top on four points. Their opening day, smash-and-grab 2-0 win over Austria - thanks to Adam Szalai and Zoltan Stieber's goals - meant a similar result against Iceland would have meant they topped Group F. Unfortunately for Bernd Storck, they needed a late own-goal to steal a share of the spoils. As for Portugal, it's been two nil-nils to start. Cristiano Ronaldo's performance against Austria summed their campaign up.
For Hungary, they can relax knowing that even defeat will not be enough to see them miss out on a last 16 berth. As it stands, they would top the third-place mini-league if both Iceland and Portugal won. The Portuguese would be through with a draw, but they will not want to leave it to chance. The same can also be said of Iceland, while Austria need all three points when they go toe-to-toe with the island nation to make it into the round of 16 stage.
Hello and welcome to VAVEL UK's live coverage of Hungary's Euro 2016 Group F clash with Portugal from the Stade de Lyon, Lyon. The two sides are currently battling it out to ensure qualification from the group stage as they go head-to-head in central France, with a last 16 berth still on the cards. It is a massive occasion for that and many more reasons, and we'll bring you plenty of build-up, team news and other goings on ahead of kick-off at 17:00 BST. I'm Rosie Tudball, and I will be taking you through the game.