Well, that's all we've got time for. Zlatan Ibrahimovic's Sweden career ended on a low note, his lacklustre side crashing out at the hands of Belgium having only take one point from three games in Group E. Belgium, meanwhile, finish in second on as many points as group winners Italy - scoring four goals without reply in their final two games to bounce back from an underwhelming opening game. Hopes will be high for them now, as they look to beat Hungary to set up a clash with the winner of Wales vs Northern Ireland. The star-studded Belgians will fancy their chances in both of those games, but they'll have to take things one step at a time so as not to get carried away. They weren't at full speed tonight, but they deserved their win even though they were forced to wait 84 minutes before the first goal - Radja Nainggolan's fierce strike from 25-yards getting the better of Andreas Isaksson for the game's only goal. With that, we've two days off from the Euros - but much to discuss before the last 16 starts at 2pm on Saturday. Thanks for joining me and VAVEL UK, and make sure you return throughout the rest of the tournament for plenty of top-quality content. Goodbye!
The Euro 2016 group stages are officially over! We're at the start of the end now, as we approach the really exciting stages. We've got two days off until then though, sadly. It'll be a long 48 hours, even if this tournament is yet to truly explode into life. Let's hope it does in the last 16.
That results also means Sweden leave us having not scored a single goal, themselves at least. Their only goal this summer was an own goal, which isn't a statistic Zlatan and co. will be particularly delighted about. Also leaving France with them are Austria, Turkey, Czech Republic, Ukraine, Russia, Romania and Albania. Few surprises there.
That means the last 16 looks like this: Switzerland - Poland, Wales - Northern Ireland, Croatia - Portugal, France - Republic of Ireland, Germany - Slovakia, Hungary - Belgium, Italy - Spain, England - Iceland. Plenty to get excited about there.
There we have it then. Belgium win a second consecutive game to advance into the next round and also signal the end of the road for Ibrahimovic and Sweden in the striker's final game. The Belgians will face Hungary in the next round, while they'll be joined by Republic of Ireland who will face hosts France. It also means Northern Ireland take on Wales in Paris with all of the home nations (and Ireland) having made it to the next round. Excellent stuff.
FT: Sweden 0-1 Belgium: The Red Devils win back-to-back European Champioship games for the first time in their history to seal second in Group E!
90+2' Hazard wins a late free-kick for Hazard after being clipped by Ekdal. In a late substitution, the captain will be replaced by Origi.
90+1' Great save by Isaksson! Hazard keeps the ball in play and sprints down the left flank before cutting in to find Benteke, but the striker can only side-foot a shot straight at the 'keeper, who does well to deny him.
90' De Bruyne controls from Hazard's pass across the box but he slashes his shot well wide.
90' Sweden win a free-kick which Durmaz clips into the box from the left-hand side, but goalscorers Nainggolan rises to clear.
89' In all that excitement, Benteke replaced Lukaku up top for Belgium. Not much time for the Liverpool man to have an effect on proceedings though.
88' Well, well, well. Robbie Brady has put Republic of Ireland 1-0 ahead against Italy and as it stands, the Italians go through in 1st with six points but top the group over Belgium because they beat them 2-0 in the opening game. Ireland, meanwhile, would progress as one of the best-placed third-place teams with four points. Drama.
87' SO CLOSE! Ibrahimovic chests the ball down and, with stunning technique, acrobatically volleys just wide of the post. Almost an ideal response.
86' We had to wait 84 minutes for it, but what a goal it was. Sweden need two in the final minutes to avoid going out without a win at Euro 2016.
85' That's a stunning strike. Hazard gets to the byline down the left and fires a cross which falls to Nainggolan on the edge of the area. He cushions the pass and fires a blistering strike past Isaksson to put Belgium on the cusp of the last 16.
84' NAINGGOLAN FIRES BELGIUM INTO THE LEAD. WHAT A GOAL!!!
84' OFF THE LINE! Kallstrom's cross is met with a powerful downward header towards the back post, but stood there is De Bruyne who stoops to head it clear. Match-defining moment? Maybe.
83' Alderweireld blocks Forsberg's cross for a corner and that will be the Sweden midfielder's last contribution before he's replaced by Zengin for his debut in this tournament.
82' You'll be surprised to know it once again leads to nothing, instead inviting a Sweden counter but Vermaelen heads clear Kallstrom's long ball into Ibrahimovic's vicinity.
81' GREAT SAVE! Mertens dances clear of danger before working an opening to shoot, but Isaksson gets both hands to it to force yet another Belgium corner.
80' But it very nearly wasn't.. Lukaku uses his strength to shield Granqvist off the ball with his back to goal. He shoots on the spin but can only fire over the crossbar from 12-yards.
79' The woodwork has been struck in the other game between Ireland and Italy but it's still 0-0. Second-place is still up for grabs in Group E.
78' Another Sweden free-kick, although a bit too far out for Ibrahimovic's liking. Instead, Kallstrom clips it into the area but Ekdal can't get enough on his header. Goal kick for Belgium.
77' Plenty of time left yet for a goal, but it's incredibly difficult to predict from which team it will come. Both sides still having their fair share of chances and we're largely even, as we have been for much of the first three quarters of the game.
76' SAVE! Ibrahimovic lines it up and bends it past the four-man Belgium wall from distance, but Courtois is on hand to parry it away from goal.
75' Ibrahimovic clipped from behind by Vermaelen from around 30-yards out. The big man's time to shine? There's only one player taking this...
74' The ball's in the back of the net once again, Lukaku running free of his man after Mertens' pass but although this time he beats Isaksson with a cute chip, he's left dismayed after a late offside flag.
73' WHAT A SAVE! De Bruyne's perfectly-weighted through ball puts Lukaku through on goal, albeit at an angle which allows Isaksson to narrow the striker's sight of goal and he smothers Lukaku's shot at the near post excellently.
72' Hazard and De Bruyne wriggle free of trouble, as they have for much of the night, but once again the Belgians' link-up on the edge of the box falls flat as Mertens loses possession. Sweden just don't have the pace on the counter to take advantage.
71' Time running out for Sweden to save their situation. The positive is at this stage, they only need the one goal to suddenly catapult themselves into the next round. Meanwhile Carrasco is replaced by Mertens in Belgium's first substitution of the game.
70' Second substitution for Sweden: Durmaz on, Larsson off.
69' Forsberg's shot across goal is headed behind by Alderweireld for a corner. Larsson takes this one but Granqvist is adjudged to have fouled Witsel inside the box.
68' Meunier looks for Lukaku in the centre of the box, but the ball has too much on it for the striker and Carrasco isn't quick enough to rescue the wayward cross at the by-line.
67' A succession of corners for Belgium but once again they can't take advantage despite De Bruyne's ball being of notably higher quality on both occasions.
66' GOOD SAVE! Alderweireld's 60-yard ball upfield picks out De Bruyne, who controls and drives inside - but his shot from 25-yards is palmed wide by Isaksson, who gets down well to the shot.
65' Guidetti makes his first contribution, winning a corner from Vertonghen's tackle. Kallstrom takes it from the far side of the pitch, driving a low ball across the floor but Lukaku clears.
63' A first substitution for Sweden: Guidetti on, Berg off. The striker leaves the pitch having wasted arguably the best opportunity of the game early on. The Swedes sticking with 4-4-2, rather than gambling with a third striker.
62' The ball's in the back of the net! But... it doesn't count. Alderweireld stoops low to meet a ball into the box, which Berg meets, allowing Ibrahimovic to put the ball past Courtois - but it doesn't count as Berg is penalised for a supposed high foot. At least, that's what it seems.
61' Less than half-an-hour for either of these two teams to strike a first, and maybe decisive, blow. Belgium have threatened more regularly, but look their most dangerous when breaking away on the counter-attack. Otherwise, they've been largely stifled - Nainggolan seeing a long-range shot blocked by Granqvist's outstretched right leg.
60' Appeals for handball as Meunier's cross strikes Granqvist's arm as he slides in for a challenge, but - quite rightly - Felix Brych gives nothing. From the result corner, De Bruyne's delivery once again disappoints as it floats beyond everyone and the second cross, although met by Alderweireld, falls comfortably for Isaksson.
59' Immediately up the other end, De Bruyne releases Carrasco and he runs in at the near post before seeing his low cross stabbed clear for a corner by Granqvist.
58' Almost a chance for Sweden! Ibrahimovic's poked through ball takes a deflection and almost falls for Forsberg, but he can't react quick enough to control it and Courtois collects.
57' Belgium starting to dominate again as De Bruyne's strike takes a deflection off Johansson before being cleared.
56' Space opens up for Hazard to try an effort from the edge of the box, but Lindelof quickly reads it to throw his body in front of the shot. Great block.
55' Belgium have a much-needed spell of possession to settle the Swedes a little but an off-the-ball foul by Lukaku, pushing his defender to the floor in rather blatant fashion in the box, brings an abrupt end to their growing momentum.
54' Courtois catches Ekdal's cross-cum-shot easily. That followed a good opportunity for Berg, who rather than shoot first time when set away on goal opted to take a touch, which forced him wide of the goal. Sweden at least putting their opponents on the back foot since the interval.
53' Good foothold in the game now for the Swedes, but Belgium have so much space when on the counter-attack. De Bruyne almost finds Carrasco on the overlap, but he puts too much weight on the pass.
52' Sweden have clearly had a fruitful half-time team talk. They've been much better in this second-half, Kallstrom almost picking out Ibrahimovic with a crossfield ball - but Courtois is quickest to meet it, much to the 34-year-old's frustration.
51' Ekdal drives forward and waits for Berg to peel away from Alderweireld before finding him in space. The striker, however, can't return the favour. Sweden instead win a throw which leads to a lofted ball into the head of Ibrahimovic in the box, but he can only head over the bar despite climbing above Vermaelen.
49' Good chance for Sweden as they win their first corner of the game. Kallstrom takes it but his outswinging delivery is cleared by Lukaku at the near post. Woeful attempt.
47' Meunier gets away with one, miscontrolling the ball and inviting Olsson to steal in and run towards the byline. Fortunately, the ball just rolls out of play before the Swedish full-back can get a cross away.
46' And we're back, the players re-emerged back for the second-half with Sweden getting us back underway. No changes from either side yet, but it feels like only a matter of time before we see the breakthrough goal.
So, as things stand, both Republic of Ireland and Sweden are going home. They both need wins, while the current scoreline is good enough to make sure of Belgium's progression to the last 16. That would mean the Belgians face Hungary, who earlier topped Group F with a 3-3 draw against Portugal, with Italy's mammoth tie with Spain already confirmed. Of the other implications, Northern Ireland would play France while Wales would face Turkey. That could all change just yet though.
Elsewhere, Ireland and Italy are still drawing 0-0 with the Republic having apparently just been denied what seemed to be an obvious penalty kick after James McClean was bundled over inside the area. See for yourself here. That means the table at half-time looks like this: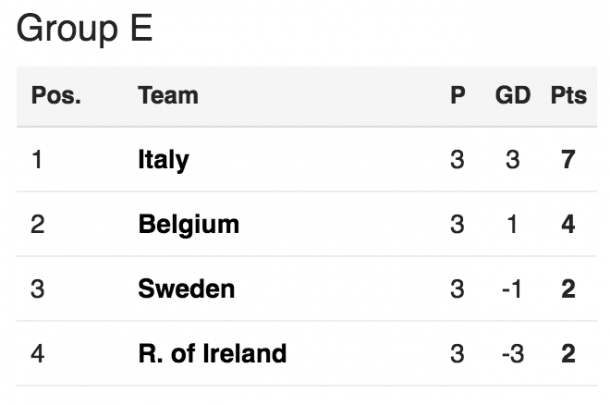 All even at the interval, with both sides having had their moments. Sweden must feel they should be in front, Marcus Berg wasting a golden opportunity to put them 1-0 ahead after just five minutes by firing straight at Thibaut Courtois. Belgium have been the team on top since those early stages, but they've failed to translate their control into goals. They've had chances, with almost everything going through either Kevin De Bruyne or Eden Hazard, but nothing has come of their half-chances. Meunier's header falling just wide of the far post at a corner just before the half-time whistle was the Belgians' closest effort so far.
HT: Sweden 0-0 Belgium.
45' Witsel leads with his elbow as he challenges Lindelof, but he's arguably lucky to escape with a yellow card. It gives Sweden the chance to hang another free-kick up into the box, but Kallstrom's delivery is dealt with.
44' SO, SO CLOSE! Vertonghen's cross deflects off Ekdal and out for a corner as we approach half-time. De Bruyne takes it short to Hazard, who lays it back to his compatriot to swing a delightful cross into the six-yard box. There is Meunier who runs across it to flick a header towards the far post but it's agonisingly wide.
41' Kallstrom's free-kick sails straight into the clutches of Courtois, who is quick on his wits to set his team on the breakaway. Hazard feeds a sublime through ball to De Bruyne, who is running clear on goal, but he's flagged for offside.
39' A welcome, if quick, bit of respite from an otherwise end-to-end game then so far. Both sides have had their chances, Berg guilty of wasting Sweden's best, while Belgium simply haven't had men in the right areas at the right time.
38' Kallstrom and Hazard collide off the ball, but a free-kick isn't given for the Belgian. Play is stopped momentarily, however, with the Sweden midfielder seemingly claiming a head injury.
37' Great hold-up play by Lukaku who wins a free-kick inside the centre circle. Johansson is next in the book for bringing him down from behind.
36' Another really enticing low cross from De Bruyne goes straight across the face of goal but Lukaku's the only one inside the six-yard box and he's unable to get a toe on the end of it.
35' De Bruyne with another delivery, this time from the left side, but Isaksson gets a strong punch on it to clear the danger.
34' Vertonghen runs on to De Bruyne's rolled lay-off, but it smacks straight into the wall before Lindelof is forced to head De Bruyne's cross clear for another Belgium corner.
33' What a counter-attack. Belgium win a free-kick around 25-yards out with Ekdal going into the book after being forced to dive in on a rampaging De Bruyne. The Belgians were driving forward with pace and purpose, prompting the tactical foul, and might have engineered a good opportunity were it not for Ekdal's intervention.
31' Kallstrom once again fizzes it high but this one's not as effective as the others, evading everyone before going wide for a goal kick for Belgium.
30' Meunier, earlier talked to for a foul, becomes the first player to go into the book after catching Forsberg late in the centre of the pitch. Another Kallstrom free-kick incoming.
29' Both sides getting increasingly closer. De Bruyne rolls a lovely ball across the face of the goal but Lukaku is caught a yard or so short. If he's in a better position, that's a tap-in.
28' Ibrahimovic growing into the game as he wrestles with Alderweireld to get on the end of a long ball. He wins the duel, but nor he or his compatriots can get a shot away from inside the area.
27' A third corner of the evening for Belgium after Nainggolan's shot deflects wide. The set-piece is once again taken by De Bruyne but it's way too deep and none of his teammates can get near it. Disappointing delivery from the Manchester City man.
26' CLOSE! Ibrahimovic doesn't quite get a great connection on his shot from 20 yards, but his bobbling strike only bounces a few inches or so wide of the post. His first real chance of the night.
25' What a player Hazard can be. Lukaku uses his body to play the ball back to the Belgian captain, who strides past a couple of challenges on the edge of the area before setting up De Bruyne, but Isaksson is comfortably equal to his 25-yard effort.
23' Still goalless in the other group game as we await some drama. Both teams flexing their muscles but doing little to back up their quality. Larsson lets fly from distance after a one-two with Ibrahimovic but his shot swings wildly wide.
21' Some promising approach play by Sweden leads to Ibrahimovic flicking the ball up and attempting a volley inside the box but Alderweireld stands strong to block.
18' Everything but the end product so far for Marc Wilmots' Belgium. They've been impressive, controlling the game over the last 10 minutes and threatening to force a few openings - but they've yet to create any chances of note. One's coming you suspect, given all their possession. As I type that, Hazard's cross is flicked clear by Johansson.
16' Much better dealt with by Belgium this time around as Vermaelen heads clear and they force the Swedes back to Isaksson in their own box.
15' The referee has a few words with Meunier after he fouls Forsberg. That gives Kallstrom the chance to put another free-kick into the area.
14' Sweden on the back foot, but defending well for the majority. They've had the best opportunity of the game so far but have been largely penned in their own half since then. It's all-or-nothing for them so you can't expect it'll stay like that for too long.
12' Belgium's forwards really standing out so far as Hazard drives forward but seeing a shot from distance well blocked. Him and De Bruyne seeing plenty of the ball thus far.
11' Dangerous cross from Vertonghen as he looks for the run of Lukaku, but the full-back puts a bit too much on his delivery and Lukaku isn't quick enough to meet it.
9' Plenty running through De Bruyne whenever Belgium move forward as he finds Meunier on the right, but his cross in search of Lukaku is headed clear by Granqvist.
8' Breathless start to the game here, with both sides clearly keen to set the tempo and steal an early advantage. Sweden have now had their first shot on target at Euro 2016, which is a good early marker to put down I suppose. Only took them 185 minutes.
7' Nearly! De Bruyne's delivery is flicked on by Witsel at the near post but it's just a yard or so behind Vermaelen.
6' Great end-to-end start here as De Bruyne weaves his way past a couple of yellow shirts before setting Lukaku away. His shot is just tipped wide of the far post by Isaksson.
5' HUGE CHANCE! Kallstrom hangs his deep free-kick into the box and it bounces around before falling nicely for Berg, but he can only fire straight at Courtois from an unmarked position seven yards out. He has to do much better there.
4' Some strong challenges on the edge of the area, with Vermaelen's tackle on Ekdal prompting protests from the Sweden players - but the referee waves play on. That is until Nainggolan commits a foul.
3' Witsel, who scored against Ireland in his last game, has the first attempt of the evening but he doesn't quite catch in right - driving over the angle of the crossbar and the post by a few yards from the edge of the area after Hazard's lay-off.
2' Good exchange between Hazard and Vertonghen down the left side, the latter powering into space before overhitting a cross out for a goal kick. Promising move although it came to nothing.
1' We're underway in Nice! Belgium, starting the game shooting from right to left, get us started after referee Felix Brych's whistle.
The two national anthems have been played and we'll be underway momentarily. A great game in prospect, but can it live up to expectation? Let's hope so. Stick with me, Charlie Malam, and VAVEL and we'll have live minute-by-minute commentary of the next 90 minutes.
Here we are then. The two teams line up in the tunnel, Ibrahimovic and Hazard cutting amusing contrasts (in height, not quality, that is) as they lead their compatriots out. Zara Larsson and David Guetta's questionable tournament anthem booms out as Belgium, in their snazzy blue kit, walk out alongside Sweden in their traditional yellow number.
Closing in on kick-off in Nice, but there's another game going on in Lille between Italy and Ireland. You can follow that game with VAVEL UK too, right here. We've not missed a game yet, so make sure you make us your home for Euro 2016 coverage as we'll keep it coming at in quantity and quality right until the tournament's end.
Bit more on the permutations of tonight's Group E games. The only way Belgium can be eliminated is if they lose and Republic of Ireland win, which would completely change the outlook of the group table. A reminder that the Belgians simply need a point to finish behind Italy as runners-up. Just like Group F, although top spot there was also up for grabs unlike this group, any goal at any time could change everything.
Tonight's venue, the Allianz Riviera, is looking lovely over in a sun-soaked Nice. Two sides of the stadium are decked out in yellow and red respectively and hopefully, we'll have another cracking game in store. 20 minutes until kick-off.
Now here's a stat for you. Zlatan Ibrahimovic is looking to add to his tally of six goals at the European Championships tonight and if he does so tonight, he would become the first player to score in four consecutive editions of the tournament.
Mind, Ibrahimovic will be pretty keen to have his say tonight. This is 116th international cap for Sweden and could be his final. As his country's uncontested star turn, he'll be keen to find the kind of form that saw him score 11 goals in Euro 2016 qualifying.
Indeed, Lukaku scored in the last meeting between these two countries - as did Eden Hazard, with Belgium winning 2-0 in a friendly in June 2014. A repeat of that scoreline tonight is 13/2 with SkyBet, if you fancy a flutter.
Key men: Romelu Lukaku has scored six goals in his last six games for Belgium while Kevin De Bruyne has played a part in 10 goals in his last 10 appearances with five goals and five assists. They'll be key tonight, you'd imagine, just as they were last time out.
This best-placed third teams lark is all a bit confusing really, isn't it? Slovakia, Portugal and Northern Ireland are all guaranteed their place in the next round, in that order, although their positions could change completely depending on how Sweden do tonight. Republic of Ireland, who face group leaders Italy in the other 8pm kick-off, can also still progress but like the Swedes simply cannot afford anything except victory in order to do so.
So far, the last 16 billing looks like so... Switzerland - Poland, Italy - Spain, England - Iceland. They're the only confirmed games, while the rest are awaiting tonight's result, as so... Wales - 3rd place Group A/C/D, Croatia vs 3rd place Group B/E/F, France vs 3rd place Group C/D/E, Germany vs 3rd place Group A/B/F, Hungary vs Group E 2nd place.
Incredible drama earlier. Hungary and Portugal contested arguably the most enthralling game of Euro 2016 as they drew 3-3, Cristiano Ronaldo scoring twice as they pegged back the Hungarians three times. In the other game, Jon Dadi Bodvarsson opened the scoring early on for Iceland, before Alessandro Schopf equalised in the second-half for Austria after Aleksandar Dragovic missed a penalty. Then, in the dying stages of stoppage-time, substitute Arnor Ingvi Traustason to lift the Scandinavians from third to second and set up a last 16 clash with England in Nice. Portugal will most likely face Croatia, with Wales, France, Germany and Group F winners Hungary waiting for the results of tonight's two games to see who they face.
Just the one change for Belgium, with the injured Mousa Dembele dropping to the bench to be replaced by Radja Nainggolan. Otherwise, they're exactly the same - while Sweden have made one change themselves, John Guidetti is replaced by Marcus Berg up front.
Belgium Bench: Mignolet, Gillet, Kabasele, Denayer, J. Lukaku, Ciman, Dembele, Fellaini, Mertens, Benteke, Batshuayi, Origi.
Sweden Bench: Lustig, Olsen, Jansson, Hiljemark, Wernbloom, Augustinsson, Lewicki, Kujovic, Guidetti, Durmaz, Zengin, Carlgren.
Belgium XI: Courtois, Meunier, Alderweireld, Vermaelen, Vertonghen, Witsel, Nainggolan, De Bruyne, Carrasco, Hazard, R. Lukaku.
Sweden XI: Isaksson, Lindelof, Johansson, Granqvist, Olsson, Larsson, Ekdal, Kallstrom, Forsberg, Berg, Ibrahimovic.
The teams are in...
Did you know? Sweden's last win in this fixture was a 2-0 success in the qualifying stages for the 1962 World Cup. The Belgians are unbeaten in the last three encounters with their Scandinavian opponents, winning the last two matches.
Of the other key information you might like to know, tonight's referee will be German official Felix Brych. A familiar face to many, the 40-year-old is a FIFA referee and is ranked as a UEFA Elite group referee. The notable games he has officiated include the 2014 UEFA Europa League Final, a 2013 international friendly between England and Scotland at Wembley Stadium and the first-leg of the 2011–12 Champions League semi-finals between Chelsea and Barcelona. A lawyer outside of football, Brych is arguably one of the biggest-name referees in the game and is a regular in the Bundesliga.
Tonight's game will be played OGC Nice's Allianz Riviera in, you guessed it, Nice. The 35,000-seater, only opened in September 2013, has already hosted Poland's 1-0 win over Northern Ireland and Spain's comprehensive 3-0 thrashing of Turkey in Group C and Group D. After tonight, it will host the round of 16 tie involving England on June 27.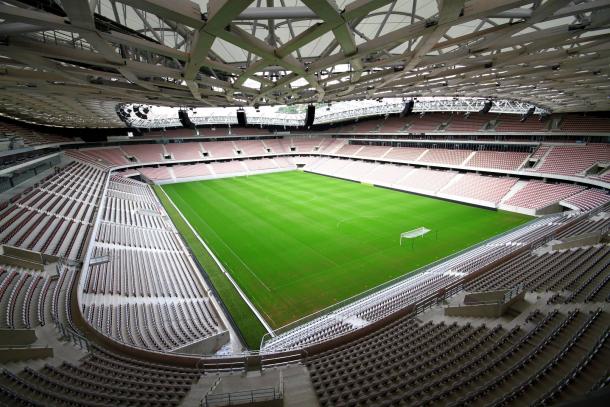 Meanwhile Kevin De Bruyne, undoubtedly one of Belgium's key players, insists he and his compatriots do not fear Sweden star man Ibrahimovic. "It is important for us not to focus too much on Ibrahimovic individually, but keep an eye on Sweden in general," he said."I have already played against him earlier this season. Ibrahimovic is a player like any other. Of course, he has a lot of quality, but we have several great players who can make the difference as well. "Losing and winning is part of the game. We lost a match and then won the next one. We now have to focus on the next match. We have to replicate our performance from the game against Ireland versus Sweden."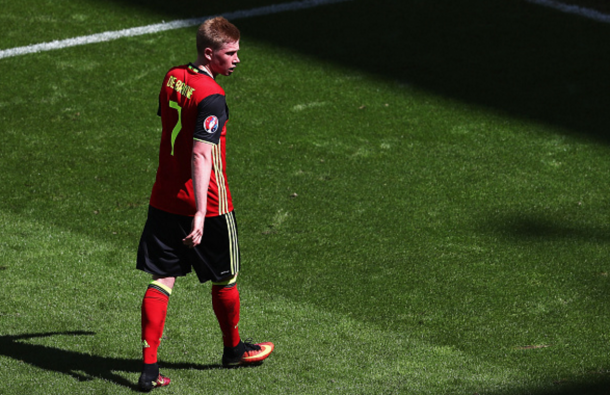 Enough about the permutations, though. Let's get back on to how this game is pretty much go big or go home, if you pardon the expression. Zlatan Ibrahimovic doesn't expect what could be his last hurrah to be a disappointment though, whatever the result. He told journalists earlier this week: "The last game for Sweden in Euro will be my last game with Sweden, so I hope it will not be tomorrow. Let's hope it goes as long as possible. To finish on a disappointment? Never, because I'm very proud to be captain of Sweden and what I achieved. So I want to take this moment and thank all the supporters, because they make it possible for me to achieve what I have achieved. For me disappointment doesn't exist, only proudness and grateful and I'm very thankful."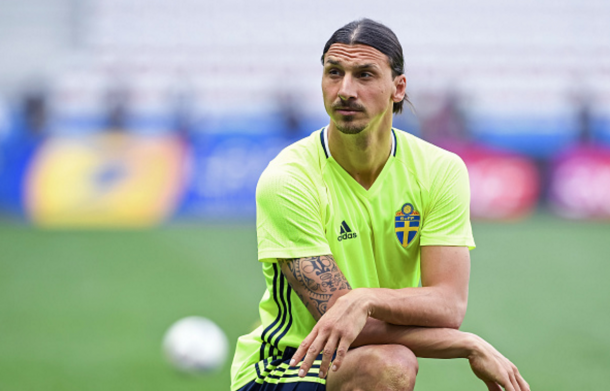 Of course, Sweden or Belgium could yet finish as one of the best-placed third-placed teams. They would face either Croatia in Lens or hosts France in Lyon, such is the way in which the next round has been arranged. Both tough teams, particularly given that the former beat Spain to top spot in Group D.
Both of these teams can only hope to finish as runners-up behind Italy, meaning whoever finishes second after tonight will take on the winners of Group F. Hungary go into Wednesday on top of that group, but they face a Portugal team looking for a first win to leapfrog them into the first. Austria can only finish in the top two if they beat Iceland and Portugal do not beat Hungary, while Iceland can qualify in a manner of ways. Those games kick-off at 5pm, so their destinies will be known prior to Sweden vs Belgium.
Interestingly enough, Belgium have not drawn any of their last nine European Championship games, winning three and losing six since their a goalless draw with Italy in 1980. Tonight, they'll look to equal their best ever major tournament outing - which also came at Euro 1980 - when they finished runners-up to West Germany in their group.
Sweden are competing at their fifth successive Euro finals, and their sixth in total. They have not made it through the group stage since making it to the quarter-finals of Euro 2004 and have lost five of their last seven games in this competition, winning one, drawing one and keeping only one clean sheet across that run.
The Red Devils have the opportunity to win back-to-back games at the European Championships for the first time in their history tonight. Pretty incredible when you think they're second in the FIFA world rankings, having topped them for several months of 2015, and came into this tournament as one of the favourites to win the title.
These sides have met just once in a major tournament, with that fixture coming in the opening game of Euro 2000. Belgium, the hosts of that tournament, won 2-1 thanks to goals from Bart Goor and Emile Mpenza. Belgium boss Marc Wilmots even played in that game in Brussels. Overall, Belgium have won seven of 14 previous meetings against Sweden, who have registered five victories.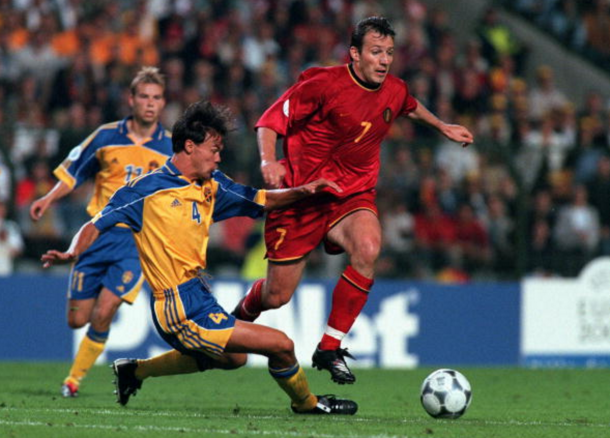 It's getting to the stage of the tournament where suspension becomes a tangible worry - with Belgium centre-backs Thomas Vermaelen and Jan Vertonghen both a booking away from a one-game suspension. Sweden's Victor Lindelof and Martin Olsson are also both at risk, having both picked up a yellow inside the first two games.
Incredibly, Sweden are yet to register a shot on target after their opening two matches despite attempting 11 across 135 minutes. They're the only team yet to have a shot on target at this summer's competition and are the first ever team to do so since the group stages were introduced to the Euros in 1980. Not the best record to have.
Belgium have been issued a major injury boost with Eden Hazard declared available despite tearing a ligament in his thumb in training. The captain will wear a protective cover to safeguard the problem, although Mousa Dembele will likely be unavailable because of an ankle injury sustained in the previous game, meaning Radja Nainggolan could come back into the team. Yannick Ferreira Carrasco should shake off a knock picked up against Ireland to return to the matchday squad, but both will undergo late fitness tests to determine whether how much they can feature. Otherwise Marc Wilmots could line up similarly to how the Belgians did last time out.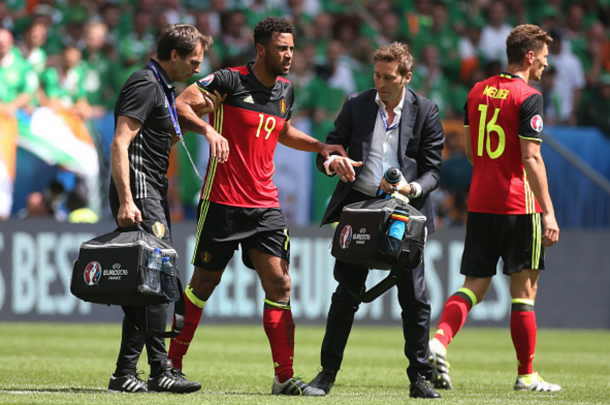 In terms of team news, Sweden have few injury worries - though Erik Johansson is in contention to come in for the still-injured Mikael Lustig at right-back after the latter was forced off at half-time in their first game after aggravating a previously-injured groin. Erik Hamren could stick with striker Marcus Berg to support Ibrahimovic, rather than the alternative option of former Manchester City and Celtic striker John Guidetti.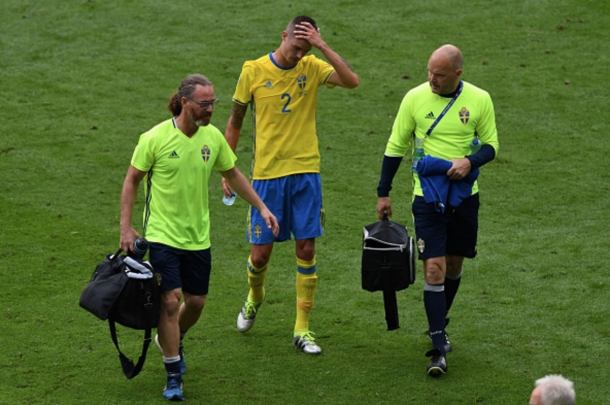 How quick it's gone. Hard to believe that by 10pm tonight, the group stages will be over and we'll be down from 24 teams to 16. In truth, obvious highlights have been largely few and far between - in comparison to former tournaments, but there's been quite a few entertaining matches and that should (in theory) only improve as we approach the knockout stages. There's already some intriguing clashes set up, with Croatia's defeat of Spain last night forcing the reigning European champions to take on Italy - winners of the same group containing Sweden and Belgium - in the last 16. Poland will also face Switzerland, although the rest of the fixtures won't be determined until the conclusion of the group stages - which follows this game.
There's plenty more riding on this game too, after Zlatan Ibrahimovic yesterday announced he will retire from international duty after Euro 2016. The striker, who has yet to confirm who he will play for in 2016-17 after leaving Paris Saint-Germain, has scored a record-best 62 goals for his country in 115 caps but will call the curtain on his time playing for his nation beyond this summer. He's yet to score, or even look like his usual self, at this tournament and although he's far from alone in doing so (Cristiano Ronaldo and Robert Lewandowski among the others to underwhelm) - he'll be keen to go out on high and leave a lasting impresssion. He could yet even fire them to the round of 16...
Belgium, meanwhile, come into this game in higher spirits thanks to their victory at the second time of asking. They crashed to an underwhelming 2-0 loss to Italy in their opener, Emanuele Giccherini and Graziano Pelle scoring on the half-hour mark and in second-half stoppage-time respectively. But they bounced back against the Irish thanks to Romelu Lukaku's brace, either side of an Axel Witsel header, all of which came after the interval as the Belgians turned on the style and showed glimpses of their true potential. They need only to avoid defeat tonight to ensure they finish second in the group behind Italy, who would finish top even if they lost against Ireland in the other group game due to their head-to-head record.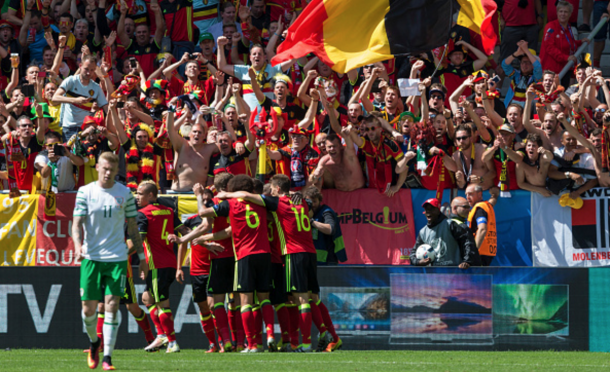 Sweden drew 1-1 with Republic of Ireland in their first game, Zlatan Ibrahimovic forcing an own goal out of Ciaran Clark to earn a point after Wes Hoolahan's well-hit half-volley had opened the scoring. They followed that up with another disappointing result, losing 1-0 to Italy after Eder's stunning solo goal in the 88th minute secured Antonio Conte's men their place in the last 16 of the tournament. That leaves them needing a win tonight. A draw or a defeat would leave them on two or one points, neither of which would be good enough to secure a place in the next round courtesy of finishing among the four best third-place teams.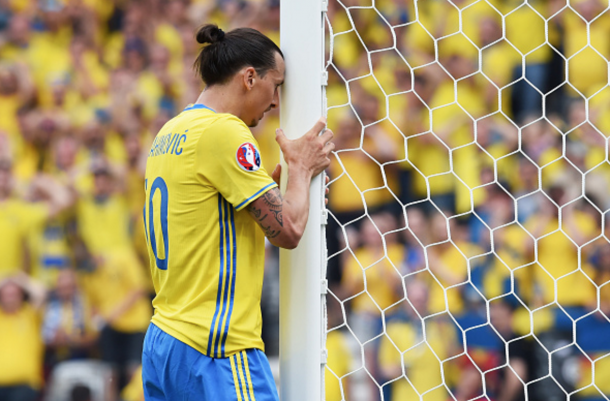 This is the third and final group stage game for each side, with Sweden needing victory to progress to the knockout rounds and Belgium requiring a point to finish second and reach the next stage. It's all to play for, but who will steal the spoils?
Good afternoon and welcome to VAVEL UK's live minute-by-minute coverage of the 2016 UEFA European Championships, tonight sees Sweden and Belgium go head-to-head in both team's final Group E game in Nice. Kick-off tonight is at 20:00BST (8pm) but stay with us until then because we'll have plenty of pre-match build-up to keep you entertained.