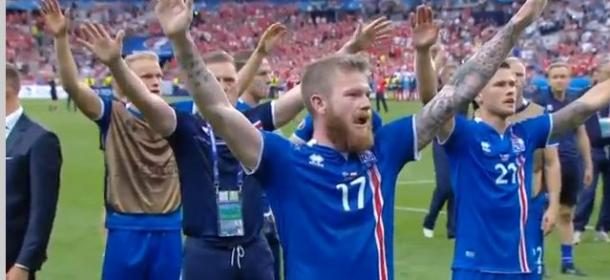 Well, that's all from me, Alex Howell. I hope you've enjoyed what has been a superb game at Euro 2016. Be sure to check out the rest of our coverage, as Vavel provides minute by minute of every single piece of action throughout Euro 2016.
Man of the Match? I think you'd be hard pressed to find any Icelandic player that deserved it more than any other. The whole squad, and in-particularly the defence have shone.
For Austria, it's the end of the line. Euro 2016 is over for the Alpine state. You can't help feel that they've under-performed; for a side that went qualification unbeaten, to only score one goal is a dissappointment.
Nevermind Cristiano Ronaldo's derogitory comments about Iceland, what Lagerbäck, Hallgrímsson and their players have achieved is remarkable and a credit to their country. How long can the Icelandic dream go?
What an achievement from Euro 2016's smallest nation. Portugal's 3-3 draw with group winners Hungary means Iceland will face England in Nice on Monday.
Wow. That's all that can be said. What an end to the game.
90+4: That's full time also, the goal being the last bit of action.
90+4: Iceland break away with Bjarnason, with only Christian Fuchs in defence. The midfielder breaks away before squaring for Arnór Traustason, who flung his body at it and sealed the deal sending seemingly the whole if Iceland into delirium.
ABSOLUTELY JUBILANT SCENES!
ICELAND SEAL IT!!!
90+3: Austrian corner. Robert Almer is up!
90+2: Janko sends a header over the bar, and Iceland have respite.
90: Four minutes of added time in the Stade de France.
90: Iceland are camped in their box, but there is no way through for Austria. It has been momumental defending from the Icelandic men today.
89: Austria corner. Is this the moment?
87: The Icelandic defence afforded some much needed respite, following a corner and freekick for the hosts.
85: Attack versus defence for the last five minutes, plus whatever added time there is. The question is however, will Austria be able to get that winner?
82: Halldórsson the latest Icelandic player to enter Marciniak's book, inevitably for timewasting.
81: The answer is no! David Alaba sends a powerful freekick towards the Icelandic goal, but Halldórsson is equal to it and Iceland hold on for now.
80: Freekick in a promising position for Austria. The big defenders have gone forward, will anything come from it?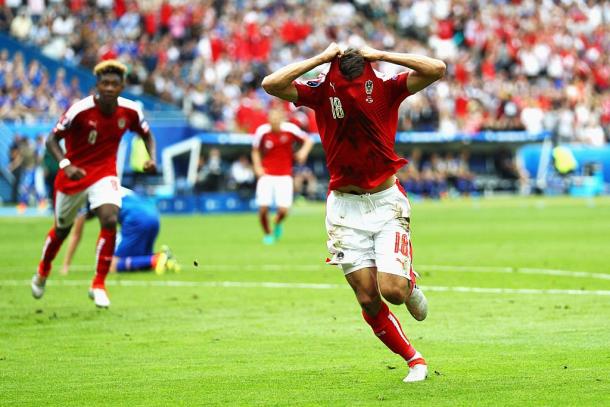 78: Marcel Koller makes his final role of the dice, as Jakob Jantscher replaces Marcel Sabizter. The FC Luzern man will go straight into attack.
77: It's every man back for Iceland. It will be a huge fifteen minutes in Icelandic football, will they be able to hold onto the point that will see them through. Currently, they're set to go through as one of the best third placed teams.
73: They've spurned a number of chances here. Will das Team be able to get that all elusive goal, or will they rue missed opportunities and that missed penalty.
72: Again, Austria go oh so close and it was that man Schöpf again! The Icelandic goalkeeper coming out and smothering the ball, after the dainty das Team attacker was slipped in by Janko.
69: Chance, Austria! Marc Janko inches away from sending the visiting supporters into delirium, after diverting a cross only slightly round the Icelandic post.
65: Gylfi Sigurðsson sending a warning shot Robert Almer's way. The Swansea City man firing, after some neat Böðvarsson play, but was never really troubled the Austria Vienna custodian.
64: It's all Austria now, as they push for the winner that would send them through to face England. Das Team's have bee woken up by that Schöpf strike, and are creating quite a sound whilst their opposites have fell silent. We're in for a thrilling last twenty five minutes!
60: Some great link-up play between the Bundesliga trio of Baumgartlinger, Alaba and Schöpf. The Schalke man, picked the ball up midway in the Iceland half before faking a shot and beating Árnason, then as he slipped reversing a shot into Halldórsson's bottom corner.
AUSTRIA EQUALISE! ALESSANDRO SCHÖPF WITH A VIENESSE WALTZ THROUGH THE ICELANDIC DEFENCE!
55: Schöpf the next to test Halldórsson, with a powerful left footed effort. Although it was never really testing the goalkeeper.
53: Árnason there again! This time it's his head to block a Janko half volley.
48: Extremely fast paced start to the second half. Austria with a strong penalty shout, after Skúlason slipped and borught down Sabitzer. It would've been his second yellow to.
47: Austria nearly back in it! Kári Árnason with a goalsaving left footed block, after David Alaba shot from some eight yards out.
46: Positive start from the Islanders. Bjarnason volleys over, following a typical Aron Gunnarsson long through.
45: We're back underway. Two changes for Austria, as big Marc Janko comes on for Stefan Ilsanker and Alessandro Schöpf replaces Prödl. Koller is going for it.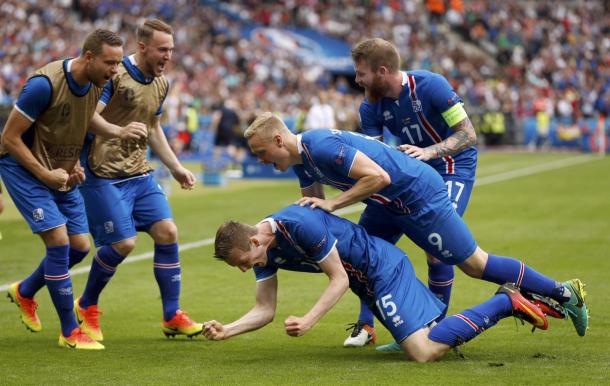 It appears to be same old, same old for Austria. They've yet to perform at Euro 2016 so far, and it looks like they won't have the chance to rectify that after today. The penalty miss sums up their tournament so far.
Well, the Icelandic dream looks to continue. They've put in a typically strong defensive performance so far, which they'll have to keep up in the second as das Team will throw the proverbial kitchen sink at them as they look to claw themselves back into the game, and indeed the tournament.
45: That's it, half time here at the Stade de France. No added time.
44: Arnautović continues to be at the fore. The 27 year old close to having a one-on-one after expertly taking down a Baumgartlinger pass, but was flagged as offside in what was a very close margin.
42: That man, Baumgartlinger, goes oh so close! The midfielder cutting across the ball to send a delicios curling effort towards the Icelandic goal, that requires a strong palm from Halldórsson to tip over.
40: Marcel Koller's Austria haven't been dis-heartened by the missed penalty. Baumgartlinger has began to dictate the play, and Iceland continue to struggle to get out of their own half.
36: The central defender, playing at right back today, took a long run up before side footing the penalty against Halldórsson's right upright. In a strange twist of fate, it was the same post in which Cristiano Ronaldo struck across town on Saturday night.
DRAGOVIC HITS THE POST! ICELAND SURVIVE!
36: It was Ari Skúlason who was penalised; he appeared to have pulled on David Alaba's right arm, as the Austrian national icon attempted to win a header. Correct call from the referee.
AUSTRIAN PENALTY!
35: The visiting side are really exerting some pressure now, and Lagerbäck's side are unable to escape the confines of their own half.
31: It's been much better from Austria over the last five, or so, minutes. They've forced Strákarnir okkar deep into their own half, although you could argue that is right up Iceland's alley.
29: Marko Arnautović has been das Team's brightest outlet so far. He's had two chances in quick succession, first firing a rasping effort into the palms of Halldórsson before then nodding a header over his bar.
24: The news enters the stadium, that Hungary have taken the lead against Portugal to notable joy amongst the travelling Icelandic supporters and neutrals that have adopted them. As it stands, Iceland will face England in the next round!
22: All Austria can offer in response is a tame Julian Baumgartlinger strike, that trickles wide of Halldórsson's goal. Marcel Koller will expect and need more from the new Bayer Leverkusen man if they were to get back into the game. Das Team looked shock, and they're currently heading home.
20: The 1. FC Kaiserslautern gets his first goal for his country, coming after some twenty three appearance. What a time to get it!
19: It's the long throw in routine at the centre, courtesy of Gunnarsson. The Cardiff City man hurling a huge delivery that is flicked on into the path of the Iceland striker, Böðvarsson. He takes it into his path before sliding and carresing the ball past an on-rushing Robert Almer.
ICELAND SCORE AND IT'S BÖðVARSSON!
15: The hosts with another half chance. Gylfi Sigurðsson's cross nearly creeps in at the back post, before Austria clear as numerous Icelandic attackers looked to follow in Aron Gunnarsson's header.
14: We've been close to a goal at either end. It appears that we may be in for thriller here in Saint-Denis.
11: Saying that, Austria nearly take the lead. Halldórsson dallying on the ball; Arnautovic nearly takes advantage but the Iceland goalkeeper can make amends and poke the ball away from the Stoke City attacker as he looked to tap the ball home.
10: Das Team yet to make an impact on the game. The sturdy and compact Icelandic defence easily able to deal with the little Koller's side have been able to offer.
6: Iceland have had the stronger start here. Keeping the ball well, although the final pass hasn't been there. Remember, Lagerbäck's side require only a point to reach the knockout stages.
3: So close, Iceland!! Guðmunds­son hits a mixture of the post and crossbar from thrity or so yards out. Almer was well and truly beaten; the woodwork is still rattling as we speak! Nearly a perfect start from the Islanders.
2: The early scraps appear to indicate that das Team will be fielding a 4-3-3, rather than the 4-2-3-1 earlier suggested. David Alaba, along with Arnautovic and Sabitzer, fill the front three.
0: Szymon Marciniak gets us underway in Saint-Denis!
Pre-match formalities being completed. Not long until kick off here; as previously mentionned there is a great atmosphere building!
A rousing rendition of both sets of national anthems, performed by players, couches and fans alike. Great scenes here.
Both sets of players enter the Stade de France pitch! Great scenes in the Austrian end, as das Team's supporters create a superb red and white facade.
Just under ten minutes until we kick off, here in the Northern suburb of Paris. Both sets of players are lining up in the tunnel.
There's a lot of permutations hinging on this afternoons game. Firstly, if Iceland come out on top they will be assured of a place in the knockout phase of Euro 2016. For Austria, a victory will take das Team above their opponents; although their progression hopes will be hanging on the result in Lyon, where Portugal face Hungary.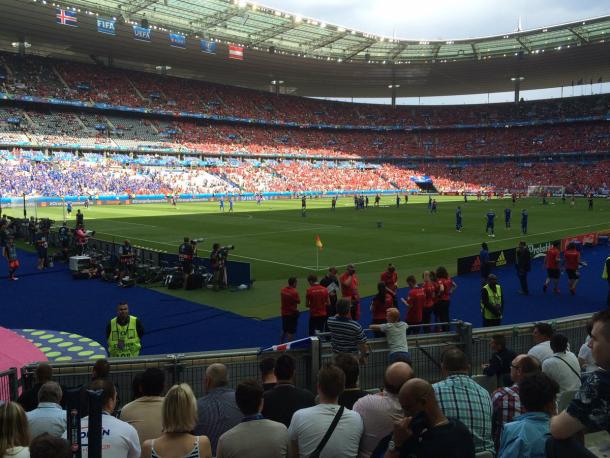 Marciniak previously refereed Spain's 1-0 victory over the Czech Republic in Toulouse.
More on this afternoons referee, Szymon Marciniak. The Pole tends to be rather lenient in his approach, averaging under five yellow cards a game. He notably took part in last seasons Champions League quarter final between Bayern Munich and Benfica.
The burly Dynamo Kiev central defender, Dragović, is returning from his red card suspension picked up in the opening matchday loss against Hungary.
Unlike their opponents in Saint-Dénis, das Team have decided to make a change to their starting eleven. That comes in the form of Aleksandar Dragović, who replaces Martin Harnik as Florian Klein moves forward into a more advanced right midfield berth.
Austria starting eleven - Almer; Dragović, Hinteregger, Prödl, Fuchs; Ilsanker, Baumgartlinger; Klein, Alaba, Arnautović; Sabitzer.
So, it appears Lars Lagerbäck and Heimir Hallgrímsson have stuck with their favoured four four two formation that has brought them so much success at Euro 2016. In terms of personnel, it's also as you were for the draws against Portugal and Hungary.
Iceland starting eleven - Halldórsson; Sævarsson, Árnason, Sigurðsson, Skúlason; Guðmunds­son, Gunnarsson, Sigurðsson, Bjarnason; Böðvarsson, Sigþórsson.
We'll have the team lineups shortly, but before that how about some pre-match reading? Find all our musings on tonight's teams, Iceland and Austria here.
Iceland - Austria will be played at the Stade de France, Paris, which is the place where the Euro 2016 final will take place. Your referee for the game will be Szymon Marciniak (Poland).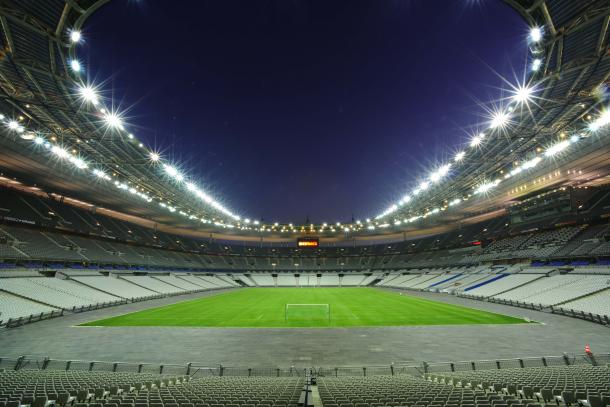 Marcel Koller's side will likely see more of the ball tomorrow, but without a goal in the competition so far, it's not or never for Austria.
For Austria, David Alaba often went missing in the opening two games, despite been tipped to play a big role at Euro 2016 following such an impressive seasons at Bayern Munich, winning a league and cup double.
Iceland will be looking to learn a thing or two from Albania, who qualified for the second round after defeating Romania by one goal, their first ever goal and win at a major competition. Iceland have the likes of Gylfi Sigurdsson and Kolbeinn Sigþórsson to fire them into the knockout stages, but also their defence will have to be on point.
"I don't think it's something to be worried about, but I think it's perhaps good for us to go over how we can use the ball better. We have to be smarter when we do have it," said Eiður Guðjohnsen.
"Everything is in our hands and we are happy at the moment. If someone had given us this before the finals we would gladly have taken it. We go into the game to win it," said Heimir Hallgrímsson. "They have shown throughout qualifying how good and organised they are. But they also have really good individuals and that's a lethal combination when you have a football team."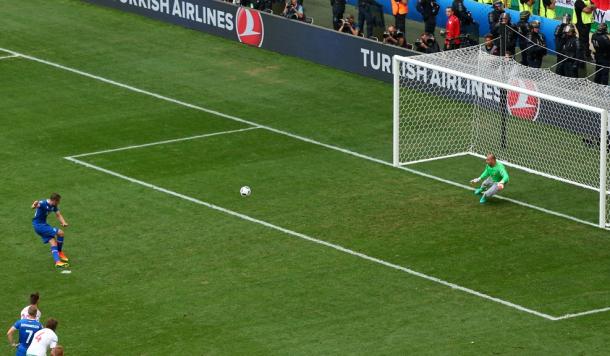 Gylfi Sigurdsson was then the hero as Iceland earned another point, this time against Hungary. Iceland currently sit second in the standings, on level points with Portugal, which makes for an interesting finish to the final group games.
Despite going a goal down against Portugal in their opening European Championship game, Iceland came back to earn a point with a goal from Birkir Bjarnason
Iceland came in to Euro 2016 with the smallest population, but they've certainly got the fans. Great atmosphere has followed the national team all around France, and there's no doubt that support will keep going as they look to advance to the knockout stages.
Marcel Koller's Austria side then held Portugal to a 0-0 draw, a better performance all around, but still the three points eluded them. Many had predicted Austria to be dark horses in this tournament, but with Hungary and Iceland both exceeding potential, this makes for an exciting final game.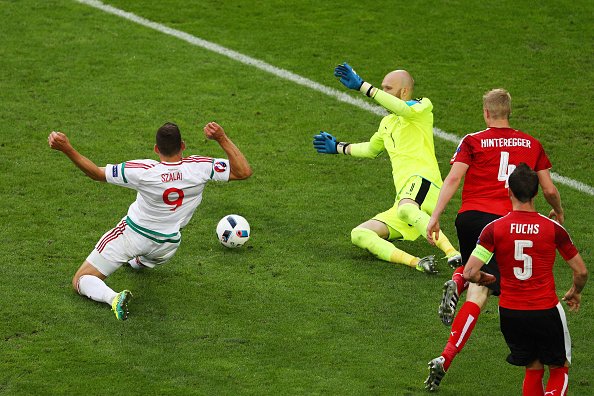 Austria lost 2-0 against Hungary in the opening game of Group F. A shock for everyone in football, but that's what is great about the sport. Not many gave Hungary a chance, but they've already exceeded expectations.
Hello and welcome to VAVEL UK's live coverage of Iceland's Euro 2016 Group F clash with Austria from the Stade de France, Paris. Both teams could still secure a place in the second round. It is a massive occasion for that and many more reasons, and we'll bring you plenty of build-up, team news and other goings on ahead of kick-off at 17:00 BST. I'm Alex Howell, and I will be taking you through the game.