After Iceland reached the knockout round in their first ever major tournament, Heimir Hallgrímsson's words highlighted just how big an achievement it is for the country as he suggested that could change their national holiday.
The Nordic nation defeated Austria 2-1 to finish second in Group F; Arnor Traustason's winner in the fourth minute of stoppage time changing their last 16 opponent from Croatia to England - Portugal finishing third to face the former.
The feeling in Strákarnir okkar's camp now is simply pride, as they continue to make history in France.
Iceland earn their luck as they register incredible achievement
Speaking to the media after the match, co-coach Hallgrímsson was asked how big a deal progression to the last 16 is for Iceland, and his response perfectly summed it up.
"I would guess we will have to change our national holiday. It is normally 17 June but I think we will change it now. That's how much it means to us."
The boys in blue are undefeated at the tournament as they head into the knockout stage, and although Hallgrímsson recognises his side "were lucky on occasions" in the game - especially when Austria hit the post from the spot - he believes they "showed a fantastic mentality throughout."
He continued, saying: "We are very proud of our squad and our players and we have to give them a lot of credit for this game.
"We won in the end but it was a rollercoaster."
Togetherness sees them through
A nation of 330,000 people, togetherness is a word that has been used a lot in relation to Iceland during this tournament so far, and rightly so.
Defender Kari Árnason emphasised the chemistry in the team after the game once again, saying: "Doing something like this with your best friends is fantastic. That's the feeling of all the lads in the group."
He continued, describing the team as "a tight-knit group" who know that what they have achieved is "fantastic."
The togetherness extends to the crowd though too, with the media predicting that around 15 per cent of the country's population is in France, and Árnason and his team more than appreciate the support.
"Having 10,000 people here from Iceland is unbelievable," the defender said, describing it as "like having your family at the game." He underlined how small a nation they are again too, adding: "I know probably 50% of the crowd – or at least recognise them!"
It really is something incredible that Strákarnir okkar have done, and the man really in the limelight was simply lost for words.
Goal-scorer Jón Dadi Bödvarsson, who helped secure Iceland's first ever win at a major tournament, was unable to really describe how he was feeling after the game, saying: "Mixed feelings in my head right now - still getting over it."
However, he was able to muster up the words "joy and happiness" before adding that he is "really proud and happy" to have played such a big role in "the biggest moment in Icelandic football history."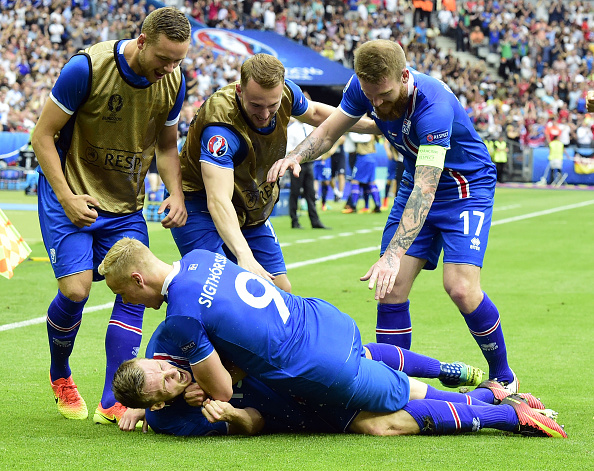 Next up - England
Iceland's next opponents are one they know all too well; England.
"Icelanders know everything about English football," Hallgrímsson said, describing the people in the country as "English football crazy."
Bödvarsson supported his statement too as he revealed that the Three Lions are "the team [he] rooted for when [he] was young" when watching major tournaments. He described them as "the dream team" for him in the last 16 and says it'll be "fantastic" to meet them.
One man who knows the country and their players better than anyone though is Gylfi Sigurdsson, who plays in the English top flight with Swansea City.
Therefore, he knows that "if they were to lose to [Iceland], there will be headlines back in England," with there absolutely "no pressure" on Strákarnir okkar.
"We are the same size as Coventry. We are still underdogs."