16:47 - Thank you for joining me for VAVEL's coverage of Switzerland and Poland, you can find me on Twitter @Danialkennedy95 and until next time enjoy your afternoon of football !!
16:47 - Poland will now play either Portugal or Croatia in the last eight who play later today !
16;44 - It was a poor half-hour period from both sides despite a good chance from Derdiyok and some excellent penalties sees them through to the next round
16:43 - The Poles took the lead through Blaszczykowski in the first period, and looked to have clinched before a spectacular effort from Shaqiri forced extra-time
16:41 - POLAND ARE THROUGH they are in the last eight for the first time in their history !!
Krychowiak to win it ....... GOAL POLAND ARE IN THE LAST EIGHT
Rodriguez needs to score.....GOAL puts it away into bottom corner
Blaszczykowski stepping up......GOAL all on Switzerland now
SCHAR.... GOAL very cool from the defender as he slots home
Glik up next.....GOAL Sommer again comes close but cant get to it 3-2 Poland
Shaqiri...... GOAL very cool into the bottom corner
Milik up next..... ADVANTAGE POLAND Sommer cant keep it out
XHAKA MISSES smashes over
Lewandowski up next....... GOAL right into the top corner
GOAL down the middle from the captain
Swizterland will be going first with Lichsteiner stepping up first
16:30 - and the first clash will be decided by penalties, Blaszczykowski put Poalnd ahead before Shaqiri equalised in spectacular fashion. It was an uneventual extra half hour with Derdiyok having the best opportunity but it will be decided by penalties
120' - FT Switzerland 1-1 Poland
118' - NEARLY IN Blaszczykowski came flying in and looking to get along past Sommer but eventually cleared
117' - Ball in to Derdiyok and he just cant get a touch to it to put the Swiss into the las eight
115' - Five minutes left and it Fabianski who has managed to keep his in the competition and it looks to be heading to penalties
112' - Brilliant ball from Shaqiri to Derdiyok who is clean in on goal but his header is saved well by Fabianski. Still 1-1
111' - Yellow card for Pazdan
110' - Ten minutes away here from penalties
109' - Shaqiri did well to turn away and get the ball in but cleared away, following corner cleared away
- Schar tries one from distance but it is well wide of the target
105' - Switzerland kick-off the second half of extra-time
104' - Grosicki is repalced by Peszko
16:13 - Very poor half from both sides as they have failed to create a decent opportunity and both need to pick up their act to avoid penalties
HTET- Switzerland 1-1 Poland
105' - one final free-kick but Shaqiri's set piece is very poor very much like the half
101' - First Poland sub with Maczynski coming off for Jodlowiec
100' - Little under five minutes until half time in extra-time and no real opportunties to speak about so far, the spark has gone out from the game
97' - No real opportunties so far in extra-time, sense of possibilty that this may go down to penalties
93' - Shaqiri tries the cross into the area but it is Fabianski who has collected easily
92' - Brilliant shot of Shaqiri's effort which has seen the game go to extra-time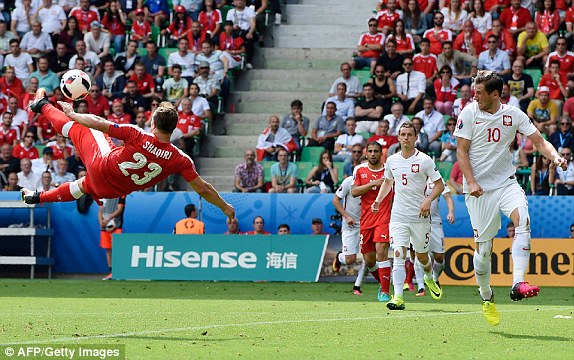 91' - Early free-kick from Switzerland but it is cleared
90' - Poland will kick-off the first half of extra time
15;53 - VAVEL's coverage of the first-half of extra-time will follow very shortly
15:52 - And it is extra-time in the first knockout clash! It looked like that Blaszczykowski had won the tie for Poland but Shaqiri's spectacular effort has given the opportunity for this contest to go the distance
FT - Switzerland 1-1 Poland
93' - Milik tries the free kick for a late winner but it was well over the target
90' - Four minutes of added time here
89' - This game looks to be going into extra-time after that excellent strike from Shaqiri
85' - Fabianksi comes flying out for the ball and collects with ease 1-1 here
81' - SWITZERLAND ARE BACK IN IT, Shaqiri has produced a magic moment as the ball bounced up for the Stoke man as he pulled off the overhead kick and manages to find the bottom corner WHAT A GOAL
81' - GOAL Switzerland 1-1 Poland
78' - OFF THE BAR Johan Djourou sees a shot blocked following a cut-back, before Haris Sefarovic blasts the rebound off the crossbar. Poland holding on at the moment

76' - final sub with Valon Behrami coming off for Gelson Fernandes
75' - Little over 15 minutes before full-time and Poland still have the advantage with the score remaining 1-0
72' - Rodriguez has a free-kick 25 yards out..... and Fabianski makes a GREAT SAVE to tip it behind
70' - Sub for the Swiss with Mehmedi replaced by Derdiyok
65' - Embolo goes for the header along with Fabianski and the keeper has been flattened
64- Lewandowski been taken out by Schar, a challenege that he was booked for. Still 1-0 Poland with little under 25 minutes to go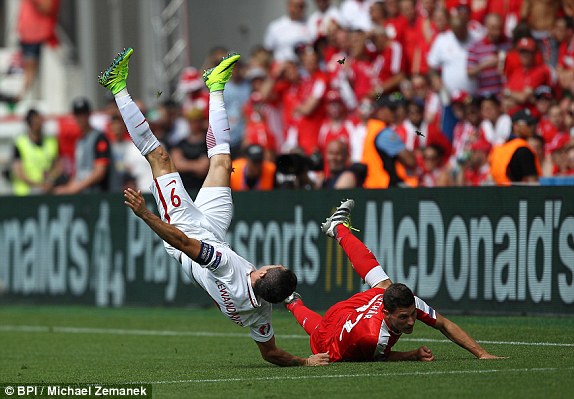 60' - At the hour mark in Saint-Etienne and it is still Blaszczykowski's effort that proves the difference, Switzerland have imporved massivley but still cant find that breakthrough, 1-0 it remains
58' - First sub with Dzemaili coming off for Embolo
57' - Tackles flying in now with Jedrzejczyk tackling Lichsteiner and given the yellow card
55' - Terrible tackle from Schar as he comes flying in on Lewandwoski and wipes him out but Clattenburg produces a yellow which means he will miss the next game if the Swiss manage to go through
52' - Poland break again through Lewandowski but his cross was poor, have anither opportunity with Blaszczykowski but well saved by Sommer. Still 1-0 Poland
51' - Shaqiri did well to cut inside but Fabianski did very well to palm away the thunderous effort
49' - Lewandowksi managed to get the ball out of his feet and toe pokes towards goal but Sommer manages to collect it
46' - Shaqiri gets to the by-line as he looks to get the ball in but touch, corner in is cleared away great start from the Swiss
45' - Switzerland kick off the second period
15;02 - The sides are back out ahead of the second period
14:49 - Blaszczykowski celebrating his goal which is the only difference between Poland and Switzerland so far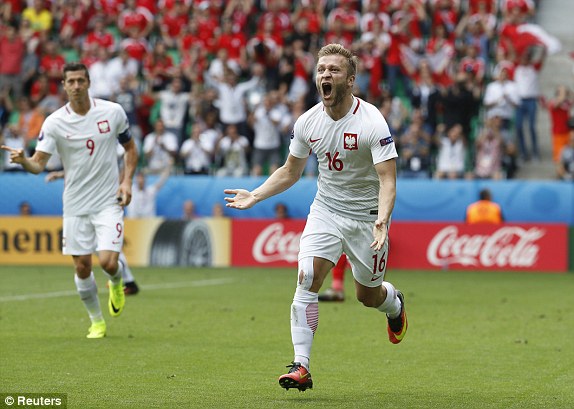 14:48 - VAVEL's coverage of the second-half between Switzerland and Poland will be coming up very shortly
14:47 - Poland go into the break ahead ! Not many great opportunties as Lewandowski and Dzemaili going close before Blaszczykowski fired home the only goal so far and Poland are 45 minutes away from the last eight!!
HT - Switzwerland 0-1 Poland
46' - Late free kick for Poland.... but headed clear and Grosicki's overhead kick is well wide of the mark
45' - Just a minute of time added on here
44' - Maczynski tries another opporunity but again it is well wide of the mark
42' - The Swiss looking for the equaliser but Poland produce two excellent blocks to keep the Swiss at bay
39' - POLAND TAKE THE LEAD good break from the Switzerland opportunity through Grosicki, the ball comes across the box to Blaszczykowski who took his time and did well to cooly slot between the legs of Sommer and gives Poland the lead
38' - GOAL Switzerland 0-1 Poland
37' - Dezmaili tried from just outside the area which was deflected and looked to looping to over but Fabianski tips it over
35' - Good corner finds the head of Schar but heads it down and it proves easy for Fabianski to collect, little under 10 minutes until the break
32' - Good ball in goes over everyone to Milik at far post but puts it over, very open first period so far with Poland having the majority of half-chances but no real opportunity as of yet. 0-0
31' - Poland break and Lewandowski puts a great ball in for Grosicki but the effort is well wide of the target
28' - Corner in and Krychowiak has a free header but fails to even hit the target, very disappointing effort
23' - Ball in finds the head of Dzemaili but it is well over the mark from the Swiss
21' - Shaqiri free-kick from around 40 yards is straight into the wall, very disappointing from the Stoke City man
18' - Surprise as another corner has been called..... but headed clear and a shot from Maczynski is dragged wide
17' - Corner here for Poland...... and the shot from Milik was high and wide of the mark
14' - Excellent work from Lewandowski as he looks to get away from three players, but foul is blown up against the Bayern Munich striker
12' - Picture of Lewandowski's early effort which was well saved by Sommer. Still 0-0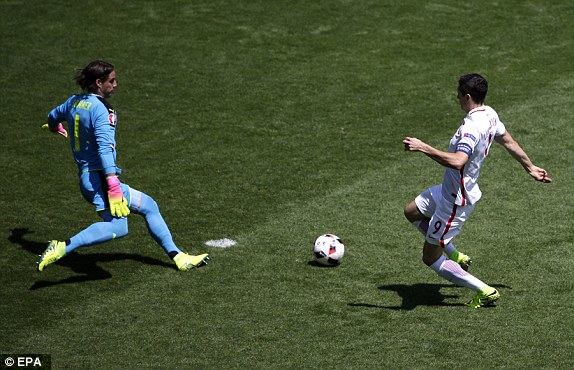 9' - First real opportunity for the Swiss after great ball in by Shaqiri into Dzemaili but the bounce catches him out as his strike hits the side-netting
6' - Cut inside and crosses into Milik but his header looks to be more of a pass than a shot and it is straight into the arms of Sommer
5' - Good pressure from Poland as they look yo get the shot away but the Swiss defence stands firm, could be a long afternoon
1' - Great chance as Lewandowksi nearly gets on the end of through ball, deflection comes to Milik but he manages to put it over the crossbar !
1' - Poland kick us off here !
13:58 - Mark Clattenburg representing England here as he referees this contest
13;57 - Now the anthem of Switzerland
13:55 - We are moments away from kick-off in the first knockout clash of Euro 2016. Butfirst the national anthem of Poland
13:53 - The players are in the tunnel ahead of kick-off here
13:44 - A little look inside the respective dressing rooms with a little over 15 minutes until kick-off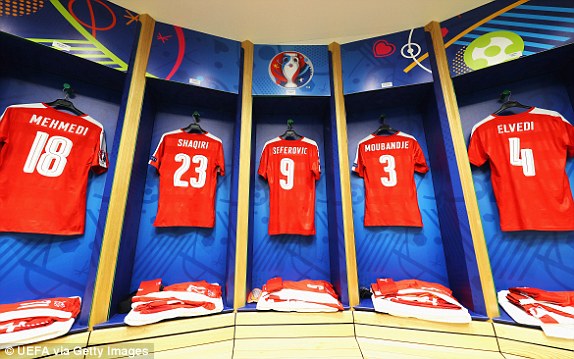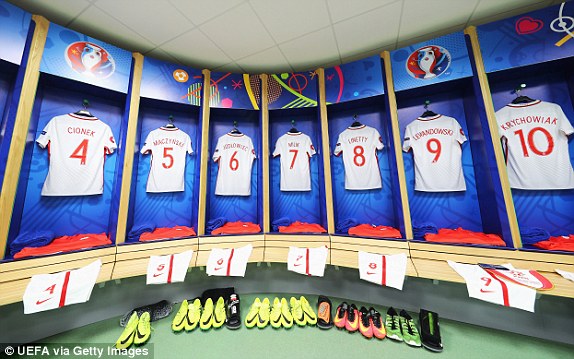 13:40 - The players are out on the pitch with 20 minutes until kick-off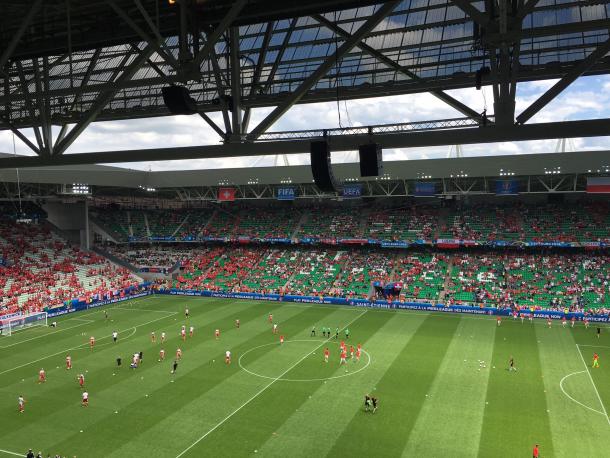 13:36 - The players are out on the pitch warming up with little under 25 minutes until kick-off
13:20 - Now a collection of Polish players out on the pitch at the Stade Geoffroy-Guichard.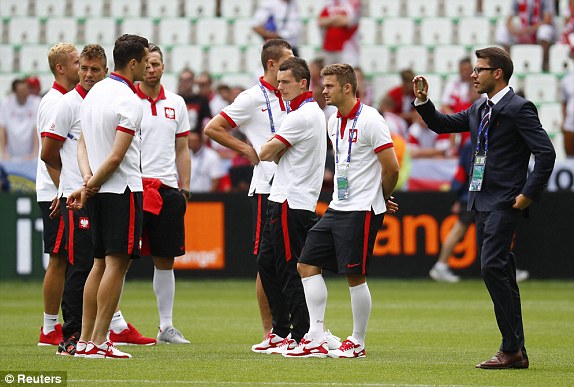 13:17 - A collection of Switzerland players out on the pitch ahead of kick-off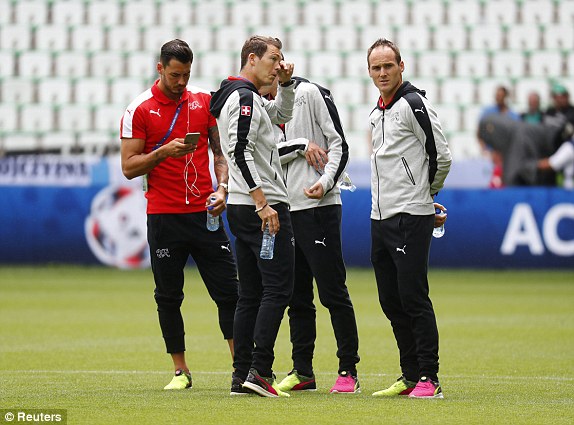 13:15 - Poland make four changes with Lukasz Piszczek, Jakub Blaszczykowsi, Kamil Grosicki and Krzysztof Maczynski all coming in.
13:14 - Switzerland make just one change as striker Haris Seferovic starts in place of teenager Brrel Embolo
13:12 - Poland starting XI: Fabianski, Piszczek, Glik, Pazdan, Jedrzejczyk, Blaszczykowski, Krychowiak, Macczynski, Grosicki, Milik, Lewandowski.
13:11 - Switzerland starting XI: Sommer, Rodriguez, Djourou, Schar, Lichtsteiner, Xhaka, Dzemaili, Behrami, Mehmedi, Seferovic, Shaqiri
13:08 - The winner of this clash will face either Portugal or Croatia who will play this evening. Team news to follow very shortly
13:05 - This is the first last-16 clash at Euro 2016, with Poland heading into this game as the favourites to progress into the last eight
Hello everyone I am Danial Kennedy and welcome to VAVEL's live coverage of Switzerland against Poland
Josip Drmic opened the scoring for the Swiss four minutes in, however goals either side of half-time, from Artur Jedrzejczyk and Arkadiusz Milik looked to have secured the victory, but a strike from Fabian Frei shared the spoils after Michal Zyro was dismissed late in the second period.
The last meeting between the two sides proved to be a dramatic affair, as they played out a 2-2 draw in a international friendly back in November 2015 .
Poland have dominated the previous meetings between these two sides, just losing the once in their last ten meetings coming way back in 1976, with the Poles winning four and drawing five.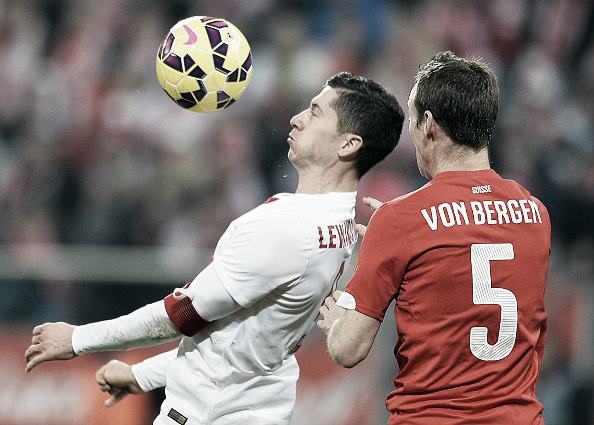 He continued saying that his side are creating "new history for Polish football" and look towards "genuine success" with their performances and that is "important" to use the "potential of the players" at their "disposal."
Nawałka said that his side are "very well prepared" both "physically and mentally" and will look to implement their "tactical game plan" against the Swiss and his players are "well aware" of the opportunity of getting a "excellent result."
Poland headed into the final match of Group C neck-and-neck with their close rivals, and finished off their group campaign in style, with a wonderful strike from Jakub Blaszczykowski giving them a 1-0 win over Ukraine, but still finished runner-up's in the group on goal difference.
Poland headed into this tournament as one of the dark horses to lift the trophy, and lived up to expectations with a 1-0 win over Norbthern Ireland and a goalless draw with world champions Germany.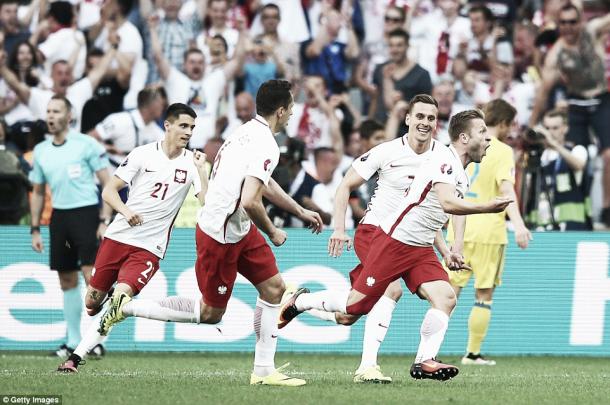 He continued saying that Poland are a "strong" and "very compact" side that have "very good attacking players" and other "great players" as well as three "top-class goalkeepers" but admitted that his side are not "fearful of them."

Vladimir Petković told uefa.com that his side have started to "create something" and have taken some "small steps" but admitted that they needed to be more clinical "going forward" and stop the opposition creating chances from their "mistakes" as well as working on the "killer pass" and "killer cross."

The Swiss started the tournament well with a narrow 1-0 win over Albania, but two draws against Romania and a goalless draw with hosts France, made sure that they secured passage in the last 16 with a second spot in Group A.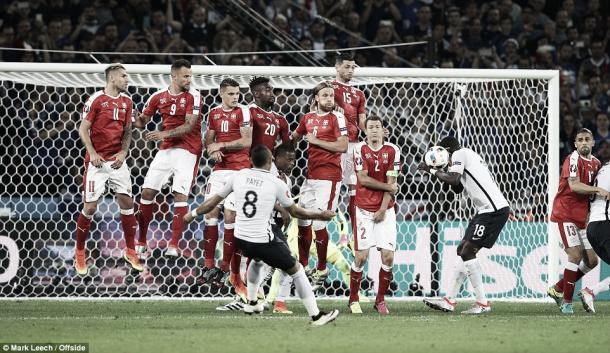 Switzerland will be looking to be pulling off a surprise in this clash against one of dark horses of the tournament in Adam Nawałka's Poland.
Hello everyone, and welcome to VAVEL's live commentary of the first last-16 tie of Euro 2016 between Switzerland and Poland. Kick-off for this clash is set for 2pm BST, so stick with us until then as we get team news and build up to this match at the Stade Geoffroy-Guichard.