After a late, late goal from Arnor Traustason against Austria made history, Iceland's players could not have turned their attention much quicker to the fixture that it has set-up up: a knockout round clash with England.
With three players plying their domestic trade in England (or the English leagues even, with two of them technically in Wales), it's no surprise they're excited, while striker Jón Dadi Bödvarsson described the Three Lions as his adopted nation, admitting he'd support them at major tournaments as a child.
However, Iceland should not just be excited because they have progressed from the group stages at their first major tournament, or because they are set to face Roy Hodgson's men, but because they have a genuine chance of beating the Three Lions to reach the last eight.
There may be little disappointment if their fairytale comes to an end given how historic it has been already, but Lars Lagerbäck and Heimer Halgrímsson will certainly be frustrated if their side do not put up the fight they are capable of tomorrow.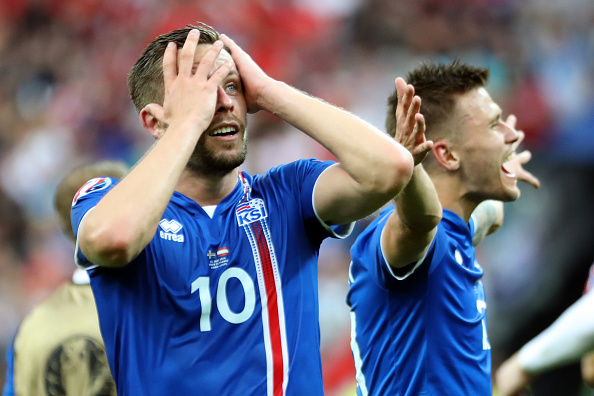 The Three Lions can be tamed
If Iceland have learned anything about their last 16 opponents at this tournament, it's that they cannot play against teams that set up to defend.
So far at Euro 2016, Strákarnir okkar have played the type of football that England hate facing; setting up to frustrate their opposition and then trying to catch them on the counter.
Against Portugal, this helped them secure an unlikely point, while it almost gave them all three against Hungary - but for an 88th minute own goal from right-back Birkir Sævarsson.
Against Austria though, the game plan's effectiveness and Iceland's ability to execute it as so was perfectly exhibited as they won 2-1 to finish second in Group F.
England were drawn in Group B, alongside Wales, Slovakia and Russia. The former came out and attacked them a little more than the latter two, which allowed them to break through easier and secure a 2-1 victory. However, goalless and 1-1 draws against the other two respectively came as a result of both setting up to defend.
Despite many of the Three Lions playing fast flowing and direct football at domestic level - many on the books of exciting teams such as Tottenham Hotspur, Leicester City and Liverpool - they do not do so when they meet up with their countrymen.
Hodgson's team keep possession well, which limits their opposition on the attack as they can't do much damage when they can't even get the ball, but given that they move it around slowly and not always positively, it has little impact on their own chances to score.
The Three Lions are therefore the perfect match for this Iceland side, who are capable of sitting back and absorbing the pressure.
Furthermore, when Iceland do counter, they have little looking thwart them. England's centre-backs are the biggest weakness, and playmaker Gylfi Sigurdsson will be looking to exploit their poor positioning and lack of pace as he attempts to thread in his strikers.
England may be a big name, carrying big expectations, but they have failed to justify that in recent years. Easily beatable and suspect to slip-ups, Iceland can not only get excited about their first knockout game, but they can be confident of causing an upset in it.