Republic of Ireland boss Martin O'Neill was present alongside defender Richard Keogh at the press conference today, as they were posed various questions on the subject of their Euro 2016 round of 16 match against hosts France tomorrow afternoon.
Ireland qualified as one of the top four third placed teams in the tournament thanks to their late win against Italy on Wednesday, placing them on the side of the draw that includes Spain, Germany, England and their opponents France.
O'Neill is happy that their victory over Italy will mean that his side goes "into the game with some confidence" after a "very good" display against Antonio Conte's side.
The manager was also thankful for the period of rest that followed their final group game, admitting that the intensity of tournament football "takes its toll" on his players fitness levels.
O'Neill also says he is "convinced" that the more experienced players in his squad such as John O'Shea, Shay Given and Robbie Keane want to enjoy their side's success "as much as they possibly can" after the disappointment of losing all three group games at Euro 2012.
"They didn't want to end their careers in that manner", said O'Neill, who added that the older players in the squad "will want to take something from the last few days" of the tournament.
Speaking about tomorrow's opponents, O'Neill admitted that "great players will find that space and hurt you - and France have some great players" and added that he believes the hosts are "favourites for the competition."
Staying strong mentally has been "very important" for Ireland throughout the tournament so far, with O'Neill only having to look back to the Italy game for an example, when his side "spurned a great, great chance with five minutes left" only to find themselves ahead through Robbie Brady just moments later. That goal "epitomised the spirit in the team", says the manager.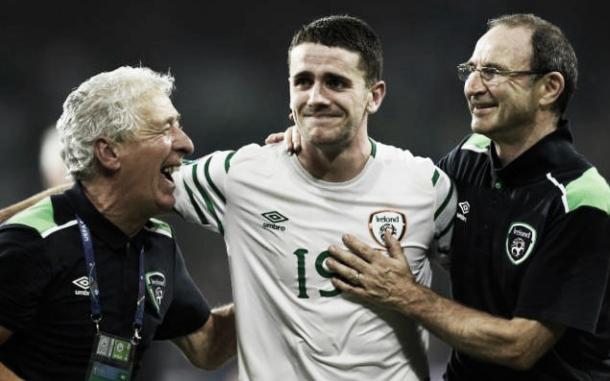 O'Neill was keen to stress that spirit is not the only factor that has seen his Ireland side through to the knockout stages, stating that his side possess "some great players", and that "you couldn't get four points from that group without great players."
Derby County defender Keogh was also in attendance at the press conference, stating that the players are "looking forward to the game" and that it would likely be an "exciting" encounter against the tournament hosts.
A player that Ireland will have focused on in training is West Ham's Dimitri Payet, who has been the star man for France thus far. Keogh recognised that the Frenchman is "having a great tournament", although his side "won't have any special plans for him".
"It's a team game and a team ethic", said Keogh, adding that he and his team-mates will "stick with that to try and get a positive result."
Keogh is under no illusions regarding the odds facing Ireland going into the game however, realising that Ireland are "the underdogs again" and that certain people may have "written [them] off". The 29-year old said that Ireland are "going to take strength" from their win over Italy against similar odds in attempt to prove punters wrong for the second time in less than a week.
Speaking about the Italy game, Keogh said that the win "was a special moment" and that he was "proud to have been involved" in what will be a famous win if it proves to be the catalyst for an unlikely Ireland winning streak.
Ireland will kick-off against France at 2PM tomorrow afternoon, with the game taking place in the 59,186 capacity Stade des Lumières, which is ordinarily the home of Ligue 1 outfit Olympique Lyonnais.