France will face the Republic of Ireland in the first round of knockout stages in Lyon at 14.00BST on Sunday.
Les Bleus qualified for the last 16 taking seven points of the nine available, they also only conceded one goal. The Republic of Ireland on the other hand qualified as one of the best third place teams securing four points after they beat Italy 1-0.
Didier Deschamps spoke to uefa.com ahead of the clash and insisted that his team will continue to push forward but he was also full of praise for his opposition.
France look to thrive
Deschamps believes that even though his team are excited to be in the knockout stages "it's not going to inhibit [them] or make [them] more fragile" as they aim to "get over this next hurdle". The manager added that his team have "worked hard, looked at [their] potential defensive concerns and tried to be as solid as possible". He then noted that his team have "only conceded once in the first three matches" and that they will want to keep that the same.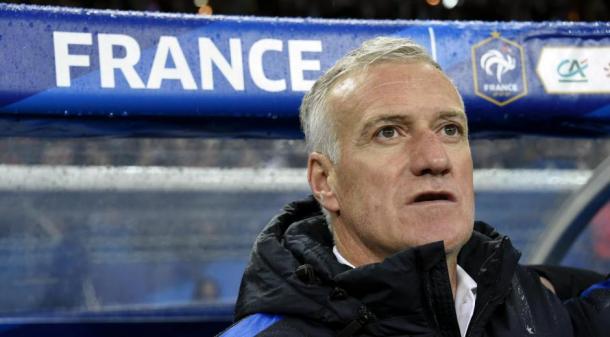 Praise for Ireland
The French manager was full of praise for his teams opposition commenting that they not only "have a lot of heart" and "work very hard" but they have a number of "good footballers in that team". Deschamps went on to comment on the Republics of Ireland's style of play as he noticed that, even though "they play a more direct game" they keep "the ball on the ground". He then went on to list "Whelan, Hendrick, Hoolahan.. McCarthy, Shane Long [as players who] know what football's all about".
Deschamps concluded by complimenting Ireland's strength and desire by commenting that, "they show great solidarity and hard work". He went on to add that the fact that "they give everything" and treat every game as a "battle" in the way that "they will fight all the way for each other" will make this a "tricky match".