They may have left it to the very death, but Poland secured their place in the quarter-finals against Portugal with a 5-4 penalty shoot-out win over Switzerland.
The Poles had taken a deserved lead towards the end of the first-half through Jakub Blaszczykowski, but Xherdan Shaqiri's spectacular strike levelled the game.
Switzerland dominated the final stages but Granit Xhaka's missed penalty meant Grzegorz Krychowiak was able to secure their passage through.
Nawalka focuses on the positives
"The first half was great, excellent," said manager Adam Nawalka. "We created many chances and scored, but we could have scored more and taken total control."
After praising the Swiss, he turned to his attentions to his own team: "This match sparked a lot of emotions and my players did a great job."
Nawalka said they are "look[ing] forward with confidence" to the game against Portugal, adding: "We're prepared for it mentally."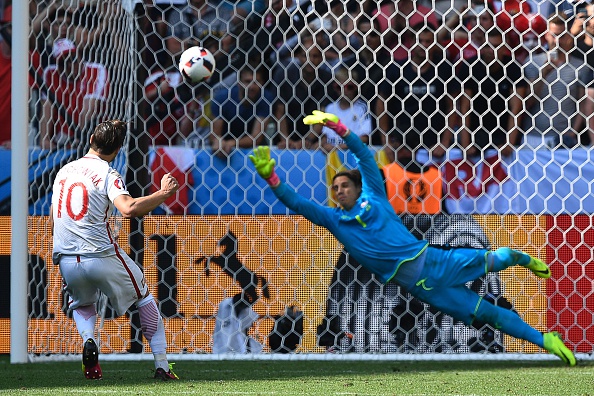 Grosicki happy to enjoy the moment
Kamil Grosicki also spoke after the game. He began by saying, "We're very happy to be among the eight best teams in Europe; it really motivates us."
Grosicki admitted he was "standing there" and doing his best to try and "not look". He explained, "The nerves were horrible."
The winger told of the "responsibility [his] team-mates had on their shoulders", he was "confident" - as they were - of the penalties being converted like "during training".
The Stade Rennais man insisted his team must continue "developing" and "keep on going forward". He claims they "want more", yet will remain calm.
"We know how hard this tournament is, how strong the other teams are," he concluded. "Today we are content with what we've got and we'll get ready for the next match."