Portugal manager Fernando Santos, speaking after his side's last 16 win against Croatia at the European Championships, defended the way his side played.
The match in Lens was a very tactical affair with both teams cancelling each other out until Ricardo Quaresma scored three minutes before the end of extra time to send his side through to the quarter-finals where they will play Poland.
Santos defends his team's tactics
There was a general sense of annoyance at the way Portugal approached the game, however, but Santos feels that his side did what they had to in order to win a very tough game.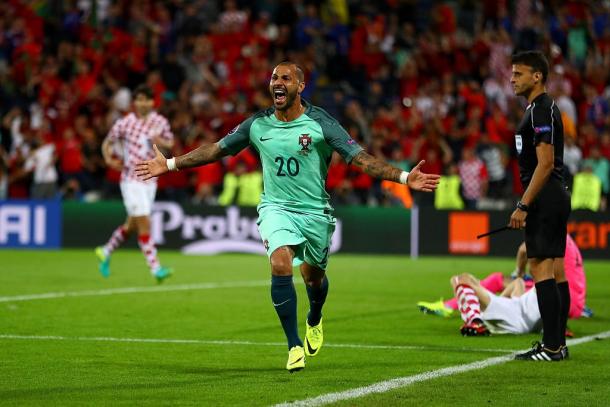 Santos says that the match against Croatia was a "very tactical match" which both teams didn't let each other use their natural style of play so he feels that everyone needs to "look at both sides of the coin" and notice that it was a great victory.
The Portuguese manager continued to say that "we faced an amazing team" in Croatia, as everyone saw they played "some of the best football in the group stages" so it was important for the team to be prepared for that. Santos says that he got the "team ready to fight and take advantage of their weak spots" which there wasn't many of.
Santos, though, did think his side could have done better, especially by "passing the ball faster" but says that the team found that difficult because "Croatia didn't let us play" which was a testament to them.
Santos congratulates Nani and the whole team for their performance
The match against Croatia saw Nani make his 100th appearance for his country which meant that he was only the fourth player to acheive that after Cristiano Ronaldo, Luis Figo and Fernando Couto. Santos was proud of the winger, but he also very happy with all of this players for their display.
On Nani reaching 100 caps for Portugal, Santos said "it's always a beautiful number to reach" as not many players achieve this and he was quick to say that he was "very happy with Nani and with all of the players" as they stood strong against difficult opposition.