France have certainly done it the hard way so far this summer, reaching the quarter finals of Euro 2016 having failed to put in one convincing performance as of yet.
Given the fact that they topped Group A with seven points, and could have scored far more than two goals against the Republic of Ireland on Sunday, you could find the above statement surprising.
However, for those who have kept a keenly trained eye on Les Blues so far, it's easy to see that they've so far failed to live up to the dazzling potential that a squad of Hugo Lloris, Laurent Koscielny, Paul Pogba and Antoine Griezmann has to offer.
Three wins, one draw, on the surface...
The statistics will tell you that so far, France have played four games, winning three of them and drawing the other. They've only conceded two goals in that time, both to penalties, scoring six.
They, unlike the performances, view well. But what can't be seen on paper, is France's defensive fragility as they allowed Romania to overrun them after going ahead in the opener, eventually winning a penalty which Bogdan Stancu tucked away.
Dimitri Payet's late intervention won the day for them on that occasion, and it was the late show again against Albania, Griezmann and Payet both scoring in the final period to win that game, after a lacklusture first 85 minutes or so.
They'd already qualified by the time that Switzerland came around, and played out a 0-0 draw fully in the knowledge that a draw would ensure they topped the group, setting up Sunday's last 16 game, which turned out to be against the Republic of Ireland.
It's at this point of the tournament that you'd expect the hosts, tipped as likely winners, to ramp up their game. It turned out to be the opposite, Robbie Brady giving them a scare by converting a second minute penalty.
They came back, through a brace from Griezmann. Shane Duffy's red card ensured that Ireland wouldn't mount a fightback, and France could, maybe should, have scored more. Still, you felt that if they'd come up against slightly better opponents on the day, the story could have been different.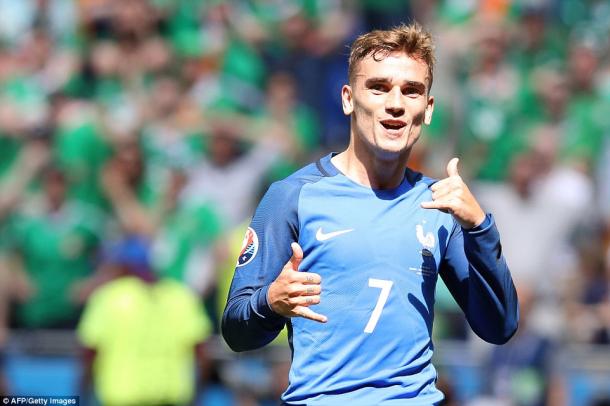 Stars are beginning to creep into life
There are some positives, from which you don't have to point to the raw scorelines. Antoine Griezmann, for example, does appear to finally be lighting up the tournament, his two against Ireland taking his tally to three, and it could have been a hat-trick had Duffy not taken his feet from under him when running through on goal.
Payet is showing no signs of letting up, solid again against many of his Premier League colleagues, although he couldn't beat West Ham teammate Darren Randolph with a set-piece.
Paul Pogba continues to frustrate in part, never more so than when conceding the second minute penalty for a foul on Shane Long, but even he was impressive when dropped into a deeper role in the second half, allowed to dictate play from just in front of his defence.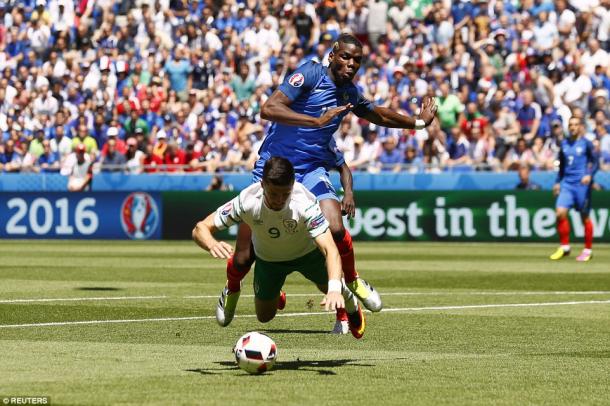 Plus, there was the win. In tournament football, you're not looking for a long term plan to be put into place, it's about winning matches and moving onto the next round. France haven't played as well as Croatia at these finals so far, but they got through their first knockout game, unlike the Croatians.
Improvements not enough to win back favourites tag
Despite those positives, France have still dropped from first favourites to third since the start of the tournament, with bookmakers now fancying Germany and Spain to triumph ahead of them.
Suspensions could play an issue, with N'Golo Kante and Adil Rami both suspended for the quarter final, likely to be against England, should Roy Hodgson's men avoid coming unstuck against Iceland on Monday night.
France can't afford to leave things late, go behind, or concede another silly penalty. At this stage of the tournament, better performances are needed. Heroism can wait, dominance is the tonic that the French public needs as we enter the latter rounds.
Although they have problems of their own, England would be France's toughest challenge yet at these finals. That challenge, based on current form, might just be one too far.