That's all we've got time for, make sure you stay tuned to VAVEL UK for more Euro 2016 content. I've been Ayden Hussain, I hope you enjoyed the match. See you soon!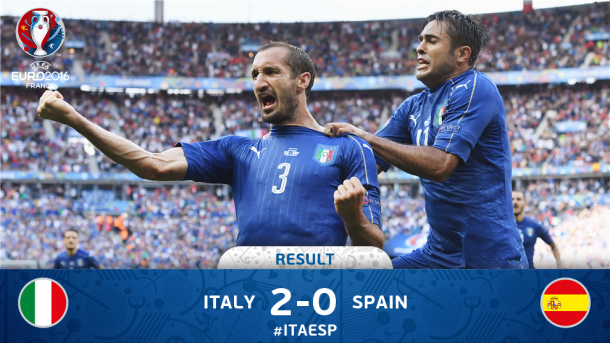 From one colossal match to another, Italy will have to replicate this performance if they want to beat Germany.
Spain crash out and back to the drawing board they go. They failed to create any real chances, but when they had a sniff at goal, they failed to convert.
Italy have produced a masterclass and totally outclassed Spain. Thoroughly deserved. Goals from Chiellini and Pelle mean they now go on to face Germany.
FULL TIME!
90+4': Yellow card now for David Silva.
90+2': A swift counter attack saw Darmian square the ball for Pelle who made no mistake in smashing the ball beyond de Gea.
90+1': GAME OVER! 2-0! Graziano Pelle.
90+1': Four minutes will be added.
90': Corner to Spain, time is running out.
90': Remarkable save from Buffon! Pique latches onto to a long ball, but the Italian shot stopper got down well to keep his side a goal to the good.
89': Thiago Motta receives a booking. As does Jordi Alba.
87': The answer to that is no.
86': Corner to Spain. Can they make this one count?
85': Quick counter attack by Italy, Insigne's shot is saved by de Gea.
84': Italy make their final change, Alessandro Florenzi makes way for Matteo Darmian.
82': Eder makes way for Lorenzo Insigne.
81': Spain make their final change, Aduriz has been subbed for Pedro.
78': Spain have another corner, the pressure is mounting, but nothing comes of it.
77': Another save from Buffon, this time it was Pique from the edge of the box.
76': Brilliant volley from Iniesta is palmed away by Buffon.
71': Whipped in by Fabregas and it's headed over by Sergio Ramos.
71': Spain have a corner.
70': Morata has been replaced by Lucas Vazquez.
70': Tremendous build up play from Spain and Aduriz tried a first time shot on the edge of the box. He aimed for the far post but could only shoot wide.
62': Almost 2-0! The cross from De Sciglio is touched by de Gea and no Italy player could reach the second ball.
60': Morata got onto the knock down by Aduriz and tried to catch out Buffon with a chip shot, but the ball bounces wide.
57': Header over from Aduriz after a cross from Juanfran.
55': SAVE! Incredible from de Gea, one-on-one with Eder and the Manchester United keeper stayed big to thwart the danger.
54': Yellow card for Graziano Pelle.
53': First change for Italy, Thiago Motta is coming on for De Rossi.
52': Speculative effort by Fabregas, the ball has sailed over the bar.
49': The corner was taken short and the following cross was headed by Morata, but the ball went straight into the hands of Buffon from point blank range.
49': It's taken by Silva and it's headed behind for a Spain corner by Daniele De Rossi.
48': Freekick to Spain in a decent position after a handball by Leonardo Bonucci.
47': Florenzi has taken it and it has been dealt with by Morata.
46': Bright start again by Italy and they have a corner.
Second half is upon us and Aritz Aduriz has come on for Nolito.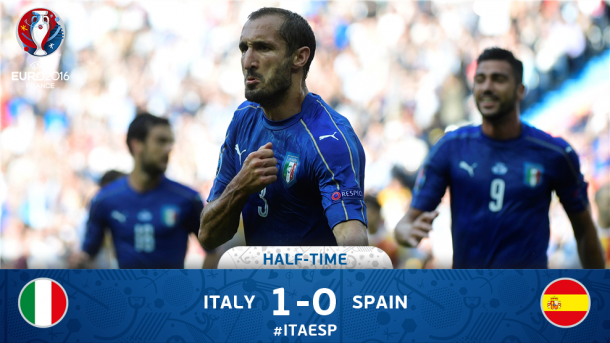 If Spain can match the energy of the Italians, they may have a way back into this. Pedro and Koke could be the key to them finding a way into winning this tie.
Spain lack any real energy and have failed to make the Italians sweat whilst defending.
HALF TIME! Italy lead 1-0, deservedly, Spain have offered nothing so far and David de Gea has kept his side in this tie.
45': Tremendous save again from de Gea after Giaccherini cut inside and let rip towards the top corner!
41': Booking for Nolito.
38': Punched away by Buffon.
38': Poor header back by Bonucci and it's a corner to Spain. Nolito to take.
37': Very poor freekick by David Silva.
36': Freekick now for Spain, after a late challenge on Iniesta by Pelle.
35': Thoroughly deserved lead for Italy. 1-0.
33': De Gea couldn't hold onto the freekick and it was turned in by Chiellini.
33': GOAL FOR ITALY! CHIELLINI!
32': Silly foul by Ramos, Italy now have a freekick on the edge of the box.
30': Nothing comes from the corner.
29': Fizzing cross by De Sciglio is unintentionally turned behind by Ramos. Could've ended up as an own goal.
28': Corner for Spain, Nolito will take it. It's taken short to Iniesta who tries his luck from the edge of the box but it's collected easily by Buffon.
25': Lovely late run by Parolo sees him header De Sciglio's cross just wide.
23': Yellow card for De Sciglio for shirt pulling.
22': Nothing comes of it.
22': Morata wins a corner for Spain.
21': La Roja are starting to find their feet now. Much better from them.
20': Lovely bit of passing by Spain, Fabregas' shot was blocked brilliantly by De Sciglio.
15': Very scrappy opening 15 minutes where passing is concerned.
12': Spain are really struggling to keep the ball here. Italy on top.
11': De Gea has done it again! Super save! He tipped Giaccherini's shot onto the post.
8': Incredible save from de Gea! He got down very quickly to keep out Pelle's header.
8': Italy have a freekick in a very promising position.
6': Bright spell of possession for Italy, Eder's shot is deflected into the grateful palms of David de Gea.
3': The rain is pouring in Saint-Denis and the players are struggling to keep their footing.
2': Italy have gotten off to a very bright start, can't say the same for the weather, it is horrendous.
Here we go! The match we have all been waiting for is finally underway!
And now the national anthem of Italy.
Here are the anthems, first, the Spanish national anthem!
The players are in the tunnel, kick off is minutes away!
Kick off is less than 30 minutes away!
Azzurri have replaced six players, the only players that remain are Buffon, Chiellini, Bonucci, Barzagli and De Rossi.
Since the Euro 2012 final where Spain beat Italy 4-0, La Roja have only replaced four players from that winning 11. Out go Casillas, Arbeloa, Alonso and Xavi.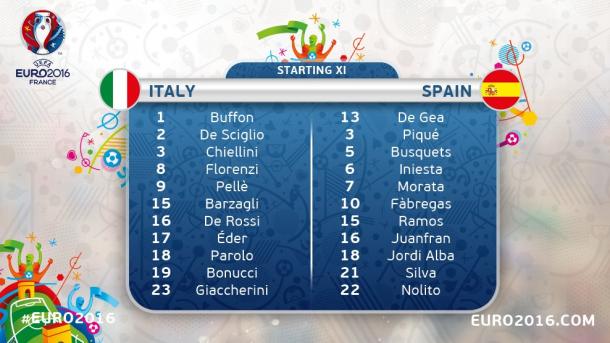 And now the Italy team! Buffon; Barzagli, Bonucci, Chiellini; Florenzi, Parolo, De Rossi, Giaccherini, De Sciglio; Pelle, Eder.
According to MARCA, Spain have never played the same XI for four games straight in their history.
Vicente del Bosque names an unchanged XI for the fourth game straight; de Gea; Juanfran, Pique, Ramos, Alba; Busquets, Fabregas, Iniesta; Silva, Morata, Nolito.
Team news is in!
Team news will be out at around 4PM BST, but until then, stay tuned to the VAVEL UK website for more top quality content!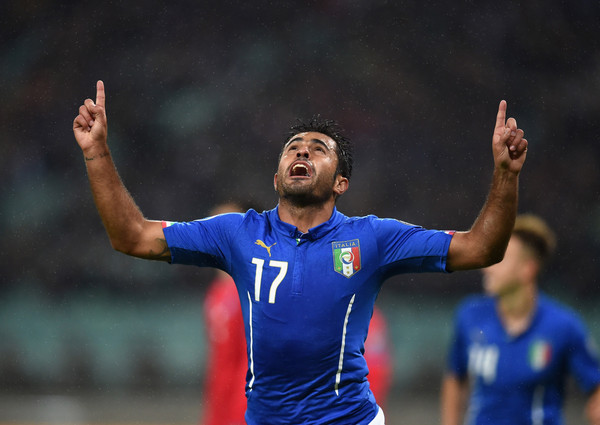 Sergio Ramos will have to be at his best to keep Inter Milan's Eder quiet, the striker has silenced his doubters and has become Italy's main man, scoring a lovely goal against Belgium and then topping that with a wonder goal against Sweden. With Candreva out, whoever plays right wing back for Italy, whether it be Alessandro Florenzi or Matteo Darmian, will have to be at their best to stop the marauding Jordi Alba, who has been a menace down the left for Spain.
As everyone knows, the Spain team is littered with world-class players, such as Andres Iniesta, Sergio Ramos and David Silva. It also comes as no surprise that Iniesta has been the main man for Spain, constantly pulling strings like the great Frank Oz.
Antonio Conte on the other hand is expected to be without danger man Antonio Candreva and Federico Bernadeschi after they failed to train on Saturday and the incoming Chelsea manager will have to be mindful that a whopping 10 of his players are one booking away from a suspension.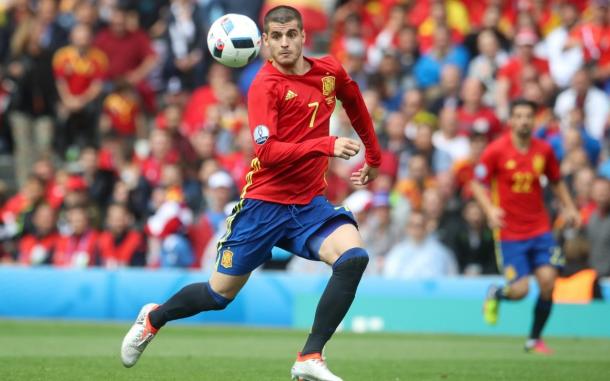 Spain head coach Vicente del Bosque named an unchanged side in each of Spain's three group matches and may do the same for a fourth time running. However, it's more likely that he'll include a more energetic midfielder in the centre of the park like Koke, or he may opt for a more defensively sound midfield by starting Bruno but the Spain boss has a fully fit 23 man squad to choose from. Juventus striker Alvaro Morata has bagged three goals so far this tournament and will have to be at his best to get past the Italy back three and goalkeeper, who all play for Juventus too.
Turkey's Cuneyt Cakir will look over proceedings at the magnificent Stade de France in Saint-Denis. The game will surely be a sell-out and with over 80,000 fans packed into the ground, the atmosphere will be that of a final.
The two teams have met on 35 separate occasions and both sides have claimed 10 wins and of course, there has to be a winner today, so one of the sides will edge ahead and claim the bragging rights over their rival.
Both sides ended their respective groups with a loss, Italy lost to the Republic of Ireland, Spain lost against Croatia and both of those teams have now been eliminated. Despite being a very exciting clash, many would've hoped a match like this should have been saved for the latter stages of the competition, but due to La Roja's failure to defeat Croatia, this massive game has arrived early.
The match is of course a repeat of the 2012 final, where Spain ran riot and handed the Azzurri a 4-0 thrashing. Italy will of course be hoping to exact revenge by dumping out the reigning champions at a very early stage. The winner of the tie will go on to face world champions Germany, after they cruised past Slovakia 3-0.
Hello all! Welcome to VAVEL UK's live minute-by-minute commentary of Italy vs Spain. Today's contest is a Round of 16 tie and is surely set to be the most exciting one thus far. My name is Ayden Hussain and I will be guiding you through the glorious encounter which will get under way at 5PM BST.