It's just gone past 18:45BST on Saturday and Northern Ireland have lost their UEFA Euro 2016 last 16 tie to Wales after Gareth McAuley's heart-breaking own-goal.
All those who weren't fortunate enough to be occupying seats in the Parc des Princes were crammed into the Boucher Road fanzone, originally at Titanic Quarter.
Initially, a dead silence fell over those gathered. But, just as quickly, chants of "Green and White Army" rang out from the capacity crowd. On the way back to the train "Everywhere we go" was sang and, of course, Will Grigg's summer anthem was echoing up and down the carriages and platform.
Scenes that are more like those which are experienced in victory were never more prevalent than in defeat. Northern Ireland is a country that has been through hard times, and has a past I'm sure most of you are well aware of. But, somehow, sport seems to trump all of that and unite the tiny nation for good.
When in doubt, the GAWA are about
Everyone will remember those awful scenes of the first days of the championships, as English, Russian and French fans clashed in Marseille. People were put in comas, the sea front was awash with blood and beer, instead of relaxed fans and peaceful passersby. Even the Northern Ireland fans were caught up in trouble, although the supposed French trouble makers had little impact on their relationship with the French Riviera.
Banter is an overused word, of that we can all be sure, but rarely does it apply to a fanbase like that of Northern Ireland; also that of the Republic, too. The Irish nations got the tournament back on track with their incredible support. While Nice turned green with the GAWA, COYBIG was ringing round the Paris side streets as the Republic fans serenaded the Swedish women and endeared themselves to the locals.
From fighting to friendly fan fun, the island of Ireland was showing the way for the other supporters. Northern Ireland themselves fell to a 1-0 defeat against Poland, one which could have dampened spirits. There was nothing of the sort, as Nice had Irish voices wafting through the air at silly o'clock in the morning. Passing up the chance to enjoy a first major tournament in 30 years is not something the Northern Ireland fans were prepared to let slip because of a defeat.
North and South unite in mourning
The morning after is normally a time to gather thoughts, regroup and go again. However, any feelings towards the game were quickly forgotten about as 24-year-old Darren Rodgers tragically passed away. Flowers, flags and shirts were laid at the scene, while an outpouring of sympathy came from around Europe.
Most poignant of all, however, was the Irish flag nestled beside the red hand of Ulster. These fans weren't here for violence, or rioting or to bring up moments from their neighbouring pasts. They were here to enjoy the moment, but it was a touching scene to see both sets of fans come together when so rarely did either nation through the second half of the 20th century.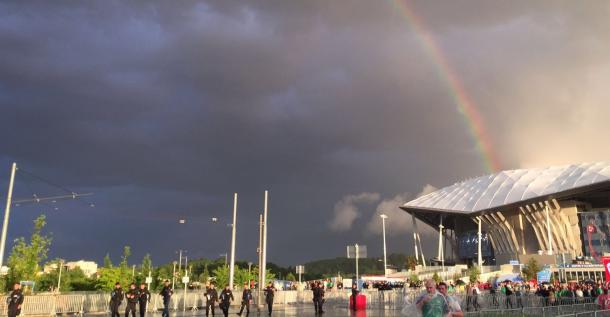 Lapping it up in Lyon
So up to Lyon they marched, devastated by the defeat and a loss of one of their own. After English and Russian clashes also carried north, it was the stories of Northern Ireland fans that gave everyone a reason to smile. After a shop window was broken while playing football, the supporters had a quick whip-round to gather up enough money to pay the shop owner for the damage done. A genuine touch of class and care, in a situation that could easily have been blown out of proportion otherwise.
After four days of fun and games, Ukraine lay in wait at the Stade de Lyon. This was a must win game for Michael O'Neill's men, and boy, oh boy did they deliver. After a dominant and damp first half, the rain and hailstones became apocalyptic in the early stages of the second period. One side of the stadium got it worse than any other - of course, yours truly was trying to squeeze the water out of his shirt during the deluge.
Magic McAuley
But, just as my friend was packing up her umbrella to head further back into the stand for shelter, something magical happened. Much like the "ARMSTRONG" moment in Espana 82', "bent in towards the back post... MCAULEY!" will be forever etched in the minds of the Northern Irish support. People talk about life experiences and how they'll never be topped. Personally, for me, nothing will ever come close to the joy and elation when that goal went in.
Thirty years of trying and failing to make a major tournament, even struggling to score a goal at a point. It was all worth it, so worth it. For someone like Gareth McAuley to grab the goal was equally special. A man who had plyed his trade in the Irish League - working his way up through the ranks the hard way - was scoring in front of the world. Even the weather had turned quintessential Northern Irish. I need not mention the fans who, much like myself, had thrown everything in the air and were hugging the nearest person.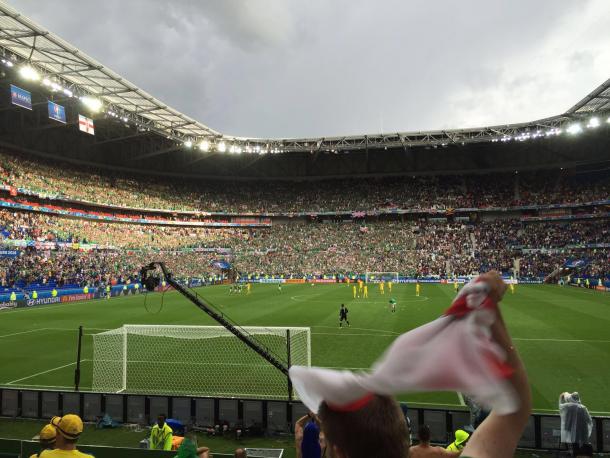 Ukraine euphoria
Ukraine tried and failed to find a way past Michael McGovern, who was soon to become the centre of the world's attention. He saved from Yevhen Konoplyanka's stellar effort, while claiming every cross that came into the box. After a mix-up with substitutions, six minutes were added on and choice words were said. The NI back four held firm and then the moment that used up any extra energy in the fans' bodies came right at the death.
When it seemed easier to run the ball into the corner, Josh Magennis proceeded to leave the Ukraine defence in his wake before squaring for Stuart Dallas. His shot was saved, but Niall McGinn was on hand to fire into the net and send the 20,000 Northern Ireland fans in the ground bananas. Unbelievable is a word that people are often told not to use, as very few things can actually be described as such. But, in that very moment, words failed me. It was incredible.
Que sera sera...
Buoyed by that win, Paris was the next destination. Northern Ireland were in pole position to qualify as one of the four best third-placed teams, but world champions, Germany stood in their way. One of the world's biggest cities was the backdrop, one one of the world's best teams were the opponents; all against a nation that has a population of under two million, less than the French capital itself. It was a true David and Goliath story.
The Northern Irish community that had formed in France was making their way up to Paris, confident that they could secure what was needed against Joachim Löw's men. After O'Neill's tactical genius paid off against Ukraine, the same side was selected against the Germans. While the defence put in a stoic effort, no-one could have predicted that a man who had to wait five years between his first and second caps would turn out to be the hero.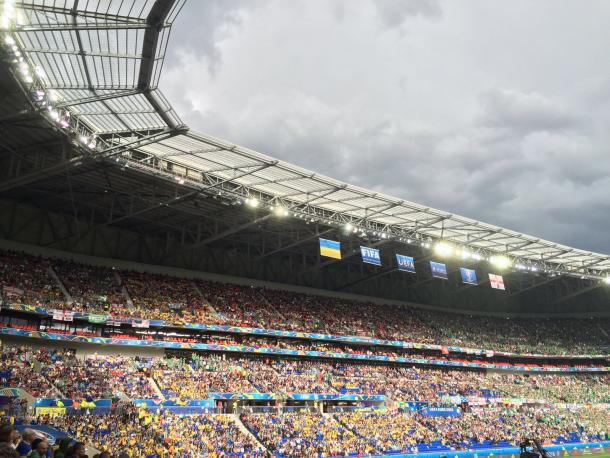 McGovern makes worldwide news
Step forward former Enniskillen Town United shot-stopper, Michael McGovern. Despite being beaten by Mario Gomez - a goal that would give Germany a 1-0 win - McGovern's saves ensured Northern Ireland of their place in the last 16. Mario Götze and Thomas Müller were denied with regularity, before he produced a stunning save to tip Gomez's late header round the post. Eight saves in total - as well as countless catches, claims and punches - saw him earn plaudits from all corners.
Peter Schmeichel, Jens Lehmann and many others heaped praise on his efforts. In what will rank among the best moments of his life, it will certainly do the same for the fans there and at home. Without doubt of the great performances in a European Championship, free agent McGovern embodied the Northern Irish attitude. Unfancied, but still able to pull off the greatest of upsets. It was eventually confirmed that they would return to Paris to face the Welsh, instead of Lyon and France.
Welsh woes, but a proud moment nevertheless
After sitting in the Parc des Princes for almost an hour after the final whistle against Germany, Northern Ireland fans could have been forgiven for wanting to sit in the ground until their tie against the Welsh. The country was whipped up into a real frenzy of excitement, with fans signing "We're not going home" and "We're getting sacked in the morning" as emergency arrangements were made to get flights back to France for the game.
That move seemed justified, as they had the better chances during the game in Paris but for the most cruel ending to halt their charge. McAuley had little choice other than to try and clear Gareth Bale's cross. Unfortunately for him, it trickled past McGovern and into the net. Tears were shed, though those quickly turned to chants of pride; the team came out to thank the fans for their incredible support. Two weeks that no-one associated with the country will ever forget.
A nation unites
Aside from the footballing glory and history written, this was a time to be proud of Our Wee Country. Rory McIlroy and Johnny Rea were just two of the world's best in their respective sports to wish the team well, while politicians - First and Deputy First Minister - have gone in unison to watch the team in France. It's a far cry from the paramilitaries, gay cake rows and all the other nonsense that goes on here; if only this was a constant distraction.
If there's one thing to wrap up this piece, it's how the French have taken to Northern Ireland, as well as the Republic of Ireland. My friend, Chloe, who had the (dis)pleasure of taking the spare ticket and sitting beside me for the Ukraine game, used one word in particular throughout the finals and to describe her experiences with the Irish - beautiful.
For me, that sums up things perfectly. Football is the sport to create beautiful moments; whether that be the win over Ukraine, Robbie Brady's last-minute winner or the scenes in the fan parks around the country. Both sets of fans should be proud of the legacy they'll leave in France, one which is wholly positive and absolutely beautiful.