Jurgen Klinsmann is one of Germany's most famous footballing sons and the current USA boss is understood to be intrigued in managing England.
Roy Hodgson stepped down in the wake of England's embarrassing exit to Iceland at Euro 2016 with a seemingly pre-written speech, and the former Tottenham Hotspur striker is one of many names in the frame.
What history does he have?
Klinsmann has been in charge of the United States since 2011 and initially struggled before a famous win against Italy in Genoa in 2012.
The German then led the Americans to their fifth CONCOCAF Gold Cup win with a 1-0 win against Panama in the final but it wasn't until the 2014 World Cup that Klinsmann drew admirers.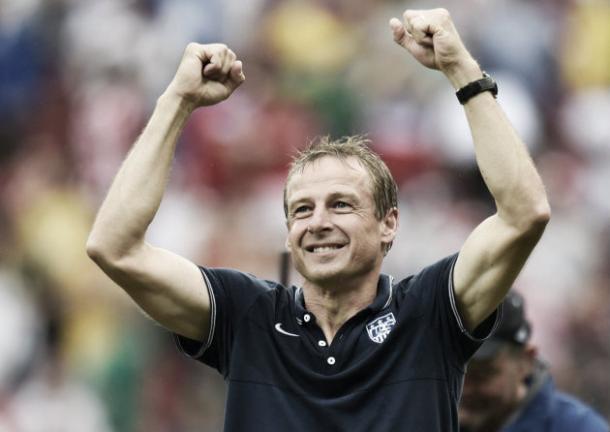 The USA were drawn in a tough group in Brazil where they faced Portugal, Ghana and would-be champions Germany. After securing four points in their opening two games against Ghana and Portugal, a 1-0 defeat against Germany didn't stop Klinsmann from leading America into the last sixteen.
An extra-time defeat to Belgium saw the USA eliminated from the tournament but his coaching exploits saw Klinsmann turn America from a non-footballing nation into a nation in which everyone got behind the team.
Most recently, the charismatic German took the United States to the semi-finals of the Copa America; with fine wins against Ecuador, Costa Rica and Paraguay. They were eventually knocked out by a Lionel Messi-inspired Argentina in the final four.
So what would Klinsmann bring to England?
Well, he's won games in the knockout stages of major tournaments for a start – something that England haven't done in ten years.
He's also brought the fans of the USA national team back by building a connection between the players and the supporters which in turn helps football in America continue to grow.
A real problem that has been caused by England's exit at Euro 2016 is that they have lost the fans.
It takes a lot for England fans to boo and jeer their own team and the FA are in dire need of a manager who knows what it's like to play and manage for such a group of passionate fans – something that Klinsmann has in abundance.
There could be many worse appointments made and this is arguably the most important appointment of an England manager for generations.
An overall win percentage of 57% at international level from 125 games is an impressive record and something that the FA won't be able to avoid in their search for a new manager.