Thank you for joining me for the first quarter final of Euro 2016 and Portugal's win over Poland, you can find me on Twitter @Danialkennedy95 and until next time have a great evening !
Portugal will take on either Wales or Belgium in the semi-finals who tomorrow night
Quaresma has done it again !!! Blaszczykowski's miss is what seperates them at the end and they will go through to the last four
Quaresma to send Portugal into the semis ...... GOAL PORTUGAL ARE THROUGH
Blaszczykowski next......... MISS the former skipper has missed as Patricio produces a great save advantage Portugal
Nani is the fourth taker...... GOAL coolly slots into the opposite corner to Fabianski
Glik up for the third...... GOAL makes no mistake as he rifles it into the bottom corner
Moutinho the next taker.....GOAL Fabianski again goes the wrong way
Milik is up next for Poland....... GOAL right into the bottom corner and we are level once again
Goalscorer Sanches next........ GOAL what a penatly as he sends into the top corner of the net
Lewandowski up next........GOAL like Ronaldo sends the keeper the wrong way and we are level
Ronaldo is up first in this shootout.......GOAL coolly slots in the bottom corner sending Fabianski the wrong way
It looks like that Portugal will be going first in the shootout
22:32 - And it will go to penalties, it was a half hour of lacklustre after goals from Lewandowski and Sanches in normal time with the emergence of a pitch invader been the only real highlight, but we will gear up here for penalties
FTET - Poland 1-1 Portugal
120' - one minute of added time and it seems that Piszczek has had the final opportunity which was wild and wreckless as it went well wide
114' - Kapbustak tries to get the ball into the area but again nobody is there
112' - Both sides playing around the back at this point and this game is screaming penalty shootout
109' - Invader prolongs the period of play which will upset the masses that have made it this far
105' - Poland will kick-off this second half of extra-time
22:13 - Not much happening in that half with a few half-chances from either side and if it continues like this, the match will be going to penalties
ETHT - Poland 1-1 Portugal
103' - Nani hits a sweet shot but collected with ease by Fabainski
103' - Lewandowski puts a dangerous ball across the face of goal but nobody is there to try and turn it in
102' - Just a few minutes until the break in extra-time with the only real chance coming from Milik
99' - Anoyther chance from Milik and it is another from range and once again it is wide of the mark. Still 1-1
97' - Another sub for Poland as Maczynski comes off for Tomasz Jodlowiec.
95' - Sub for Portugal with Carvalho off for Danilo
21:56 - Portugal will kick off the first period of extra time here
21:54- VAVEL will be bring you coverage of extra-time very shortly
21:52 - And these two sides will be going the distance for the second game in a row, Lewandwoski opened the scoring after two minutes before Sanches scored the equaliser. Portugal did well in the second period with good chances from Ronaldo but this game will be going to extra-time
FT - Poland 1-1 Portugal
93' - Free kick found the head of Lewandowski and it is straight into the arms of Patricio and it looks like we will be going the distance
92' - Carvalho has picked up a yellow now for a foul on Krychowiak
90' - Three minutes added time here
89' - free kick in from Quaresma to Pepe but it is over the crossbar
88' - One final chance for Portugal perhaps as they win a free kick from Kaputska
85' - Ronaldo looks to be smashing it beyond Fabianski but he completely misses the shot and it looks like that will be the best chance that Portugal will have to win the game
81' - First Poland change with Grosicki coming off for Kaputska
80' - Pepe wins possession and looks to put Ronaldo through but is deflected by Jedrzejczyk and goes just wide of the mark
79' - Second change for Portugal with Maria been replaced by Quaresma
78' - Fonte makes decent contact with the corner but his header is straight down the middle and Fabianski collects with ease
77' - Little under 15 minutes to go and Portugal keep banging on the door but arent getting through at the moment
74' - Grosicki tries one from distance but it is very poor as it goes high and wide
73' - First change comes from Portugal as Silva is replaced by Moutinho
70' - Silva picks up a yellow card there for a foul during that counter-attack little under 20 minutes to go
69' - Pepe manages to get a head to a corner but straight into the arms of Fabianski but his quick counter comes to nothing
68' - Milik manages to get a touch onto the cross into the area but Patricio did well to collect
66' - Glik picks up a yellow card here for crashing into Ronaldo
64' - sweet strike from Soares looks to have Fabianski but it just goes past the post, 25 minutes to play of normal time
60' - An hour gone here and it is Sanches strike (pictured below) is the difference, the second half has been quite quiet with a Ronaldo shot the only real opportunity but remains 1-1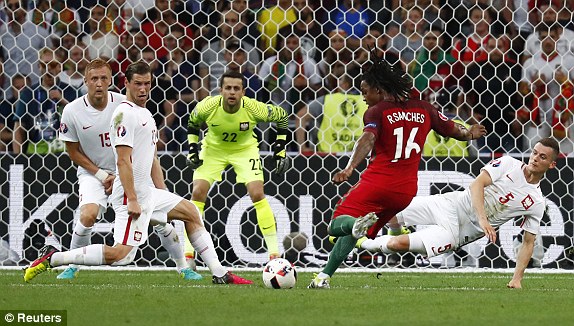 59' - Ronaldo miskick comes back out to Silva but that is blocked
55' - Ball through to Ronaldo but it curls into the side-netting, should of done better especially from that man. Still 1-1
51' - Ball into Ronaldo and his presence sees Fabianski drop the cross but does well to collect on the second time of asking
48' - Piszczek's cross sees Lewandowski become creative with the diving header but it is straight at Patricio
45' - Portugal have kicked off the second half here!
20:50 - VAVEL will return with second half coverage between Poland and Portugal very shortly
20;49 - It has been a very contrasting half, Poland started off in the best possible way with Lewandowski's ealry effort, but from there Portugal took over from there and got there reward with a goal from Sanches to take the sides level going into the break
HT - Poland 1-1 Portugal
45' - Going to be a total of one minute of added time here
43' - Nani has a shot from distance, but it is tame and easy for Fabianski to collect
41' - First yellow goes to Jedrzejczyk for his foul on Carvalho and will miss the semi-final should Poland progress but for now it remains 1-1
40' - Just fice minutes until the break, and it seems that Portugal are in the driving seat here but it remains a stalemate in this half so far thanks to goals from Lewnadowski and Sanches
36' - Looks to be the first booking of the night for Krychowiak for a foul on Ronaldo but it seems that he has been let off with a warning
33' - PORTUGAL ARE BACK IN IT and in spectacualr style ! Sanches does well as he takes a touch before the youngster lets rip and a sligjht deflection takes it beyond Fabuanski and it has got them back in the game 1-1 !
33' - GOAL Poland 1-1 Portugal
30' - Appeals here from Portugal and Ronaldo as he goes for the cross but seems to be bundled over by Pazdan but appeals are waved away, possibly got lucky there
28' - Nani shows great trickery to get away from defenders before playing it to Ronaldo, but his tame effort was straight at Fabianski who collected well
24' - Poland are looking dangerous every time they get beyond the centre circle but still remains just the one goal as we reach the quarter stage
22' - Neat football from Poland as the ball comes back Grosicki but opts to square it but it is cleared
21' - Milik tries one from distance once again but Pepe does well this time to deflect the effort wide
17' - Mario looks to get the ball into the area but it is blocked which allows Poland to break but Grosicki's cross is well off target
16' - Milik breaks down the right before playing Lewandowski who gets beyond Pepe but the strikers is straight at Patricio
15' - Ronaldo has won the free kick and will try from 35 yards ........... and straight into the wall
14' - Milik tries one from distance as he looks to double Poland's lead but he managed to drag it wide of Patricio
13' - Portugal are looking positive despite been behind but the Polish defence are standing firm
12' - Shot of Lewandowki's effort hitting the back of the net which proves he difference so far in this contest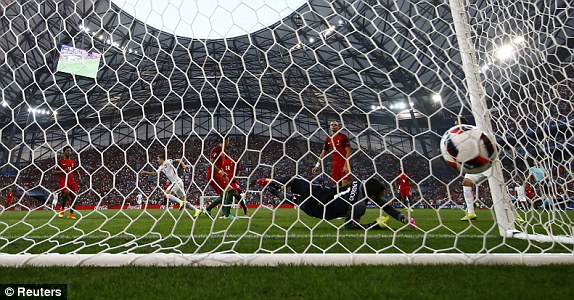 10' - Soares did well to put a good ball into Ronaldo but the Polish defence stand firm once again blocking the effort
8' - The mood of the game has settled since that manic opening two minutes and it is Portugal who are having the majority of possession with Ronaldo's potential effort been blocked, but Poland lead
6' - Poland get the free-kick after the foul from Nani
2' - POLAND TAKE FIRST BLOOD What a fantastic start from Poland, Gorsicki cooly plays it into Lewandowski and he ended his internaional drought as he placed past Patricio in the bottom corner. 1-0 !
2' - GOAL Poland 1-0 Portugal
1' - And Poland get us under way here !!
20:01 - Minute applause for those affected by the events in Istanbul, our thoughts here at VAVEL go out to those affected by this horrible tragedy
20:00 - Formals are over and we are to get under way here
19:57 - Now the anthem of Poland
19:57 - First we will have the national anthems and Portugal
19:56 - The players are out on the pitch here and kick-off is imminent
19:54 - The players are in the tunnel ahead of kick-off
19:50 - Just ten minutes until the quarter-finals of Euro 2016 kick-off !
19:39 - With 20 minutes umtil kick-off, read Bradon Sayer's preview of tonight's game
19:37 - Cristiano Ronaldo has led Portugal out for the wamr-up with a little over 20 minutes until kick-off !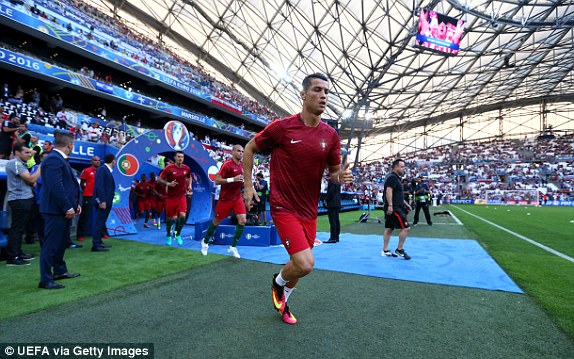 19:19 - A selection of Polish players out on the pitch of the
Stade Vélodrome with a little over 40 minutes until kick-off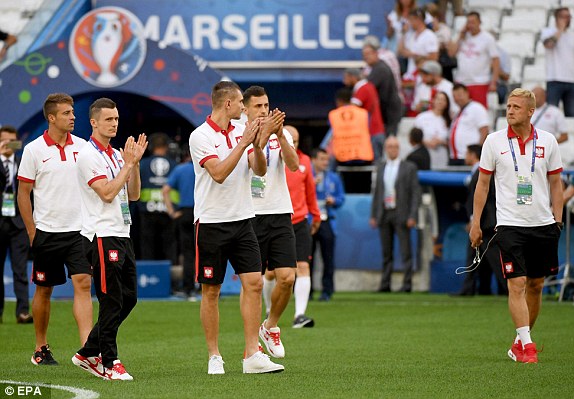 19:16 - Poland have named a unchanged side from their win over Switzerland while Portugal have made two changes from their Croatia victory with Renato Sanches and Eliseu coming in for Andre Gomes and Raphael Guerreiro
19:15 - Portugal starting XI: Rui Patricio, Pepe, Fonte, Ronaldo, Mario, W Carvalho, Sanches, Nani, Eliseu, Soares, Adrien Silva.

19;14 - Poland starting XI: Fabiankski, Piszczrk, Glik, Pazdan, Jedrzejczyk, Blaszczykowski, Krychowiak, Maczynski, Grosicki, Milik, Lewandowski.
19:10 - Team news to follow very shortly
19:09 - Poland head into this game looking to continue their historic journey while Portugal could reach the last four without realising their full potential
19:08 - Hello everyone I am Danial Kennedy and welcome to VAVEL's coverage of the first quarter-final clash of Euro 2016 between Poland and Portugal
It has been four years since the last time these two met to open Poland's new National stadium. However the game couldn't live up to the event as it ended in a goalless draw, but they will be hoping for a different result on Thursday.
Portugal should come out on top if their recent-head-to-head record is anything to go by, having won four and drawn three of their last ten meetings with the Poles, who have won three themselves.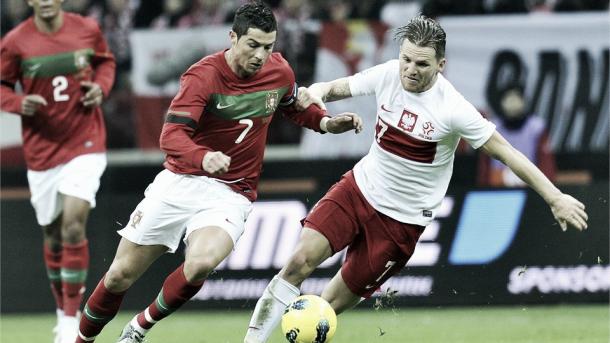 Poland predicted XI: Fabiański; Piszczek, Glik, Pazdan, Jędrzejczyk; Błaszczykowski, Krychowiak, Mączyński, Grosicki; Milik, Lewandowski.
Portugal predicted XI: Rui Patrício, Cédric, Fonte, Pepe, Guerreiro; Silva, William Carvalho, Sanches, Mário; Nani, Ronaldo.
How about the players that will miss any semi final if they pick up a booking? For Portugal it's Quaresma, Pepe and William Carvalho, whilst for Poland, it's Grosicki, Mączyński, Peszko, Piszczek, Pazdan and Jędrzejczyk.
After the game, match winner Quaresma said that the team "worked hard" and knew of "difficulties" they were "going to encounter" and believes they should "congratulate" themselves for a "great game" and their "dedication."
Santos said that it is going to be a "balanced game" against a "very strategic team" and when they "have the ball" they will try and "take advantage" of their "weak points."
It was a pretty uneventful 90 minutes, and it looked to be heading towards extra-time, but a late effort from Ricardo Quaresma secured their passage into the last-eight.
Fernando Santos' side failed to win in arguably the easiest group, but still managed to make it through as one of the best third-placed teams, but faced a tough test in Croatia.
Portugal haven't played to their full potential, as of yet, but have still managed to make to the quarter-final stage.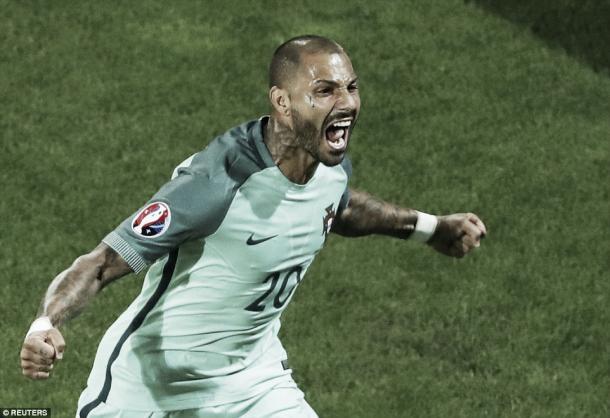 Kamil Grosicki said that they are "very happy" to be among the "eight best teams in Europe" and that "really motivates" the team.
After the win, Nawalk told uefa.com said that the match sparked "a lot of emotions" in his players and they did a "great job" and they were "looking forward to the next game.'
The contest went to penalties, and converted all five penalties with new Arsenal midfielder, Granit Xhaka missing the vital penalty to send Adam Nawalka's side through.
It got off to a good start, after Jakub Blaszczykowski fired home just before half-time, before the game was taken to extra-time after Xherdan Shaqiri's spectacular equaliser.
This is the first time that Poland have reached this stage at any major competition, having finished second in their group behind Germany, before facing Switzerland in the last 16.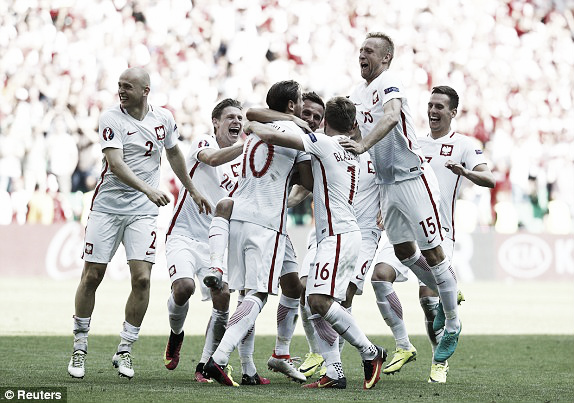 Poland will look to continue their historic journey into the last four, while Portugal managed to overcome potential favourite, Croatia and will look to do the same here.
Hi everyone and welcome to VAVEL's coverage of the first quarter-final clash of Euro 2016, with Poland taking on Portugal. Kick-off is set for 8pm at the Stade Vélodrome so stick with us until then.