Poland are readying themselves for their biggest game since achieving third place at the 1982 World Cup, with Portugal their opponents tomorrow in the last eight of Euro 2016.
It's the furthest the Poles have ever got in the competition, despite hosting it four years ago, and they will be looking to go even further as they take on a side that have failed to win any of their four games so far in 90 minutes.
After beating Switzerland on penalties to reach this stage, Poland will be confident of coming out on top if the tie does go beyond normal time though, and manager Adam Nawałka showed this confidence when addressing the media in his pre-match presser this week.
While he is well aware of the threat Portugal pose, he insists that his team can contain them to clinch a place in the semi-finals.
Portugal are more than just Ronaldo
The main threat Poland will concern themselves with is one the world knows all too well; Cristiano Ronaldo. Portugal's main man and one of, if not the, best in the world, he is always capable of producing something special when it is required most.
Nonetheless, Nawałka says that his side "need to look at the whole team," not just their star man, "if [they] want to win tomorrow.
"Football is about teamwork," he continued, saying: "There is no team in which one player decides the outcome of the match."
Furthermore, he believes that A Selecção have "presented themselves very well as a whole team" at the competition so far.
"Portugal are a team with great potential who like to attack, but they can also defend well," Nawałka said. "What's very clear is that when they recover possession they are very dangerous on the counter-attack."
Despite this threat, the manager says that Poland want to "control" the game tomorrow, even knowing that they are facing "very dangerous opponents" on the break who will give them a "difficult" evening.
"For the bookmakers it would be a surprise for Poland to qualify, but we know our strengths and know we are capable of going through."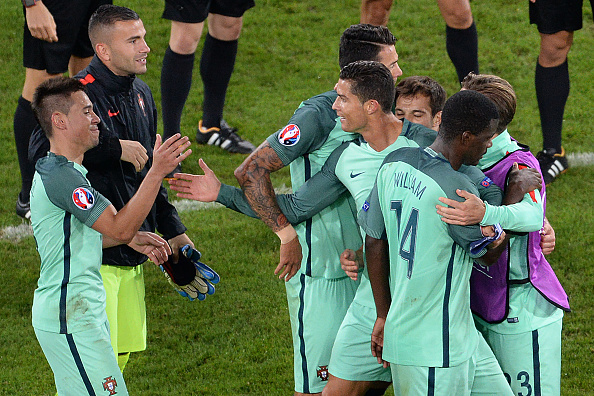 Poland worthy of the last four
Nawałka did respect the opposition when speaking to the press, but he remains more than confident that his team can better them.
"It's no surprise that we've got results at this tournament," he said, with a goalless draw against Germany in the group stages showing that Poland can go toe-to-toe with the best.
"We've been making progress from the beginning," the manager believes, saying that the players have been "amazing" right from qualifying for the tournament to qualifying from the group.
"We want to hit form and we've done that," Nawałka added, saying that improvements in the team's organisation have been key.
Another boost to their bid for a semi-final place is the news that star man and captain Robert Lewandowski will be fit for tomorrow's game, despite concerns over a foot problem.
His manager was eager to heap praise on him too, describing the Bayern Munich man as a "very important player" for his country.
"He's fulfilling a very important role as a captain - as well as the aspects demanded of his role," he added. "He's doing a great job for us and let's hope he continues to do so."
Just like Portugal aren't all about Ronaldo though, Poland aren't all about Lewandowski and Nawałka says that all of his players are "motivated" ahead of tomorrow's game, despite them having "achieved a lot" already.
"They want to play better and better and for me as a coach I'm very happy with their mental approach to this tournament and these matches," he said.
The manager concluded by telling the press about Poland's "faith and optimism" ahead of tomorrow, finishing with: "I think we have proven what we're capable of, but let's wait until the match."