Ahead of Portugal's crucial quarter-final against Poland at Euro 2016, manager Fernando Santos says that he is confident that Cristiano Ronaldo will be able to handle the pressure of his country's hopes to go all the way at the tournament.
Ronaldo has endured a mixed tournament so far in France but when it comes to the big matches he is a player that can turn it on. The forward has scored the two goals so far in the tournament, both coming against Hungary, and he will be hoping to score in his side's crucial quarter-final.
Santos is backing Ronaldo to deal with the pressure
All everyone seems to be talking about though is the poor games that Ronaldo has had in the tournament, including missing a penalty in his side's second group game against Austria. Yet, Santos has backed his star man to deal with everything that is being said and do his talking on the pitch.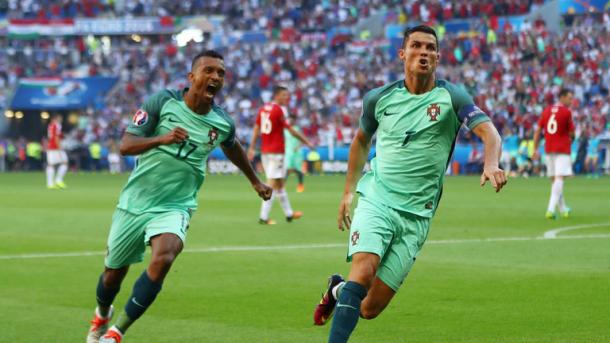 Santos speaking at his pre-match press conference, said that "everybody is talking about Ronaldo" which is no surprise because he is an "amazing player" that produces the goods on the pitch.
The manager continued to say that "people only talk about great players," with the Real Madrid man being talked about by a lot of people every single day. Santos feels that is is "a natural thing" that he is talked about more than others and has no doubt that "Ronaldo knows how to deal with that."
Portugal need to a find a balance between attacking and defending
It has been a strange tournament so far for Portugal who have not won a game in 90 minutes and still find themselves in the quarter-final.
They started the tournament creating lots of chances without winning, while against Croatia it was more of a defensive performance and Santos admitted that he has to find a balance between defending and attacking.
Santos said he team "want to strike balance of course" as, while he would prefer that "Ronaldo [to] score 10 from 15 shots," sometimes this is not possible as Portugal's "our opponents won't let [them]."
Santos knows that his team will have to find a balance against Poland as they are a good team that deserve their place in the quarter-finals. He says that "every player plays his role," and this will be needed if the team are to be successful.