After Monday's historic win over England, Iceland have the chance to create a new and even bigger footballing highlight for their country tomorrow as they take on France in the last eight of Euro 2016.
The major tournament debutants taking on the hosts; there is an upset ready to be made and another script to be ignored at the Stade de France tomorrow.
Iceland are confident of upsetting the odds once again too, and why not? They have a ton of experience in doing so already this year, having made the finals, qualified from the group and then negotiated their way through the last 16.
Moreover, co-coach Heimir Hallgrímsson believes there is still plenty to come from his team and that they can ruffle the feathers of the locals by upsetting the home nation.
Another upset is on the cards
Speaking to the media pre-match, Lars Lagerbäck showed the optimism his team will head into tomorrow's game with as he said: "In football, you always have a realistic chance."
The manager believes France are "a little bit of a favourite" for the game, but not a "big" one, and that his team can certainly fancy their chances in beating them if their attitude is right.
"Most important for us is that we go out tomorrow and believe we can beat them," said Lagerbäck. "If we have that attitude, I think we can cause them some problems."
His co-coach Hallgrímsson agrees too, again repeating his belief that "we haven't seen Iceland's best game yet."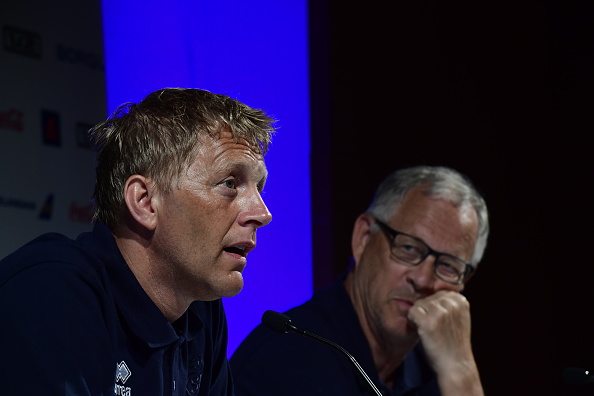 Chance to enjoy the moment
With France the favourites in this fixture, the game is yet another chance for Iceland to relish the freedom of no pressure in the underdog role.
Lagerbäck hopes that his players will "really enjoy" the occasion too, adding: "It's not often you have a chance to get to a semi-final, so I think that's motivation enough [to play a good game]."
Meanwhile, Hallgrímsson believes that his team are simply used to the big stage now and that the occasion will not get to them, saying: "Because we are always playing the biggest game in Icelandic football history I think the players have just got more used to it."
The Icelander even went as far as saying that the tasks at hand "get smaller" each time, as the team are growing in confidence and gaining experience as they leapfrog each obstacle.
"I think a big part of why we are always playing better and better is that the players are more relaxed in every game and have grown in confidence," he continued.
Moreover, the team are simply looking to reward the fans for their immense support so far this summer, with Lagerbäck rounding off by highlighting their importance before saying: "It would be fantastic to pay that back and [cause] a bit more of an upset at this EURO, so that we can let the people and fans really feel the joy we feel when it's going so well.​"