That's all we have time for, unfortunately. We hope you have enjoyed our coverage of this game and we'll have plenty of reaction, as well as a report, up on the site very soon. I've been Sam Smith, and I thank you very much for following. Catch you soon.
Germany finally win - 6-5 on penalties after nine kicks each. Tough to take for Italy, who have had a fantastic tournament and have been a pleasure to watch. Die Manneschaft will take on either Iceland or France in the sem-final.
HECTOR SCORES! GERMANY ARE IN THE SEMI-FINAL!
Jonas Hector, the left back, will take the decisive kick.
Germany can win if they score.
Manchester united's Matteo Darmian... Misses!
Boateng next... Scores! 5-5 after eight each.
De Sciglio... Scores - in off the crossbar!
Kimmich... Scores! Right in the bottom corner - excellent penalty from the 21-year-old. 4-4 after seven each.
Kimmich, the youngster, will take next.
Parolo next... Scores!
And he does... 3-3 after six each.
Hummels has to score.
Giaccherini up next... Scores! Straight down the middle.
Schweinsteiger skies his kick! Sudden death now, 2-2 after five each.
Bonucci, scorer of the penalty in normal time... Saved by Neuer! Schweinsteiger can win it here.
Draxler... Scores emphatically! 2-2.
Pelle... Drags his penalty well wide! Still 1-2.
Ozil hits the post! 1-2 in Italy's favour after three penalties each.
Ozil next...
Barzagli... Scores! Straight down the middle! 1-2.
Muller... Misses, too! Poor penalty, saved by Buffon. 1-1.
Zaza... Misses! He came on especially to take a penalty and skies his kick! Still 1-1.
Kroos... Scores! Very nice penalty. 1-1.
Toni Kroos to take next.
Insigne... Scores! 0-1
It will be Italy to take first. Insigne is walking towards the spot...
The penalties will be taken at the end of the ground where the Italian fans are based.
FULL TIME! As predicted by many, this will go to penalties.
120' Chiellini is replaced by Simone Zaza.
119' Buffon catches an Ozil effort with ease.
116' Kroos' free-kick is easily cleared.
115' Chiellini is adjudged to have fouled Muller and Germany have a free-kick in a dangerous position.
112' Schweinsteiger, rather harshly, is booked for using his arm to fend off Insigne as he looks to dribble with the ball.
109' Draxler breaks away but his final ball is poor. Schweinsteiger then volleys over from 25 yards.
107' Eder, having picked up a knock, is replaced by Lorenzo Insigne.
107' Italy fail to clear a cross and Draxler hooks the ball over the bar.
106' Italy get us back underway.
105' Half time in extra time. Penalties are looking extremely likely.
103' Giaccherini goes to ground too easily and handles the ball in the process. Not sure if the resulting yellow card is for a dive or the handling of the ball but germany have a free kick deep in their own half.
102' Boateng fires wide.
102' Now Germany have another corner.
101' Germany have a corner as Thomas Muller has two attempts from distance; the first is blocked straight back into his path and the second is deflected behind.
95' Very edgy start to extra time. Several niggly fouls and misplaced passes. Hope this livens up...
92' Pelle goes into the book for a late tackle on Boateng. He too will miss the semi-final if Italy progress, joining De Sciglio.
91' Germany get us underway. Can someone win the game within these additonal 30 minutes or will we go to penalties?
Players are ready and extra time is about to commence.
Mesut Ozil appeared to have put Germany into the semi-final, but Bonucci tucked home a penalty late on to take us into extra time. We'll have that live here at VAVEL UK so make sure you stay tuned.
FULL TIME! We will have a period of extra time here with the score level at 1-1.
90' Three minutes of added time to be played.
90' Hummels is booked and will miss the semi-final should Germany advance. Would be a huge miss.
89' De Sciglio has a Raheem Sterling - Italy in 2014 moment as his drive hits the side netting, but looks as though it hits the back of the net instead with many in the ground celebrating. They quickly realise the ball did not go in. Still 1-1.
86' Matteo Darmian is replacing Florenzi.
81' Italy on the front foot since the goal, they now have a corner.
The defender stutters, waiting for Neuer to move, before firing into the goalkeeper's left-hand corner. Game on!
GOOAALLL! BONUCCI SCORES!
What is Boateng doing?! The cross is flicked on by pelle and Boateng throws his arm into the air, the ball makes contact with his limb and the referee has no hesitation in pointing to the spot.
PENALTY TO ITALY!
76' Wonderful one-touch play from Pelle and Eder sees the former chip the ball over the top of the Germany back three but the pass is too deep and Neuer collects. Was a very good move.
74' Pelle fires wide from inside the box. The Southampton man should do better, faling to wrap his foot around the ball as it came towards him.
72' Gomez is the second German to limp off tonight - Julian Draxler replaces him.
70' Germany by far the better side since the goal, surprisingly. Looking to stifle Italy's attempts to react to going behind.
68' What a save by Buffon! Gomez beats the offside trap and, with his back to goal, flicks the ball goalwards from close range, by the veteran goalkeeper tips the effort over the bar!
It's the curse of the commentator here! A superb piece of build-up play involving Gomez and Hector sees the latter cross for Ozil and the Arsenal midfielder fires home from close range. The goal coming in the 65th minute.
GOOOOAAAAL! GERMANY TAKE THE LEAD - IT'S MESUT OZIL!
This is certainly a game for the tactics lovers of the footballing world. Those of you who prefer lots of action, this isn't your cup of tea.
62' Parolo has an effort from range, but his technique is poor and it bounces wide.
62' Giaccherini's cross is headed away by Hector.
58' Parolo now goes into the book for a ridiculously high challenge on the back of Gomez.
57' Yellow cards are like London buses, apparantly: none for a while and then two come in quick succession. De Sciglio is now in the book for a late challenge on Kimmich.
56' Sturaro earns the first yellow card of the game for an angry reaction to conceding a free-kick. The midfielder needs to calm down.
54' Muller's effort is goal-bound - heading for the corner - but Florenzi somehow gets back towards the line and throws out a leg to somehow divert it away for a corner.
WHAT A BLOCK BY FLORENZI!
52' it's taken quickly and comes to nothing.
52' Germany have a corner courtesy of Barzagli's headed clearance.
49' Howedes concedes a free-kick on the halfway line. Our referee is still yet to reach for his notebook in this game.
46' Italy get the half underway.
Two teams are back out on the pitch in preparation for the second half.
As we all expected, it's been an extremely tight game and an interesting tactle battle with both sides out-witting each other by using the same formation. Stay tuned as we'll have the second half soon after, and probably extra time and possibly penalties as that's where this tight, edgy affair looks to be heading.
45+1' And there goes the whistle for half-time.
45' Germany will finish the half with a corner... It's cleared at the near post.
43' Italy's chance to wonder how they haven't scored. Another Bonucci pass to Giaccherini - similar to the move that saw the latter score against Belgium - sees the midfielder's cross palmed away by Neuer and Sturaro's powerful drive is deflected wide by the immense Boateng.
42' How's that not gone in? Pinball in the Italian penalty area culminates with Muller taking a swing at the ball, which ends up in Buffon's hands. A bit more composure from the usually assured Muller and Germany would be 1-0 up.
40' Good chance for Gomez as he leaps high to meet Kimmich's cross but the header flies over the crossbar.
35' Buffon almost spills Hector's deflected cross, but all blushes are spared as he gathers at the second attempt with Gomez bearing down on the experienced goalkeeper.
31' Excellent defending by Boateng! Giaccherini gets in behind Kimmich, tries to find Eder in the box but the Bayern Munich centre back is across in time to make a vital interception.
27' Schweinsteiger has the ball in the net but is adjudged to have fouled De Sciglio in the process of heading the ball beyond Buffon. Still 0-0.
25' Storaro catches Kroos extremely late and earns himself a stern talking to from tonight's referee, Mr Viktor Kassai from Hungary. The official took charge of the opening game of the tournament between France and Romania, as well as Italy's victory over Sweden.
24' Getting a bit fiesty here and, of course, Antonio Conte is in the thick of the action, remonstrating with the referee at every decision.
19' Hummels plays a wonderful ball with the outside of his foot to Gomez, however, the forward can't quite reach far enough to make proper contact with the ball and Buffon catches the looping effort.
16' Schweinsteiger replaces the injured Khedira, who has had some bad luck with injuries recently so we hope this isn't too serious.
15' Florenzi cuts inside and manages to get his shot on target, although it's a poor attempt and Neuer gathers with ease.
14' Or maybe not. Khedira is signalling to the bench and Bastien Schweinsteiger is preparing to take his place.
14' Sami Khedira is currently receiving treatment, although he looks okay to continue.
12' Italy have a free-kick in their own penalty area. Kimmich tries to advance forward but Chiellini uses all his experience to outmuscle the young full-back - who in turn brings down the Italian defender unfairly.
10' Italy struggling to leave their own half currently, albeit having not really had the opportunity to do so. Ozil with a fantastic tackle on Giaccherini prevents the Sunderland man from advancing forward.
09' Germany now have a corner following a good spell of possession.
05' Giaccherini earns a corner having seen his shot deflect away via Jerome Boateng.
04' The corner is low and seemed planned, but Germany clear. Storaro tries a first-time shot but it trickles wide.
04' Italy have the first corner of the game.
01' Germany, as expected, enjoying the majority of possession in the opening minutes. Ozil crosses, Italy clear and Germany have the ball back once again.
01' Kick-off!
Captains Manuel Neuer and Gianluigi Buffon, both goalkeepers, complete the coin toss and we are just about ready to go.
The two teams are out, and here go the national anthems. Italy's, as normal, is spectacular.
Predictions? It couldn't be closer on Twitter, with 41% saying Italy will go through, and 41% saying Germany will! 18% of you think it's too close to call.
Very interesting, Germany have gone with a three man defence, flanked by Kimmich and Hector, in order to counter the system employed so far in this tournament by Conte, which has heralded so much success for Italy. No place for Mario Gotze or Julian Draxler, whilst Thomas Muller will be looking to get on the scoresheet for the first time in the tournament.
Italy XI: Buffon, Barzagli, Bonucci, Chiellini, Florenzi, Sturaro, Parolo, Giaccherini, De Sciglio, Eder, Pelle.
Germany XI: Neuer, Boateng, Hummels, Howedes, Kimmich, Kroos, Khedira, Hector, Ozil, Muller, Gomez.
We've got the all-important team news in!
Predicted Italy team: Buffon; Barzagli, Bonucci, Chiellini; Florenzi, Parolo, De Rossi, Giaccherini, De Sciglio; Pelle, Eder.
Predicted Germany team: Neuer; Kimmich, Boateng, Hummels, Hector; Kroos, Khedira; Muller, Ozil, Draxler; Gomez.
Italy key player: Once again, singling out one player in this Italian side is a tough challenge. Conte's side will aim to sit back and soak up pressure before moving the ball forward quickly, so Giorgio Chiellini will have to match, and possibly better, his outstanding performance against Spain as part of the three-man defence. Further forward, Emmanuele Giaccherini and Daniele De Rossi have been important parts of the midfield – although the latter is a slight doubt for the game having
Germany key player: Both sides' success has been largely down to the sheer teamwork and cohesion, as well as tactical expertise, so highlighting a standout player in each side is especially difficult. However, another excellent performance from Toni Kroos could go a long way in determining Germany's fate. The Real Madrid midfielder is a vital part of Germany's transition from attacking phases to defensive phases – often picking up the ball from the two central defenders and playing diagonal passes to the wide players to create chances. Special mentions also go to Boateng and Mats Hummels, who have formed a formidable partnership in the centre of defence and will need to be at their best once again to prevent the physical Graziano Pelle from causing trouble in similar circumstances to how he caused problems for the Spanish back four. Thomas Muller is also looking for his first goal at the tournament, although his general performances have still been up to their usual world class standard.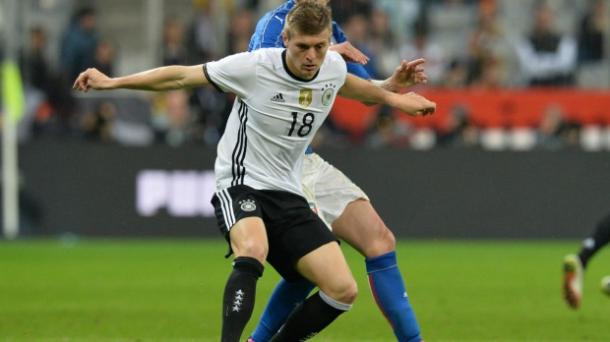 Italy, along with Iceland, have been the surprise package of the tournament; having headed to France with arguably one of their weakest-ever sides in terms of personnel, manager Antonio Conte has had to make do with what he has at his disposal, and he has done a stellar job of doing just that. The Italians are extremely difficult to break down due to their 3-5-2 formation and even the best nations find it extremely difficult to find a way past the well-organised back line. This was exemplified when Spain failed to create many clear-cut chances in the last 16 and heading home having been on the receiving end of a 2-0 score line.
Germany reached the quarter-final having seen off Slovakia in the last 16. Jerome Boateng scored a wonderful early goal – volleying into the bottom corner, albeit the shot taking a slight deflection, after a corner was cleared only as far as the Bayern Munich defender. Mario Gomez and Julian Draxler settled the comprehensive score line, although Joachim Low will feel his side should have scored even more, especially having seen Mesut Ozil miss a penalty in the first-half. Die Mannschaft are yet to concede a goal during the tournament, although Italy will offer the biggest attacking threat of all the teams they have faced so far.
Both sides have been the standout teams of the tournament and will offer an intriguing tactical affair, with the Azzurri's notoriously defensively style going up against the technically gifted, free-flowing German team.
Hello and welcome to VAVEL UK's live minute-by-minute match commentary and score updates of the Euro 2016 quarter-final game between Germany and Italy. I, Sam Smith, am your host for this one – a game that has the potential to be one of the best matches of the tournament. Stay tuned for build-up, including confirmed team news as we approach the game. We'll then have full match updates upon kick-off at 8:00 GMT.