France's talented squad put in a dominant performance to cruise past Iceland into the Euro 2016 semi-finals. Despite the humbling 5-2 drubbing, with the incredible support of their fans, Iceland continued to persevere until the last whistle was blown.
France fly away in first half
Olivier Giroud opened the floodgates by slotting the ball through Hannes Halldórsson's legs after being found by an intelligent lofted pass by teammate Blaise Matuidi.
Just minutes later France's lead was doubled through a powerful Paul Pogba header. The Juventus midfielder was left unmarked due to Iceland adpoting zonal marking from set pieces.
Many would have been forgiven for thinking that it was far from over as Iceland continued to threaten, despite the two-goal deficit that they faced. Additionally, the last game they were 2-0 down in, they ended up as 3-2 victors (versus Greece).
Iceland winger Jón Bödvarsson missed a wonderful opportunity to bring the minnows back into the game after he hit a volley on the stretch from a Kolbeinn Sigthórsson flick-on just over the bar. It was Iceland's first clear opportunity from a long Aron Gunnarsson throw-in.
A promising Iceland spell was soon squashed as the tournament hosts scored twice in two minutes to truly put the game beyond Iceland's reach. Not even their passion and commitment could prevent two outstanding goals from Dimitri Payet and Antione Griezmann.
At half-time the game looked more than over, but Iceland's proud fans continued to support their team with the odds stacked drastically against them.
Two consolation goals not enough for Iceland
Iceland brought on Sverrir Ingason and Alfred Finnbogason after the interval in hope of sparking an incredibly unlikely comeback.
France's excellence seemed to have been left in the dressing room for the first 15 minutes however, as Iceland looked increasingly dangerous as time progressed. Even with the game all but over, Iceland continued to put pressure on offensively. They were soon rewarded as Sigthórsson met a low Gylfi Sigurdsson to give Iceland faint hopes of a near impossible comeback.
Those hopes were soon diminished as Giroud headed home a Payet free-kick after keeper Halldórsson was left in no man's land.
Iceland displayed their commendable attitude that had been present all tournament, as they continued to knock on the door after the four-goal France lead was replenished.
With just six minutes left of normal time the man who started it all of against Portugal - Birkir Bjarnason - capped off Iceland's tournament with a late consolation goal.
Iceland's fairytale ends
Though their tournament may be over, nobody will forget how Iceland not once, but twice, defied the odds by defeating England after qualifying from their tough group to become neutral's favoured team in Euro 2016. Everyone but Ballon d'Or runner-up Cristiano Ronaldo seemed to be impressed with their impressive togetherness.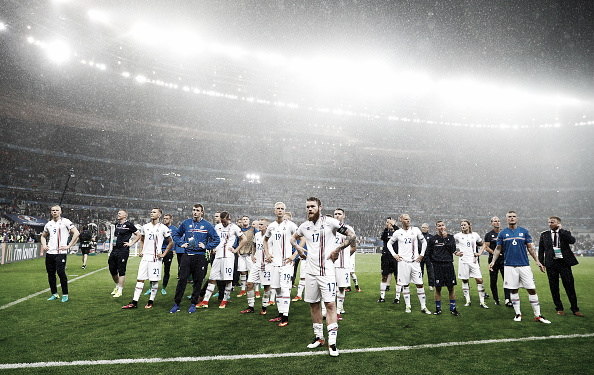 Their unity, passion, commitment and resillience are all to be admired for years to come. All of these attriutes were not only displayed tremendously by the squad, but they were also displayed excellently by the country as their national team filled them with hope and happiness that will be difficult to replicate. It will be agreed by many that Iceland were an example to all and a joy to have at Euro 2016.
What's next for France?
The tournament hosts head into the Euro 2016 semi-finals to face fellow contenders Germany. The game will kick-off at 20:00PM (GMT) on Thursday 7th June to decide who will face either Portugal or Wales in the final on Sunday.