Another tournament passes in which Belgium's 'Golden Generation' fail to live up to their obvious potential, after they were unceremoniously dumped out of Euro 2016 at the hands of Wales in the quarter-finals.
Having led through Radja Nainggolan's thunderous early drive, goals from Ashley Williams, Hal Robson-Kanu and Sam Vokes left Marc Wilmots' men with their heads in their hands come full-time.
It wasn't supposed to end like this. Rather, many suggested it would end with Belgium lifing the trophy aloft. As one of the pre-tournament favourites, Wilmots and co. came into the summer hotly-tipped to build upon the stepping stone of their 2014 World Cup campaign two years ago.
Despite reaching the quarters in Brazil, the Red Devils hardly got out of first gear and given the improvements of some of their players in the years since, it wasn't too surprising that big things were expected of them.
Eden Hazard, despite a dreadful last season for Chelsea, had at least starting to show flashes of the form that made him the PFA Player of the Year in the campaign before that. Four goals in the final five league games suggested he was getting back towards his best.
Otherwise, Kevin De Bruyne had emerged as one of the Premier League's best young players after just one season at Manchester City, hitting double figures for goals and assists in all competitions.
Red Devils were backed for so much more...
Romelu Lukaku plundered a career-best 18 league goals despite being surrounded by mediocrity in a substandard Everton side, and at the age of just 23.
In addition, Tottenham Hotspur contingent Mousa Dembele, Jan Vertonghen and Toby Alderweireld were all key members of the Mauricio Pochettino-led Spurs side that challenged for the title for much of 2015-16.
Add in to the mix the likes of exciting young stars such as Yannick Ferreira Carrasco, the stand-out performer in the Champions League final, and Michy Batshuayi and Divock Origi who both enjoyed fine campaigns in two of Europe's top five major leagues.
Barring their one weak spot, at full-back, Belgium came into the tournament with an overwhelming array of talent.
With such attacking quality, even on the substitutes' bench, it was no surprise whatsoever that Belgium were backed to blow away all of their opponents.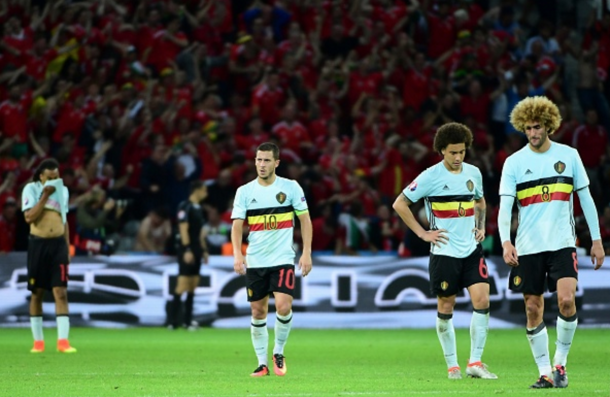 But the furore over the squad's strength in depth in the final third largely failed to acknowledge one major weakness: Marc Wilmots.
The 49-year-old, despite boasting the best win percentage of the 23 different permanent Belgium managers since 1910, has never managed to mould an effective unit out of the immense potential and talent at his disposal.
Even Thibaut Courtois had said as much after their emphatic opening loss to Italy in the group stages. On that night, Belgium ran out of ideas of how to break down the disciplined and organised Azzurri and got caught out on the counter. But it was not just that. They were thoroughly outclassed. Embarrassed, even.
Afterwards, the Chelsea goalkeeper acknowledged that Belgium were "outclassed on all fronts" and that "tactically, technically and organisationally" they "came up short" as he hinted at Wilmots' tactics having been their ultimate downfall.
In the aftermath of their defeat to Wales? "The same tactics and the same problem," was Courtois' assessment, insisting that Belgium's failure to adapt - having faced a similar situation against Italy - led to their elimination.
He's not wrong. Italy's and Wales' tactics were hardly revolutionary, but they were enough to completely render Belgium ineffective across all departments.
Wilmots' tactics to blame for such a poor campaign?
Despite the two games coming two weeks apart, nothing had changed and must of the blame for that must lie at Wilmots' feet. Inept and inferior, it would be no surprise if the loss to Chris Coleman's Wales were his last game in charge. In fact, many will justifiably argue that it should be.
It's true, the manager has been unlucky with injuries. Vincent Kompany's absence left a huge void in the centre of defence, regardless of the notable quality available to replace him in Alderweireld and Vertonghen.
Thomas Vermaelen's suspension already caused the manager issues, before Vertonghen's ankle injury - ruling him out for eight weeks on the eve of the Wales clash - left him with a growing number of problems.
That in addition to the fact Wilmots was already without Bjorn Engels, Dedryck Boyata and Nicolas Lombaerts. Jordan Lukaku and Jason Denayer, just 11 caps between them, came in to replace Vertonghen and Vermaelen. Hardly the ideal stand-ins, for all of their promise.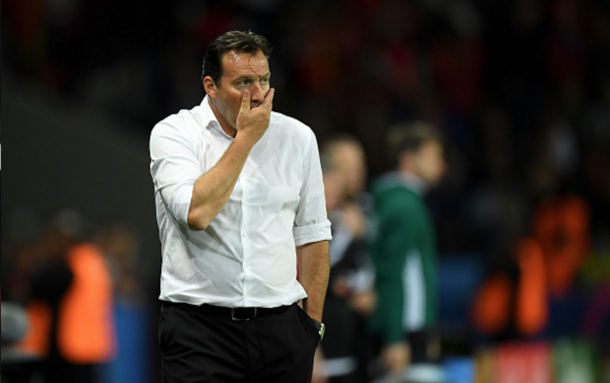 But it would be a lie to suggest that even with Vertonghen and Vermaelen, things would have been dramatically different, for issues at the back have been visible for the entirety of the tournament.
Though they thrashed Hungary in such comprehensive fashion, scoring four goals without reply, the frailties were there. Defensive vulnerabilities were in fact hiding throughout the three matches in which they kept back-to-back-to-back clean sheets, the first time they had ever done so in the history of their European Championships.
Tactically, they were not organised enough and even when at their frightening best against the Hungarians - controlling the game for large periods and putting their opponents on the back foot - gaps were left at the back. It was only Hungary's disappointing finishing that meant they didn't exploit such opportunities.
Their defending for the three goals against Wales showcased the cracks that had been papered over in the previous games. Hal Robson Kanu's Cruyff turn only served to rub salt into the wounds.
Belgium were outclassed by a team 24 places below them in the FIFA World Rankings. That puts them lower than Costa Rica, Romania and even Hungary, the same team they put to the sword less than a week ago.
But to dismiss them as just that would be a huge, huge discredit to the Wales team. Everyone knows the rankings are hardly representative of actual quality and they were the opposite of Belgium on the night. This was the calibre of performance that has typified their last 18 months as a nation: committed, indefatigable and fearless. Stronger together, as their slogan goes. That shows in their matches.
Belgium must learn to become greater than the sum of their parts
It's incredible what a bit of belief and confidence can do for a team, and it's even more incredible how good such a side can become as a strong, unified collective. Again, a stark contrast to Belgium's unco-ordinated mess, Wales were everything the Belgians must now aim to become.
The result regurgitated many of the problems that have been discussed in Wilmots' time in charge. Have they really progressed under him? Despite now being recognised as one of Europe's brightest young squads, have they done anything to justify their reputation?
Evidence suggests that they haven't. Despite their rise to the top of the FIFA World Rankings last year, having been a record-worst 66th in only 2009, they have never really managed to substantiate such a billing against the biggest and best teams.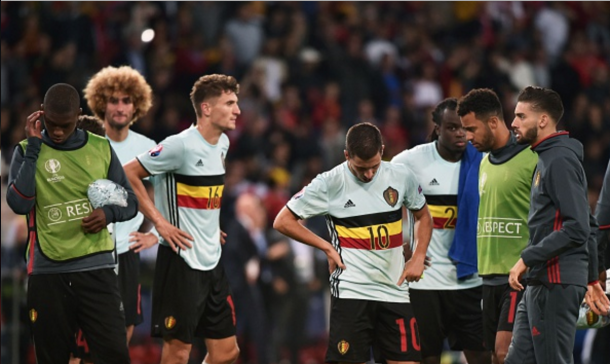 This, undoubtedly, is the best group of footballers Belgium have produced - and may ever produce for a long, long time - and the simple matter of fact is that they have massively underperformed. Would a better coach change their fortunes? On the base of their performances over the summer, you could certainly suggest so.
Whether Wilmots remains the manager or not, things have to change. Of course, it wasn't all bad. Belgium improved from the World Cup two years ago. At times, they looked like the team many touted them to become. But, they didn't improve enough. They didn't look like that team consistently enough.
Their squad should have seen off Wales and their minimum expectation, even before they learned their possible route to the final, should have been to reach the semi-finals. But they didn't, and it's the manner in which they failed to do so which will hurt them the most.
After the display against Hungary, their finest showing yet of the talent they have going forward, they followed it up with a limp and lifeless display. One which aptly summed up their campaign overall; not good enough.
Their squad for the 2018 World Cup will likely include a vast majority of those from this tournament, the difference simply must be then that they are a team with an established formula, and familiarity, in order to ensure their legacy does not become one of unfulfilled potential.