Unfortunately, that's all we've got time for tonight. I've been Oliver Emmerson, taking you through Portugal 2-0 Wales. Until next time, goodnight!
After a tentative first half from each side, two early goals from Ronaldo and Nani in the second 45 put pay to Wales' chances, and they couldn't recover to make the final. Portugal go through, winning their first game of the tournament inside 90 minutes, and they'll hope to win their first major trophy on Sunday.
That's it, all over! Wales out, Portugal are into the final of Euro 2016, where they'll meet Germany or France!
Full-time: Portugal 2-0 Wales (Ronaldo, Nani)
90+3: Straight into the wall by Ronaldo, with his Real Madrid teammate Gareth Bale blocking.
90+2: Joe Allen perhaps lucky to stay on, fouling Quaresma on the edge of the area, already on a booking. Ronaldo to take.
90: Into the last minute of normal time, and the Wales fans are still in fine voice, as there team slide out of the competition at the semi-final stage. Three minutes of stoppage time to be played.
86: Portugal counter, looking for a third, but Ronaldo can only slam the ball into the side netting as he goes around the 'keeper.
83: Bale gets another chance from a free-kick, 35 yards out, but it goes straight into the wall. Wales' dream is slowly slipping away, it'd take a miracle for them to get back into this now.
80: Bale going from long range again, and it's better this time, Patricio getting across his goal well to push the dipping shot away.
79: Close! Joao Mario bursts into the box, almost squirming a shot under Hennessey who can't hold at the first attempt, before grabbing the ball on the line. Change for Portugal, Moutinho comes on for Adrien.
76: Bale going for some magic, a half-volley from 40 yards out. You wouldn't put it past him, but Patricio does catch it with ease.
72: Less than 20 minutes to go now, Wales need some magic.
65: Wow. Nani with an effort from range, Hennessey spills it, and Joao Mario misses from 10 yards with the goal gaping. He kept it low, but its wide. Collins off for Jonny Williams as Coleman makes his final change.
63: Ronaldo comes closer than you'd expect with the free-kick, off the roof of the net. Robson-Kanu off for Wales, Simon Church on.
62: James Chester picks up a yellow card for an ill-timed challenge on Ronaldo.
58: Chris Coleman needed to change something and he has, Vokes on for Ledley in the first substitution of the night.
53: It's unlucky for Wales this time, Ronaldo miscues a shot, dragging it across the box, but Nani sticks a leg out and does enough to put the ball past Hennessey. Suspicions over whether or not he's onside, but replays show he is, and the goal is given. Portugal 2-0 Wales!
GOALLL! Nightmare for Wales, Portgual score again - Nani!
50: Wales are going to have to come from behind again if they want to win this, as Ronaldo scores the opener! Poor defending from the Welsh side from a corner, Ronaldo getting the run on James Chester, leaping like a salmon to crash a header into the back of the net.
GOALLL!!! Cristiano Ronaldo puts Wales ahead!
45: Kick-off in the second half, lets hope for a better 45 minutes.
The fact that there was no stoppage time pretty much sums up the half. Some would call it tactical, others boring. Either way, we've seen no goals yet. Into the interval, Portgual 0-0 Wales.
Half-time: Portugal 0-0 Wales
44: Ronaldo threatening again, Adrien Silva cutting back onto his right before sending the ball towards the back post, with the winger heading over.
42: Ronaldo shuffles and shakes on the edge of the area before drilling a left footed effort towards goal, but there's a cluster of Welsh bodies in the way to block.
39: Wales do look comfortable here, but you can't help but think they really could put Portugal to the test a little by quickening up their passes. As solid as they're looking, the passes between the defence are lacking a certain vigour, or zip, meaning that Portugal too are comfortable.
33: After a brief burst in entertainment, it's quietened again. Still just one effort on target so far, that Bale shot after a fine run.
25: Robson Kanu uses his pace to spin Bruno Alves, sprinting past him to cross for King, but Fonte gets there in time to head out for a corner.
23: Very, very good from Bale. He gets it in his own half, floating past two sliding challenges from the Portugese midfield before directing an attempt at goal, Patricio again equal to it. Bale has been the best player on the pitch so far, good news for the Welsh side.
22: Wales growing into the game, Bale bursts past Ronaldo with a powerful run down the right, before flashing a low ball into the box that's well held by Patricio.
19: Ooooh, that's one that's been worked on in training. Wales with a corner, Ledley playing it along the floor towards the penalty spot. Bale evades his marker and comes around the back of everyone, firing just over the bar with a first time effort.
16: There we go, a shot! Joao Mario gets down the right hand side of the area and unleashes an effort, but he can only drag it wide of Hennessey's goal.
15: It's been a quiet start to the game, in all honesty, with no shots from either side yet. They look like a pair of teams unsure as how seriously to take the other, with neither of these sides having expected to make it this far. It might take a goal to liven things up, but we don't look close to one at the moment.
8: Curse of the commentator? Allen now picks up the first yellow card of the evening, hauling down Nani.
7: There's a banner in the crowd saying 'When God made Joe Allen, he was just showing off'. As it's spotted, Allen wins the ball back twice in midfield within the space of around 30 seconds. Good omen?
3: Not a great early decision from the referee as Ashley Williams chops Ronaldo down on the edge of the penalty area, only for play on to be signalled. He could be in for some rough treatment tonight, Ronaldo.
0: We're underway!
Not long to go now! Wales are minutes away from their first ever European Championship semi-final! Can they do the impossible, and qualify for a first ever final?
Whilst you're waiting for kick-off, less than an hour away now, have a read of our match preview.
The big news for Portugal is that there's no Pepe at the heart of the defence, he's ruled out through injury as Bruno Alves comes in. Two forced changes for Wales, King in for Ramsey in midfield, whulst Collins replaces Ben Davies in defence.
Wales XI: Hennessey, Taylor, Collins, Williams, Chester, Gunter, Allen, King, Ledley, Bale, Robson-Kanu.
Portugal XI: Patricio, Cedric, Fonte, Alves, Guerreiro, Danilo, Mario, Adrien, Sanches, Nani, Ronaldo.
We've got the team news in!
Ronaldo will be a relieved man, in some aspects, given that after drawing to Iceland in the opening game, he blasted the minnows' defensive style, stating that they'd do nothing in the tournament. Well, they did, getting to the quarter-finals before being knocked out by France. Ronaldo has had the last laugh, his team progressing further than the Icelanders. Some would argue that he was just showing his passion to win, something which must be applauded as much as Wales' passion. You can read more on that opinion, here.
There will be many eyes cast on Cristiano Ronaldo tonight, in the hope that he can shoot Portugal to the final. Despite his teams progression, Ronaldo's had a fairly quiet finals so far, scoring just twice in five games, poor for his standards. Still, he has contributed, and you wouldn't back against him being the difference tonight, especially when coming up against clubmate Bale.
Unfortunately for Wales, they will be missing one of their stars, in Aaron Ramsey. He's suspended after picking up his second booking of the tournament with a sloppy handball against Belgium, a shame considering he's been nothing short of superb during the finals. Ben Davies is also out due to suspension for Wales. Portugal's biggest miss is William Carvalho, another player who has fallen foul of suspension.
One man that the Red Dragons will be hoping performs tonight is certainly Gareth Bale, who's joint second top scorer in the competition with three goals to his name. All of these goals came in the group stage though, one in each group game, so he'll be hoping to score his first knockout goal today. Another key player for Wales has been Joe Allen, who will almost certainly start in central midfield today. He's been quietly increasing his value during the tournament, with a move away from Liverpool this summer likely, and another good performance today might just push it up that little bit more.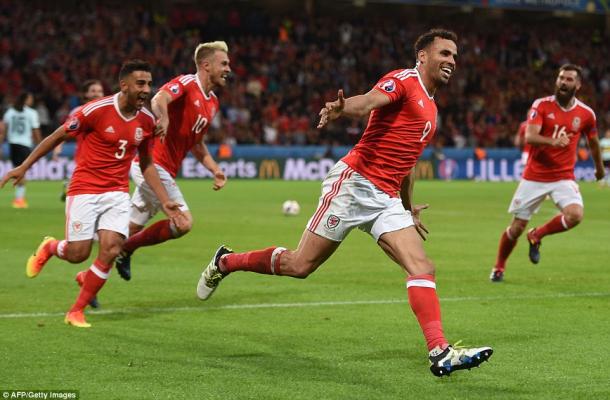 Wales have had an arguably trickier, but certainly more impressive route to this stage. They won two of three group games, only losing to England, to top their group, before seeing off Northern Ireland 1-0 in the last 16, their second all British tie of the tournament. Their quarter final win was the most impressive so far, shocking Belgium in a 3-1 win, coming back strongly despite having fallen behind to an early goal. They've already guaranteed that they'll leapfrog England in the world rankings, but that's the least of their worries. It really has been a historic month for Wales, one that Gary Speed would have been proud of.
Shall we start with how they got here? Portugal have done it in a rather unusual fashion, having failed to win a game yet inside 90 minutes. Yes, they draw all three group games, to Hungary, Iceland and Austria, but that managed to get them through. The last 16 saw them come up against Croatia, a game that went to extra time after a 0-0 stalemate. It looked like penalties were going to come calling, only for Ricardo Quaresma to bag a late winner. The quarter final, against Poland, did go all the way to penalties, this time after a 1-1 draw. Portugal won through, booking their place in the last four.
So, who's excited? I know I am. It's crunch time, with these two bidding to make it to the final, in the hope of landing the grand trophy at the end of it all.
Good evening to one and all, it's semi-final time! Welcome to VAVEL UK's live minute-by-minute commentary of the first Euro 2016 semi-final, contested between Portugal and Wales. I'm Oliver Emmerson, and I'll be taking you through all the action at the Stade des Lumieres in Lyon, with kick-off set for 8PM BST.