Germany will be hoping to knock a tournament host out for the second time in a row, as they take on France in Marseille for a place in the Euro 2016 final.
Joachim Löw spoke to the media following the Germans' final training session, who are bidding to win back-to-back major tournaments.
Praise for France
"France are at a very high level," admitted the World Cup winning coach. He feels "there'll be more chances" between these two than the previous Germany game.
However, despite saying France were "impressive" against Iceland, he believes: "Every side have weaknesses, no-one is perfect."
Löw added, "I think we saw a couple of weaknesses [vs Iceland] – and it will be important to use those."
Schweinsteiger's fitness a small selection boost
"Schweinsteiger trained this morning at 100 per cent," Löw explained. "He's very important for us in a game like this – mainly because of his experience."
The manager confirmed Schweinsteiger "will be in the starting XI", adding that he had declared "from the beginning" that "he would play" if he had taken part in the final training.
Despite the boost, Löw recognised that it is "not easy" when he has "Hummels, Khedira and Gomez" to replace. He believes Basti's "experience is even more important" now.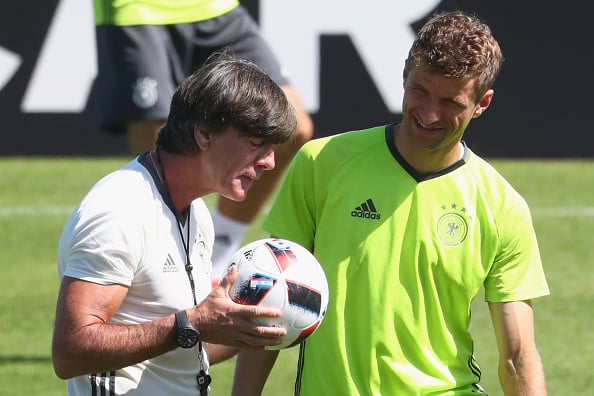 Pressure pushing Germany on
Löw continued, "As a national side, we're used to feeling a lot of pressure." Being the successful side that they are, a semi-final is no surprise at this stage.
"Brazil was a situation that won't appear in a semi-final again soon," he continued. "They were in shock after conceding two or three goals in a few minutes."
He believes France "are a lot more solid" at the back than Brazil, and will more than likely get a completely different game from the hosts.
Quotes via UEFA.com